Four-year-old Allyson Corrales was last seen on March 4, 2009, two days before the body of her murdered mother, Katia Lainez, was found in their apartment in Kansas City, Missouri.  When Ms. Lainez's body was discovered by a concerned relative, Allyson was not there and it is presumed she was taken by the murderer.
Allyson is the daughter of Ms. Lainez and Luis Corrales-Sanchez, both of whom are from Honduras, where they began dating and continued to do so after they entered the U.S. The couple separated in 2008 and later, Ms. Lainez was able to secure a protective order for Luis, based upon his threat to kill her if she left him. Allyson's mom was then able to obtain sole custody of her little girl, and child support of $400 per month from Luis was ordered, who she openly described as a "very jealous man."
Luis, who is considered an illegal immigrant, had been working in San Antonio, Texas. He had come to Kansas City area around the time of killing and disappearance in order to spend time with his daughter, Allyson.  Despite the protective order against him, he was able to talk Ms. Lainez into letting him stay at the apartment with her and Allyson.
The day before the murder, a relative of Ms. Laiinez called her on the phone and overheard her and Luis arguing.  After that phone call, relatives had tried several times to reach her by phone and by knocking on the door of her apartment.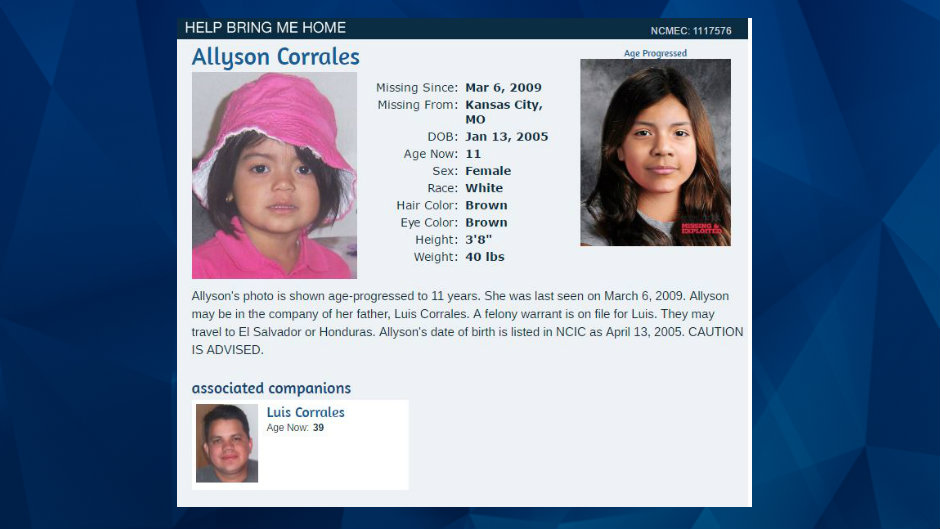 Finally, two days after the call, a brother-in-law persuaded the apartment manager to allow them to open the apartment to look for Ms. Lainez and Allyson. They found Ms. Lainez murdered, laying under the covers in her bed, and no Allyson.  Police were contacted immediately.
Luis' car was found at Ms. Lainez's apartment, but her 1999 Kia Sportage was missing. Then, on March 31st,  police found the Kia wrecked in San Antonio, Texas, with another male as the driver. The driver said that Luis exchanged the car for enough cash to purchase bus tickets to Mexico. The driver said he dropped off Luis and Allyson at the San Antonio Greyhound bus station, where he believes they departed on a bus to El Salvador.
Police in Kansas City were able to match Luis's DNA to DNA found at Ms. Lainez's apartment, and have since considered him a prime suspect in her murder. They issued warrants for his arrest.
Authorities believe that Luis and Allyson could be in Honduras, El Salvador, Houston, Texas, or Manassas, Virginia, where Luis has relatives. Allyson's location is unknown at this time and her case is unsolved.  Because of how she was abducted, Allyson is considered in grave danger.
If you are aware of any relevant information concerning this case, please contact the Kansas City Police Department at 816-474-8477.
[Feature Photo by the Kansas City Police Department]