January 23, 2017, marks 18 years to the day since beautiful 2-year-old, Teekah Lewis, disappeared from a local bowling alley in Tacoma, Washington. You may wonder why a 2-year-old little girl was at a bowling alley.  She was there with her family: her mom, aunts, uncles, friends were all there bowling in lanes 7 and 8. It was league night at Frontier Lanes bowling alley, so there were tons of people there.
But amidst all her family, Teekah seemingly vanished into thin air while just 10 feet away from her mother, Theresa Lewis.  The tot was wearing a 'Tweety Bird' white and green T-shirt, white pants, and tiny Air Jordans.
"While family and friends bowled, the 3-foot [sic] girl played at the wheel of a video arcade game. When Theresa`s brother got up to bowl, Mom says she looked away from her baby girl for less than a minute, and when she looked back, she was gone" said police.
Teekah's mom immediately sprang into action, searching the New Frontier bowling alley in Tacoma thoroughly.   Knowing full well her tot was extremely shy and very afraid of strangers, the search intensified. After the group scoured the 32-lane bowling alley, a security guard made repeat announcements over a loudspeaker, and the parking lot swarmed with family searching for Teekah.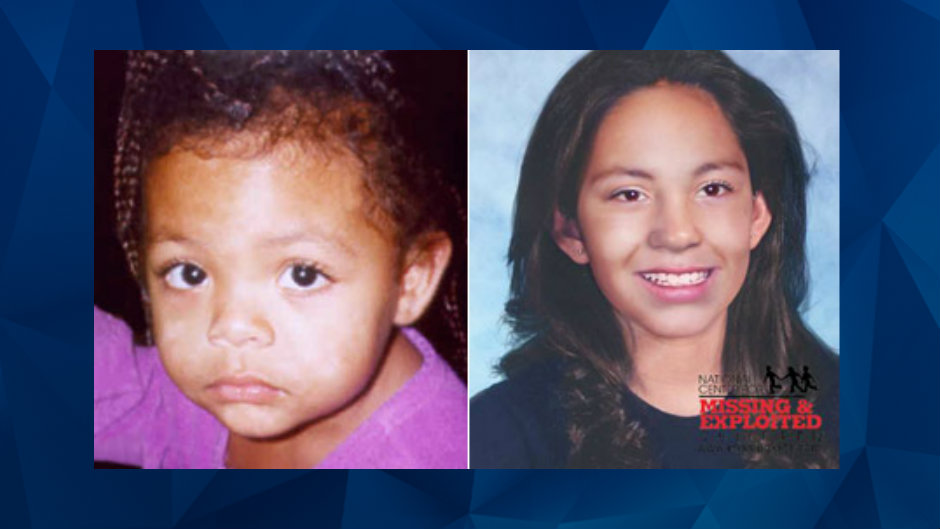 At Frontier, bowlers would go down two or three steps to go to the bowling area. Above that is a counter where people could stand and watch the bowling below.  In the back, an arcade was situated in a little nook area behind there. Frontier also had a bar and restaurant.
The arcade where Teekah was playing, however, was only six feet or so from an exit door. Theresa was down at the bowling lanes, and it is possible Teekah could have ventured up to the counter area. In that event, though, Theresa said she would've been able to see Teekah.
"I went out the side door. I was screaming for Teekah because I knew if I was screaming for her and she heard my voice, she would run back, if she walked out on her own. But I know she didn`t walk out on her own," Theresa said. "She couldn`t even open up that door. The door was too heavy for my little girl to open up that door.  It was dark. You know, if the person that did this knew what they were doing, they could have got away. But Teekah was one to scream at any stranger."
"She was a mama`s girl. She would only come to mama, her sisters and her baby-sitter, and her cousin Sarah. She wouldn`t go to [anyone] else. So I don`t understand how this person got away with my daughter. That`s what I`ve been asking for years, pleading for years, is someone just to come forward."
Amazingly, in a public venue packed with people, no one seemed to have seen anything. To make matters worse, the bowling alley had no surveillance video at all, and no security video, neither inside the facility nor outside facing the parking lot. This leaves no way to capture a license tag, any form of identification, or even the make and model of the car believed to have taken Teekah.
"Teekah was my everything. She was a mama's girl and I could never leave without her," said Theresa.  "It was my turn to bowl, and so my brother and my sister-in-law were watching her and it wasn't even a minute; it wasn't even 20 seconds and I turned back around and I didn't see her" explains Mom.
Detective Lindsey Wade, on the case, says, "There was a witness that came forward two days later and said they saw a late 1980's or early 1990's maroon–colored car, possibly a Pontiac Grand Am with tinted windows, speeding away from the bowling alley parking lot.
A desperate search followed, which delved into the Washington State Motor Vehicle database, but no match was made to the suspect car.  Police also learned a car with a very similar description was reported the same day near Frontier bowling alley, allegedly involved in a child luring incident.  Still, no leads.
Since it was coincidentally league night there at Frontier, with dozens and dozens of men there competing, police tried desperately to obtain any home video that may have been taken.  It was to no avail.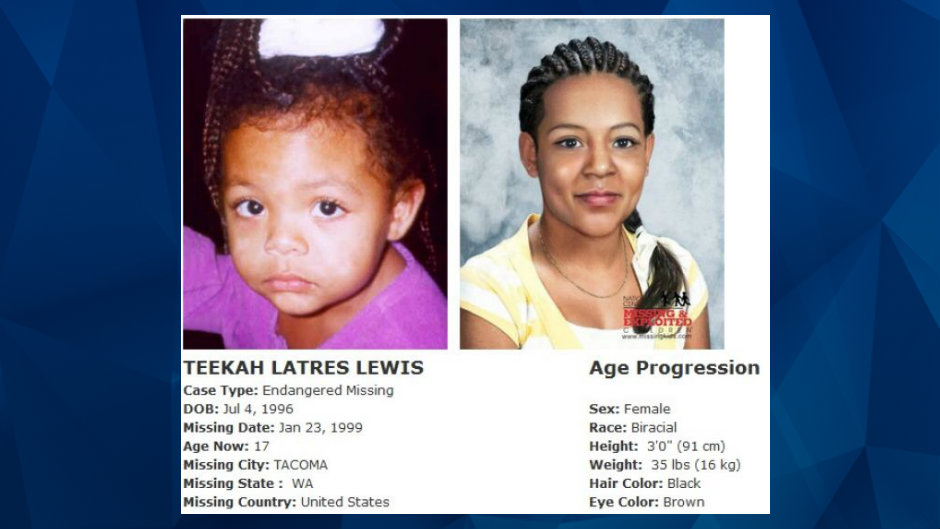 Many people ask whether Teekah's family cooperated with law enforcement and the answer is a firm, "yes."   Teekah's father was not present at the bowling alley that night and was out of town.  He has an air tight alibi that police investigated exhaustively.
That leads to mom, Theresa, who was with baby Teekah that night.  Not only do multiple witnesses support her account of events that night, but immediately, Theresa volunteered to take a polygraph, a 'lie detector' test.  She took not one, but two such tests, taking the second test not because she failed the first one, but to answer even more questions.
Other family and relatives voluntarily offered to take polygraphs themselves in order to clear themselves, so police can get beyond them and search for the true kidnapper.
No AMBER Alert was issued. Nationwide or even statewide, AMBER Alerts were not functioning in the Tacoma area at that time.
In 2010, police believed they may have had a break in the case and based on a tip that came in on Teekah's case, they commenced digging at the Native Garden at Point Defiance Park.  Nothing was found connected to missing tot Teekah.
The night she disappeared, Teekah had with her a clear plastic purse with a shoulder strap, embellished with a fish on it.  The little purse was stuffed with Starburst candy.  Teekah has pierced ears, facial dimples, and a birthmark on her left buttock.  She is African-American-Caucasian-Native American.
Now, many years later, Teekah's case has sadly gone cold.  Every year, for all these years, Lewis makes a painful journey, returning to the place that dramatically altered her life forever…the very last time and place she saw her 2-year-old daughter, Teekah: January 23rd, 1999.  Theresa Lewis has never given up hope.
TIP LINE: 1-800-THE-LOST
[Featured Photo by Tacoma Police Department]