It has been over ten years since beautiful, bright-eyed 24-year-old Jennifer Kesse vanished. Crime Online, along with Jennifer's family, want answers.
What do we know?   The morning of Tuesday, January 24, 2006, Jennifer didn't show up as usual for work at Westgate Resorts. Anyone and everyone close to Jennifer knew immediately something was wrong.
Jennifer always called if she was going to be late for anything from work, dinner or a simple coffee meeting.  In fact, she and her boyfriend, who lived several hours away from Jennifer, had the habit of calling each other every single morning on their respective ways to work.  The two would also talk again each night without fail before going to bed. But that morning, there was no call.
On Monday morning, January 23, the day before Jennifer disappeared without a trace, she left her boyfriend's place in south Florida and went straight to work, in Ocoee.  It's significant that she did not stop by her own home before reporting to work. That evening, she left work around 6:00 p.m. She left the building along with her boss, and after good-bye pleasantries, the two departed for their homes separately.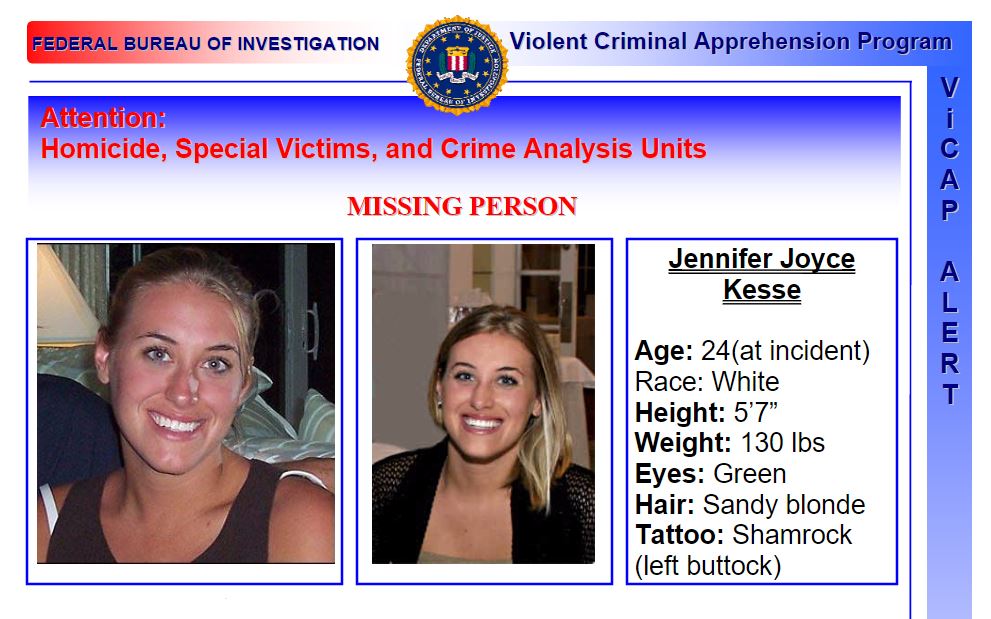 That evening, Jennifer is accounted for by multiple witnesses.  She spoke by phone to her father, her mother, her brother, various friends and then last, to her boyfriend, as usual.  The last call was made at 9:57 p.m. on the Monday night preceding her disappearance. It was the last time any known person has seen or heard from Jennifer Kesse.
The following morning came, and contrary to their normal routine, Jennifer and her boyfriend did not spend their morning commute to work chatting on the phone.  In fact, after calling her at work, he was told she hadn't made it in yet.   It became apparent Jennifer wasn't simply running late and her employer, immediately sensing something was amiss, contacted the Kesse family.
Her family tried repeatedly to reach Jennifer at her Florida condo, on her cellphone and by computer, but with no success. Within just two hours of Jennifer not reporting to work, police were called. Her family had begun a long drive to Jennifer's condo, abruptly thrust into a dark world of fear.
Police and family converged at Jennifer's Conroy Road condo to find it completely normal. While they immediately noticed her 2004 Chevy Malibu was gone, everything inside was perfectly in place. It was clear Jennifer had slept in her own bed the night before. A damp shower and bath towel indicated she had showered that morning.  Her pajamas were lying on the bathroom floor and makeup still sat on the bathroom counter.  A few outfits were spotted on her bed; she had obviously taken them out while choosing her work clothes that morning.
So far, everything seemed absolutely normal.  But the damp shower stall and the assortment of work wear ended every semblance of normalcy.  She seemingly left her condo for work at approximately 7:30 a.m. as usual and her car was gone. But there, it ends. No trace since that morning could be found.
By 4:00 p.m. that same day, friends and family were distributing fliers throughout Jennifer's Mosaic at Millenia residential complex, situated right beside the Mall at Mellenia, Orlando.  Searches began by foot, boat, helicopter and ATV.
Approximately 48 hours later, police discovered Jennifer's car had been abandoned at The Huntington on the Green Condos complex, just 1.2 miles from her own condo. According to residents, it had been there for several days. Items of value were found in Jennifer's car causing police to believe this was NOT a carjacking or a simple robbery.
Bloodhounds were brought in.  The K-9 team picked up a scent from Jennifer's car and followed it straight back to her condo complex.  The tracker dogs then lost the trail on the condo property.
A CRITICAL CLUE EMERGES
A critical clue, however, now emerges. Jennifer's car was caught on video being parked by a suspect who pulls into a visitor parking spot, so as not to invoke the ire of a resident who would likely report their spot being taken. The suspect waits a full 32 seconds to get out, then climbs from Jennifer's car and walks away.
The suspect's face is never seen due to fence posts situated between the suspect and the camera. Feds were asked to determine the suspects gender and size but after much analysis, they could only discern the person was between 5'3" and 5'8".  NASA also attempted to enhance the video.
Numerous searches have been conducted since Jennifer disappeared, including one search, based on a tip, in South Florida.  To this day, over ten years later, tips continue to come in.  Items recovered from inside Jennifer's car are being retested with the latest science, while police steadfastly continue their attempts to ID the person emerging from her car.  Billboards around Orlando have asked any potential witness to step forward and help unlock the mystery. Her family asks you to keep Jennifer in your thoughts. They believe that "awareness will find Jennifer."
The case is now cold.  A reward is still in place of up to $5,000 for the identification of a suspect or whereabouts of Jennifer. If you have any information, please call Crimeline at 1-800-423-8477 or the FBI at 1-866-838-1153.