On November 25, 1991, Mark Himebaugh, 11, rushed to go watch firefighters putting out a brush fire in a marsh close to his home in Del Haven, New Jersey. Around the same time, Mark's mother went to town to run an errand. When she returned only forty minutes later, Mark was not at home and nowhere to be found. Initially, she believed that he might be playing with friends. Yet, by 5:00 p.m. she was becoming distraught; she could not locate Mark and notified authorities that he was missing.
Reports emerged that Mark was seen at the entrance to a park with a young girl. Another report placed him walking with two men, one aged 30-35, approximately 150 pounds and scruffy in appearance.
A break came when one of Mark's shoes was located on the beach within 100 yards of his home, along with several footprints in the sand. This was the only solid lead in the case. Hundreds of volunteers combed the area looking for Mark, but nothing else was found.
In 1993, Thomas Butcavage Jr., was named a person of interest.  During 1993, an individual came forward saying that Butcavage had showed him a video of a young man resembling Mark Himebaugh.  The same individual indicated that Butcavage told him that it was in fact Mark.  Butcavage bears a strong resemblance to the sketch of the 30-35-year-old male seen walking with Mark about the time of his disappearance.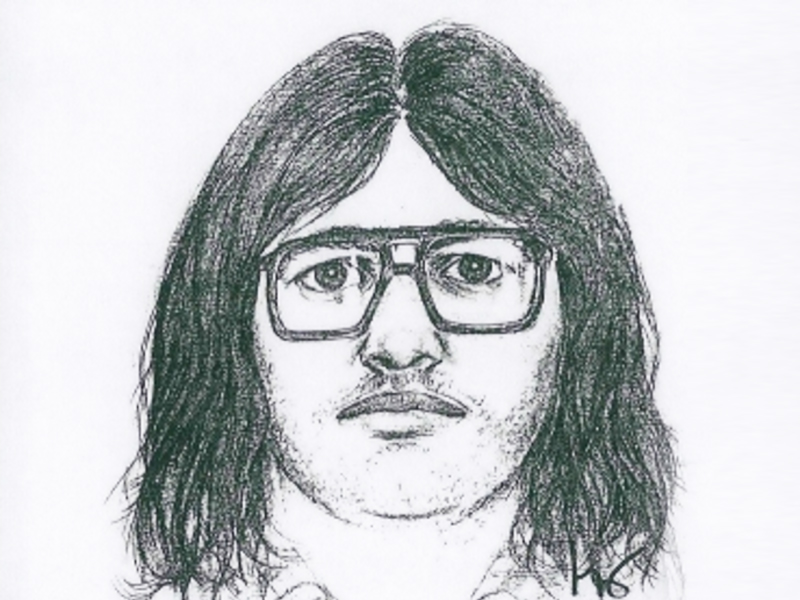 Butcavage has been imprisoned numerous times for drug offenses and having sex with underage males, but he has never been charged for the disappearance of Mark Himebaugh.
In June of 2015, Federal and local authorities released an undisclosed tip and a picture of what Mark would look like as a 35-year-old man.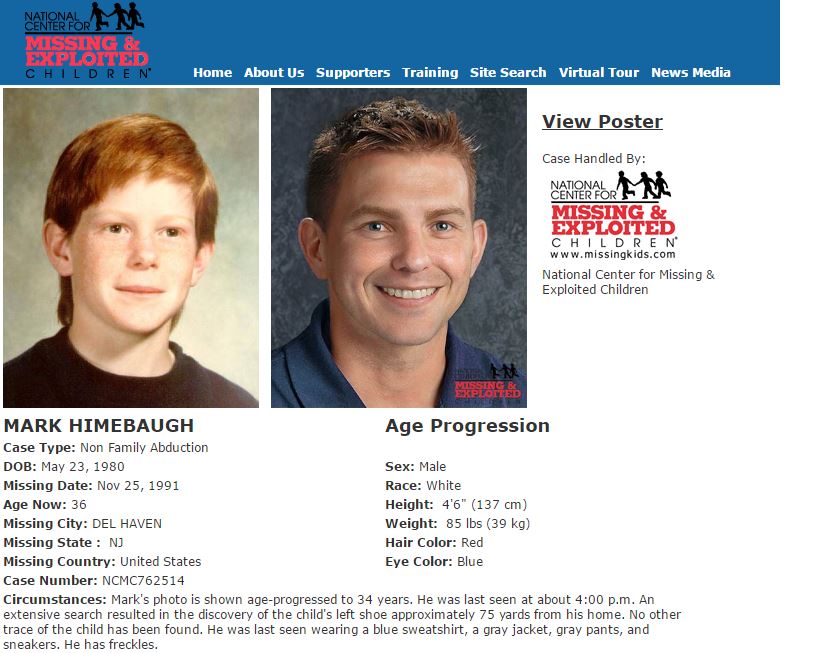 The undisclosed tip came in from a payphone in the Philadelphia area in 2010, from a man that identified himself as "the son of the witness of the crime."  In the edited call to National Center for Missing & Exploited Children, the caller said that "Gilbert Patrick Marie" participated in Mark's disappearance.  Authorities have not been able to identify anyone with that name.
Individuals with information on the case are asked to call Middle Township Police, 609-465-8700 or the national missing child hotline at 1-800-THE-LOST.
[Feature Photo by The National Center for Missing & Exploited Children]