Since 1984, the The National Center for Missing & Exploited Children (NCMEC), a non-profit 501(c)(3) corporation, has worked tirelessly to locate missing kids, prevent abductions, reduce child exploitation, and provide resources for families and victims. NCMEC provides detailed information on missing and exploited children, state-by-state, in hopes that spreading awareness will help missing and exploited kids return home safely.
AMBER Alert
NCMEC partnered with the Department of Justice's Office of Justice Programs to spread AMBER Alert information. The AMBER Alert is a voluntary program between law enforcement and broadcast programs (television, radio, available technology, etc.) that work together to quickly spread information about missing children. The AMBER alert was created after Amber Hagerman, 9, was abducted while riding her bicycle in Arlington, Texas, in January  1996. She was later found dead. After a radio station listener suggested broadcasting a way for more people to learn about missing kids, the idea of AMBER Alerts was born. Over time, it spread throughout the nation. Since it's inception, AMBER Alerts have helped recover 857 missing children safely.
Active AMBER Alerts
Keep in mind that AMBER Alerts backed by NCMEC will have a specific AMBER Alert  number located in the top right-hand corner of each poster. Each number is differently and unique assigned to each missing child.
Diana Alvares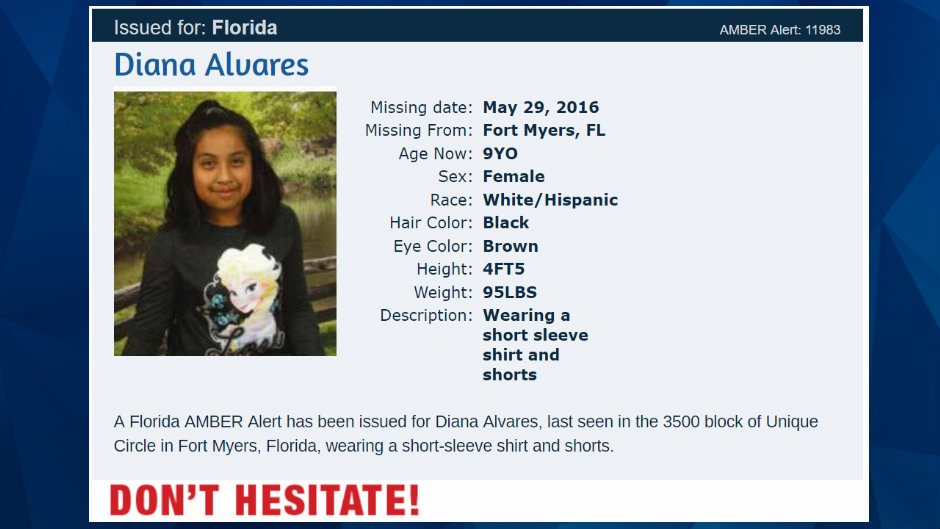 Brooklyn Smith
Age now: 13
Sex: Female
Skin: White
Hair: Brown
Eyes: Brown
Height: 4'11"
Weight: 100 pounds
Description: Last seen wearing a camouflage jacket and pants, a Florida/Georgia band t-shirt and brown boots.
Missing From: Alpharetta, Ga.