Two beautiful little girls, Tionda, age 10, and her 3-year-old little sister, Diamond, were used to being home alone when their mom went to work to support the family.   The early summer morning of July 6, 2001, was no different when mom left for work that morning. She left the two girls around 6:30 a.m., still asleep together on the den sofa.
But when mommy, Tracey Bradley, came home to check on the girls during her lunch break, instead of finding the girls in their Chicago apartment on the sofa where she left them, she found a note instead.
The handwritten note stated the two girls were stopping by a neighborhood store and then would head to play at Doolittle Elementary School, where Tionda was taking summer classes. Yet, the school said the girls weren't there and school records reflect that they had never shown up that day. Bradley then searched the apartment complex where the family of three lived.
Neighborhood children stated they believed they saw Tionda and Diamond playing outside that morning.  But by 6 p.m., with no sign of her girls, she called police.
Please retweet, what of these were your family, wouldn't you want someone to care? pic.twitter.com/T5fVgRD8Lx

— #DiamondandTionda (@BradleySisters) June 18, 2016
Bradley's call to police sparked the single largest search in Chicago history, with CPD assigning 100 law enforcement officers to the case.  They went on to search 5000 abandoned buildings in herculean efforts to find the two little girls, including the cellar of a nearby New Hope Church.
At one point, mommy herself was briefly considered a person of interest because she had given conflicting statements. She allegedly told cops she was home sleeping until about 11:00 that morning and woke up to find the girls gone. It was later explained that Bradley feared police would put her in jail for leaving the girls home alone when she went to work.
Chicago police also questioned the father of one of two girls, even searching his home and garage, but clarified that neither he nor anyone else was a suspect.  Police say he saw the girls the morning they disappeared because he had given Bradley a ride to work.
Police questioned Bradley for over 22 hours on four separate occasions, trying to nail down details.  They state that is normal in cases of missing children, especially since Bradley was the last person known to see the girls.
At some point, police state Bradley stopped cooperating with them, allegedly shoving a cop in March 2002, who asked her to come back to CPD HQ to go over new leads. She was handcuffed and taken to the police station where she ultimately spoke, very briefly, with investigators.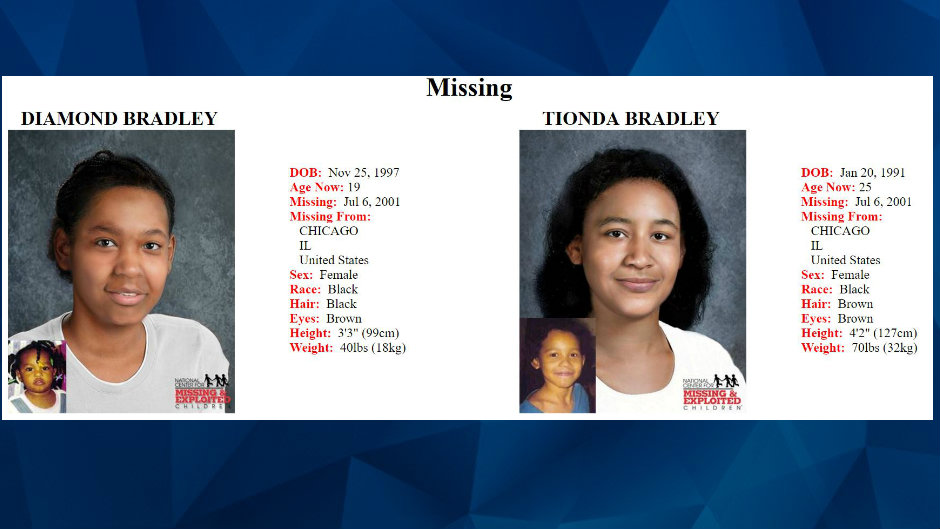 It is noted, however, that Bradley voluntarily took a polygraph after Tionda and Diamond disappeared; she is not named a suspect. There was renewed hope when human remains were found in on the far South side of Chicago in an industrial area, but it was scientifically determined those remains belonged to a Caucasian or Hispanic girl.
Police have re-interviewed many of the two girls' relatives and friends once again and searched their great-grandfather's home in Wisconsin, finding no evidence.
Some theorize Diamond and Tionda were abducted by an African man who paid child support for one of girls upon being told he may not be the bio-dad. FBI agents traveled to Morocco to investigate, but found nothing supporting that theory. Police believe Tionda would have contacted her loved ones by now if she could have; they think both children are either deceased or have been taken out of the country.
Private Investigator James Miller tells Nancy Grace that he worked the case.
"[We worked the case] very, very hard and very efficiently to the best that we could. We`ve ripped the city apart. We`ve gone into abandoned buildings. We`ve gone into sewer systems. We`ve gone on the lake. We`ve had psychics come in. We`ve had psychics send us to Wolf Lake. We`ve had dogs out there."
Seemingly, they used every resource possible to find the girls.  Always, they came up empty handed.
Then, in November of 2110, police located a lost girl who matched Diamond's description. Tracey Bradley did not arrive to identify the girl, however, Bradley's mother came and determined the lost girl was not Diamond.
"I believe that someone that was in close acquaintance with the mother of Tionda and Diamond took those children," Shelia Bradley-Smith, the girls' great-aunt said. "The note, that was not the way Tionda spoke … she was coached to write that note.  She also said there "was a voicemail that said that 'George was at the door.'"
"I`m just wishing my kids, whoever got my kids, please get them home…Bring my children back home because I miss them and I love them dearly," said Bradley.
There is a $30,000 reward to help find the Diamond and Tionda Bradley.  If you have information, please call Chicago Police Department at 312-745-6007 or the FBI Chicago Office at 312-431-1333.
[Feature Photo: Chicago PD]