A newborn snatched from a Jacksonville, Florida, hospital in 1998 has been found alive and safe in South Carolina. A 51-year-old woman, accused of the kidnapping, is behind bars.
News 4 Jax reports that Jacksonville cold-case detectives located the now-18-year-old kidnapped teen in Walterboro, South Carolina, after recent tips led them to her location. The teen's birthdate matched the abducted infant's, but her name was changed. Investigators determined that the suspect, identified as Gloria Williams, established illegal documents for the victim, changed her name, and passed her off as her own child. A DNA test proved the teen was indeed the abducted baby, born as Kamiyah Mobley.
According to police, Williams and the victim (current name withheld) lived together as mother and daughter since the day of the kidnapping. Williams allegedly abducted Kamiyah from the University Medical Center (now called UF Health-Jacksonville) only eight hours after her birth, on July 18, 1998. The suspect, dressed in a flower-patterned nurse's outfit and teal scrubs, wore rubber surgical gloves as she took the baby from her mother's room and snuck her out of the hospital. Grainy surveillance caught the incident, but no one could identify the suspect.
MUGSHOT: Gloria Williams arrested in South Carolina for the kidnapping Kamiyah Mobley as infant 18 years ago pic.twitter.com/uIkr3gNoAD

— ActionNewsJax (@ActionNewsJax) January 13, 2017
During a Friday press conference, Jacksonville Sheriff Mike Williams indicated that due to the overwhelming emotions involved, the family of the victim, and the victim herself, ask for privacy at this time.
"She was abducted as a newborn and needs time to process this… we want to respect her privacy and we ask that you do too."
Baby Kamiyah made national news after her abduction. The story was featured on America's Most Wanted and a $25,000 reward for her safe return was offered. According to ABC News, although over 20,000 tips came in, all led to dead ends.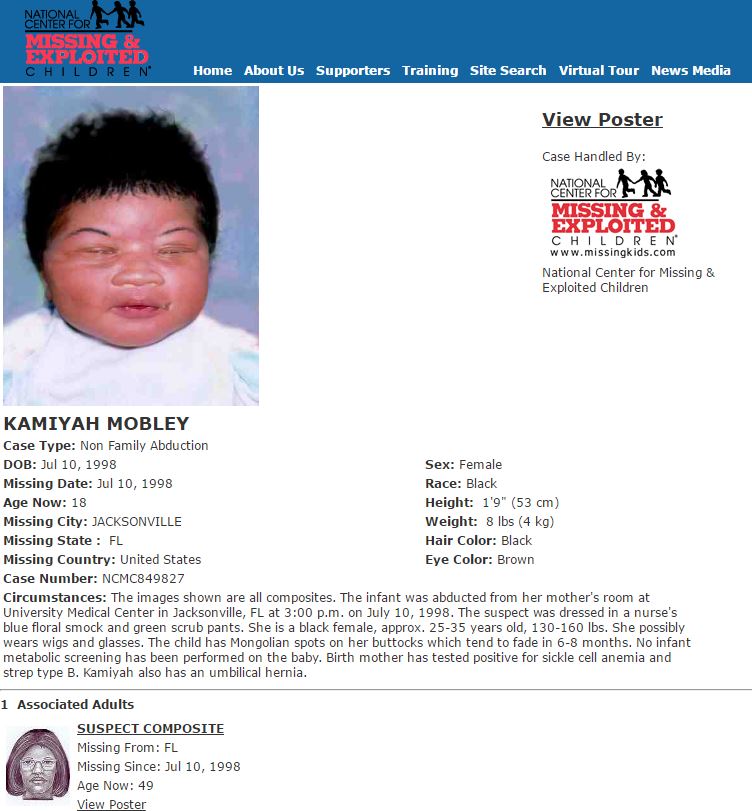 In late 2015, however, authorities received substantial leads from tipsters who pointed them to South Carolina. After in an in-depth investigation led by Jacksonville cold case detectives and the Walterboro Police Department, they located the victim.
Williams was arrested on Friday morning at her Walterboro home. She's facing first-degree felony kidnapping charges. If convicted, she could spend the rest of her life behind bars.
Sheriff Williams reminded the public of the importance of never giving up on missing children, even if the case is cold.
"Even when a case is deemed cold, we're always looking for new information, a tip or an advancement in technology. This is what we strive for, justice for our victims, no matter how long it takes."
[Feature Photo: Jacksonville PD]
---
More Top Stories from Crime Online:
Amber Hagerman: Original AMBER Alert girl disappeared 21 years ago today; abductor still not found
House Fire Horror: 6 children die while 8-year-old helps saves mother, siblings
Wedding From Hell: 'Raging drunk' bridesmaid slugs guest, nearly runs over best man