MARYCLAIRE DALE, Associated Press
GLENSIDE, Pa. (AP) — The smiles radiate from photos posted online by friends: Grace Packer sporting an impish grin as a toddler, floating happily in a pool as a young teen, leaning in to talk to a friend at her school lunch table.
But the 14-year-old posted a more haunting picture, a forlorn selfie taken in a dimly lit room, when she opened a Facebook account last year and invited people to comment on it. No one did.
At the time, police believe, Grace's adoptive mother and the mother's boyfriend were plotting to kill her.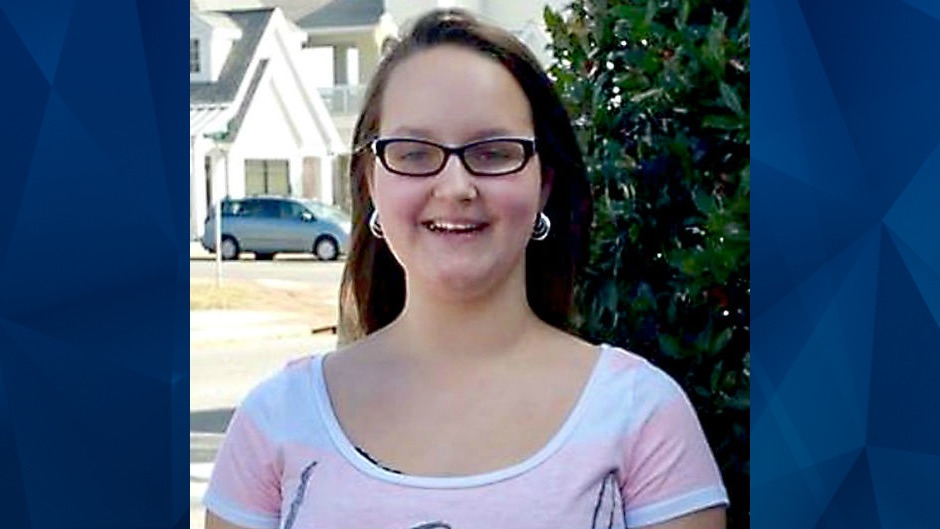 ___
Grace, who moved a lot and had a learning disability, looked out for the lonely kids at school. She befriended Jackie Horst's autistic son, eating lunch with him at Abington Junior High.
"She showed patience for him and kindness toward him, and he thought she was really pretty and so nice," said Horst, whose son gave Grace flowers on Valentine's Day. "(She) didn't really mind about some of his quirks."
But the friends couldn't see each other outside school in Glenside, near Philadelphia. Horst tried reaching out to Grace's mother, but Sara Packer never responded. The ninth-grader had described the adults at home as "mean" but never said more to Horst's son.
Yet she had endured a lifetime of pain and loss, from sex abuse allegations that led her birthparents to lose custody when she was 3, to the indecent assault that sent her adoptive father to prison when she was 10, to the unimaginable rape-murder fantasy that prosecutors say led Sara Packer and boyfriend Jacob Sullivan to kill Grace in July.
They are due in court Friday for a preliminary hearing.
Despite her home life, Grace's list of favorite things echoed those of dreamy young girls everywhere: the colors purple and pink, butterflies, signing "Gracie" with a heart in place of the dot.
"She was kept isolated," said Nadine Barnett, one of the Abington parents who organized a public memorial for Grace on Monday. "(But she) was a really good friend to people who needed her."
The community of Abington, Montgomery County, is doing its part to keep the memory of Grace Packer alive. https://t.co/xlPkG1FT5x pic.twitter.com/JlIdUsuHdI

— The Reading Eagle (@ReadingEagle) January 16, 2017
Grace was born Susan Hunsicker on Aug. 14, 2001, to a poor, low-functioning couple living with family in a crowded house in Norristown. Her parents fought to keep their three children, but a Berks County judge terminated their parental rights over reports that other adults were abusing them.
Sara Packer, a Northampton County adoption worker, and her husband, David, took in the two youngest as foster children, then adopted them and renamed the 3-year-old Grace. The Packers would go on to foster 30 children as they hopscotched around northeast Pennsylvania for a decade.
That came to a halt in 2010 when a foster teen told authorities she had seen pictures on David Packer's phone of him having sex with another foster child.
The 18-year-old victim eventually told Allentown police that the sex had been ongoing since she was 15, and that Sara Packer knew of it by the end. Police also determined that 9-year-old Grace had been molested over several years. Sara Packer lost her job as an adoption supervisor, and David Packer, who had worked at a paintball facility, went to prison for five years.
By 2015, Sara Packer was living with Sullivan, a draftsman, and working at a call center.
Grace had been sent to North Carolina to live with a relative in January 2015. Photos posted on a memorial Facebook page show breezy summer memories as Grace holds hands with a friend in the ocean, tries miniature golf and bounces off a diving board.
But the relative's situation changed, and Grace returned to her mother that November.
"They wanted to ship her out, and when that failed, they plotted to kill her," said Bucks County Assistant District Attorney Jennifer Schorn.
Grace was last seen at a Fourth of July picnic last year. Four days later, Sara Packer watched as Sullivan — after taking Viagra — raped her daughter, police said.
They sedated Grace and left her to die, bound and gagged, in their sweltering attic of a new rental in Quakertown, according to a police affidavit. When they found her alive the next day, Sullivan strangled her, police said. Sara Packer reported Grace missing July 11, but failed to drop off a photo to Abington police or give them her new address.
According to the affidavit, the couple left her body in the Quakertown house for several months packed in cat litter.
When police tracked them down that fall, they got to work disposing of the body, the affidavit said. They removed the girl's limbs and dumped the body upstate, where hunters found it on Halloween, authorities said.
As police closed in on them last month, Sara Packer and Sullivan forged a suicide pact, authorities said. They were found unconscious from an apparent drug overdose Dec. 30. Sullivan opened up about the killing at the hospital a week later, police said.
"I'm sorry for what I did," he said when he was led into court on Jan. 8. "It was wrong."
Sara Packer's father and other relatives have declined to comment. She doesn't have a lawyer listed in court records.
Grace's birthmother wonders why authorities left her daughter with Sara Packer.
"All these years, I figured that she was growing up to be a regular teenager," Rose Hunsicker told WFMZ-TV. "I trusted this woman to take care of something so precious to me."
---
Copyright 2017 The Associated Press. All rights reserved. This material may not be published, broadcast, rewritten or redistributed.