On Saturday afternoon, a worried family set out on a mission to find missing woman, Jessica Runions, when they unexpectedly stumbled upon a lifeless body in Kansas City. The incident marks the second time the family discovered a deceased person while searching for Jessica.
The Telegraph reports that Jessica, 21, was last seen on September 8, and her family members have been desperately searching for her ever since. Determined not to give up until they find her, they spend weekends canvassing remote and hidden areas throughout Kansas City and it surrounding areas.
Searchers looking for missing Missouri woman find a dead man's body for the second week in a row https://t.co/cFS12rKQEF

— Mike Hayes (@michaelhayes) January 30, 2017
One of their searches took place around South Brighton Avenue and 53rd Street on Saturday. A dozen or so family members were searching the area when they stumbled upon a deceased male. The unidentified male found was found lying lifeless in a small embankment, around 6 to 8 eight from the way.
On the previous Saturday, John Runions, Jessica's father, found a decomposing body in a small creek. The man was later identified as Brandon Herring, 21, of Raytown.
"Two bodies two weeks in a row?" John Runions said. "It's unbelievable. … We're not going to stop looking until we find her. And if we find other people along the way, that's good. Families deserve closure."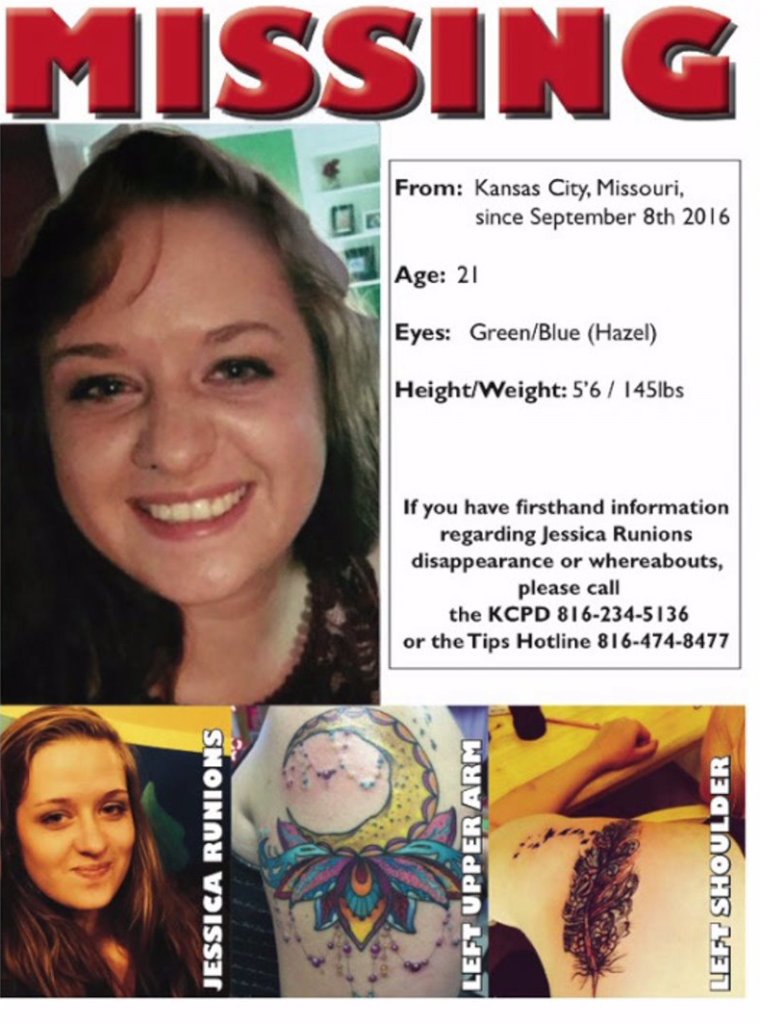 Capt. Stacey Graves of the Kansas City Police Department added that although it's tragic for the family to discover two dead men, he's grateful that it happened because at least the victims' families can have a sense of closure.
"It is awful a family searching for their loved one finds two victims during their search, in one week's time. Although this is a strange turn of events for those searching, I am very thankful the victims have been found for their families' sake."
RELATED Reading: New clues in missing UMKC student
Jessica was last seen attending a party with Kylr Yust, a man with a violent criminal history. Two days after she went missing, police found her car, burned, in South Kansas City. Yust was later arrested for burning the vehicle. Jessica has long blondish-brown hair, stands 5-foot-6 inches, has hazel eyes, and weighs around 145 pounds. She has a tattoo of quarter moon on her upper left arm and a large feather tattoo on her left shoulder.
Kylr Yust appears in court on charges of burning car https://t.co/J3Gir6VGJ5 pic.twitter.com/pqDFqMWDyy

— 41 Action News (@41actionnews) November 5, 2016
Anyone with any information on Jessica's whereabouts should call KCPD at 816-234-5136. You can also call their TIPS hotline at 816-474-8477.
[Feature Photo: KCPD]