The mother of missing twins was sent back to jail on Sunday for theft charges after reportedly collecting government assistance on the kids for years. The new charges are her most recent accusations; she was jailed previously for hiding the whereabouts of her kids and failing to appear in court.
FOX News reports that Pittsburgh mom, Patricia Fowler, was arrested in August for concealing information about her twin children, Ivon and Inisha Fowler. Fowler told authorities that her twin children, a boy and a girl, are safe, but she's reportedly lied numerous times regarding their whereabouts. Each location she gave police turned out to be a false lead.
47-YO Patricia Fowler~Mother(effer) Of Long Missing Twins Appears 4 Arraignment Hearing https://t.co/XYXNW5HbHj via @PittsburghPG#BadMums

— PeopleRuinEverything (@Skunky66613) January 30, 2017
While police continue to search for the twins, they tacked on additional charges against Fowler. She's accused of illegally collecting more $50,000 in government assistance for the missing children, including food stamps, medical benefits, and public assistance. The twins because a focus in police investigation after Fowler's other four children were removed from her home last summer. While investigating the neglect of the other children, a Children Youth and Family caseworker inquired about the twins, something that the police working the neglect case initially had no idea about.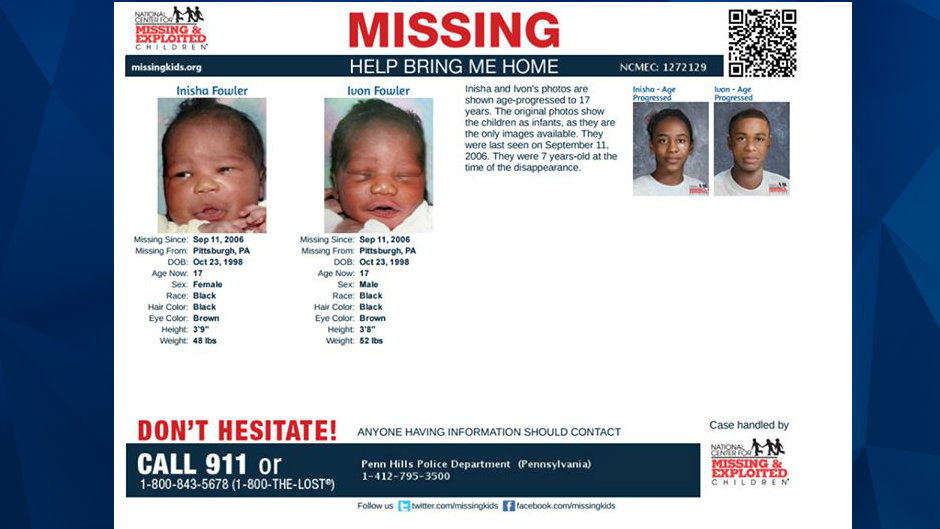 The twins were last seen when they were around 4 years old. Today, they would be around 18 years old. They've been missing since September 11, 2006, and were last seen in Pittsburgh.
READ This: Nyleen Kay Marshall, 4, disappears on family outing
Allegheny County detective Michael Kuma stated that he felt the twins died years ago. He didn't comment further and didn't say whether Fowler was a suspect since the investigation is ongoing.
"In my professional opinion, I believe they've met their demise."
Meanwhile, the search for the twins remains active. The FBI, National Center for Missing & Exploited Children (NCMEC),  Penn Hills Police, Allegheny County Police, and the Allegheny County District Attorney's Office are all involved in the active search. Anyone with information about the twins should call NCMEC at 1-800-843-5678 or call 911.
[Feature Photo: NCMEC]