An Arizona woman is accused of stabbing her boyfriend with scissors on January 12, after he declined to have a threesome with her and another woman.
Today's News Herald reports that Teresa M. Gillard, 42, reportedly met a woman at a dog park in Lake Havasu City, only a few minutes from the home, off of Challenger Drive. Apparently, Gillard and the new woman hit it off so well that they wanted to have a "threesome" with Gillard's boyfriend. Yet, when the victim declined and told her he wasn't feeling well, Gillard allegedly became enraged.
A Lake Havasu City police report indicates that Gillard and the victim began arguing, which quickly escalated into a physical confrontation. Gillard's boyfriend grabbed her wrists to calm her down and told her he had a gun. That's when Gillard allegedly broke loose from his grip, grabbed a pair of scissors, and stabbed the victim in the arm. Gillard claim the victim "handed the scissors" to her.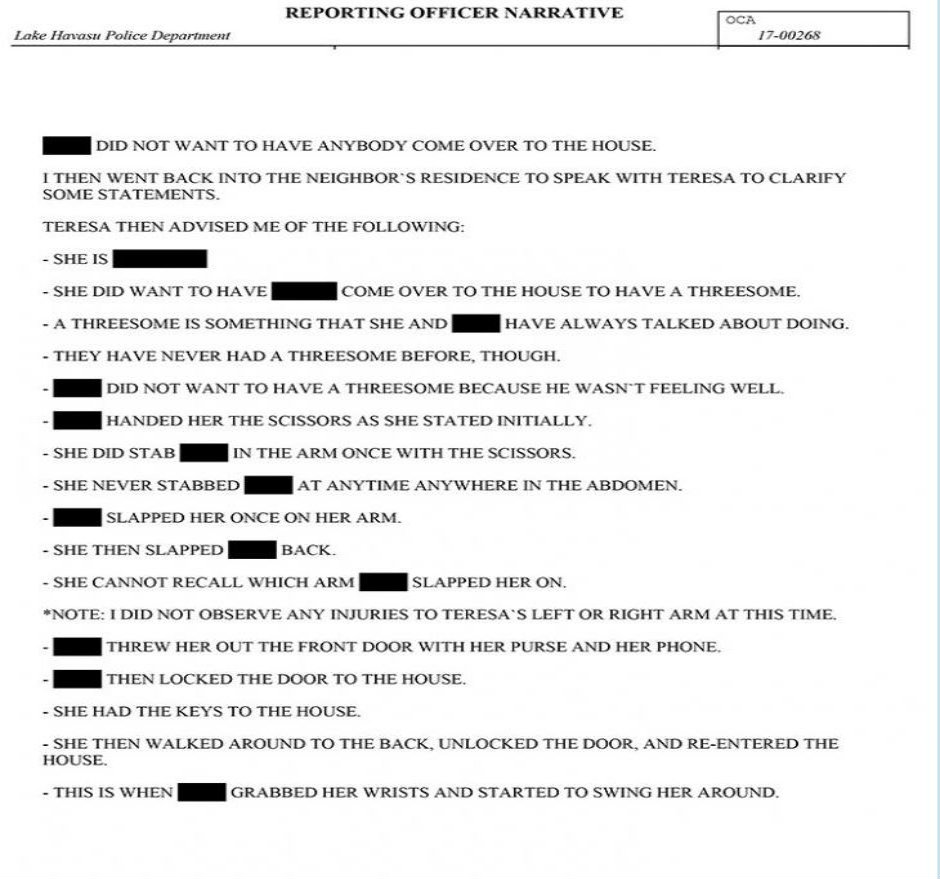 The victim pushed Gillard outside and locked the doors. He allegedly told her to leave, but she snuck in through the back door, and the fight continued. The victim pushed her out of the house again and locked the back door. Gillard went to a neighbor's house and called 911. She claimed that her drunk boyfriend beat her and threatened to shoot her with a gun.
When police arrived, Gillard admitted that she drank a Budweiser "Strawberryrita" and couple shots of peppermint schnapps. After interviewing both parties, police arrested Gillard and charged her with felony aggravated assault and disorderly conduct. They noted that she didn't have any physical injuries. Gillard's boyfriend suffered minor injuries. He was not charged.
[Feature Photo: Lake Havasu City PD]