Katherine Jackson is seeking medical care in London, and apparently it has a lot to do with nephew in law, Trent Jackson, who she claims is terrorizing her.
Katherine recently gave her first sworn statement in her restraining order case against Trent, the son of her husband Joe Jackson's half-brother. Katherine wrote that she sought out medical assistance, party due to the stress she's endured from Trent. Katherine flew to London a few months back to visit daughter, Janet Jackson, and the singer's newborn baby. She's remained there since.
Katherine Jackson Says She Has to Get Dressed in a Closet Because Her Nephew Set Up Hidden Cameras pic.twitter.com/CDdW8dssje

— Countz PR Firm (@CountzPR) March 2, 2017
"I needed a doctor, and he neglected my health needs." "I am currently in London, England, under a doctor's care in part because of the stress this situation with Trent is causing me."
The mom of nine claimed that she used to have active social life, but Trent put an end to the that with his tight grip on her personal actvities. He's accused of monitoring her personal calls and isolating her from concerned family members and friends.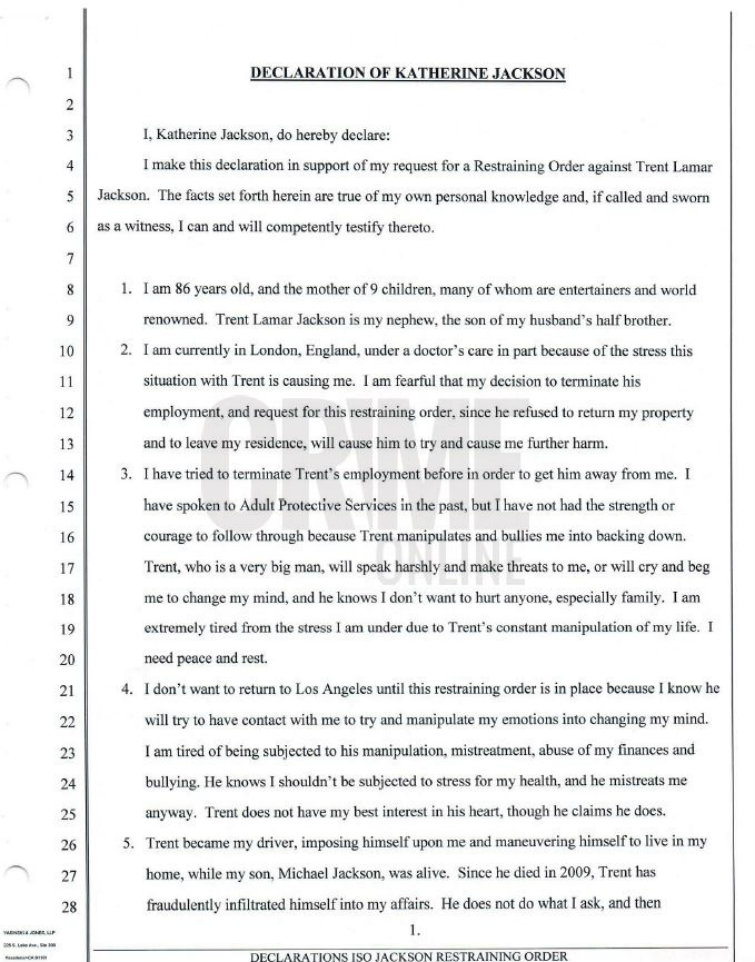 He's also accused of using her credit cards, planting bugs and cameras in her house, and preventing Katherine from taking walks and enjoying life. She wrote that Trent calls himself the "House Manager" and copied a key to her bedroom, where he walks in whenever he wants.
"I used to be very social with my friends, like playing Scrabble, walking around in the park, sharing meals, but Trent has given them various reasons why I am not available. I believe he has put cameras and bugs in my home, so the only place I can try and have a private conversation is in my bathroom."
Rebbie Jackson, Katherine's daughter, echoed her mother's sentiments, and claimed that Trent even refused to call 911 when 86-year-old Katherine passed out.
"I heard later Trent thought she had died," Rebbie said. "Instead of calling an ambulance, Trent called one of my nephews who told him to take her to the hospital. The doctors at the hospital said she was dehydrated and had high blood pressure. Instead of bringing her home where she wanted to be, Trent took her to a hotel in Santa Monica — again away from her kids."
Katherine Jackson, 86, is 'under a doctor's care in London' —-> https://t.co/mnDmLYw6bl pic.twitter.com/CbFc60lzDW

— Farrah Gray (@ReallionaireHQ) March 2, 2017
On the other hand, Ron Rale, attorney for Trent, said that the accusations are false and that his client is a "teddy bear."
"He is not an abuser. You talk to this guy, he's a teddy bear."
Rale hoped to have Katherine sit down in person for a formal deposition, but he admitted that it probably wouldn't happen. He indicated that her attorney will most likely not remove her from London. Katherine herself reportedly already turned down the demand.
"She said she won't be here. She said not..she seems pretty adamant."
Until last month, Trent lived in Katherine's Calabassas home and acted as her personal driver. He denied all claims of abuse, and went to court on Wednesday to attempt to get the restraining order thrown out. The judge denied the dismissal, but did grant a continuance. The next scheduled hearing is for March 23.
[Feature Photo: AP/Charles Dharapak]