The father of missing teen Elizabeth Thomas had hired an attorney over a month before she vanished to demand the Maury County School district disclose information regarding his daughter's relationship with her Culleoka School teacher Tad Cummins, who is the prime suspect in her disappearance.
Mary Catherine Elizabeth Thomas, 15, disappeared on March 13. She was last seen at a restaurant in Columbia, Tennessee, at about the same time Cummins was spotted at a nearby gas station filling up his car's tank. The two are believed to have left together, and Cummins is on the Tennessee Bureau of Invesitgation's Most Wanted list. An Amber Alert was issued shortly after Elizabeth disappeared.
According to legal and school documents obtained by Crime Online, Elizabeth's father Anthony Thomas was deeply concerned about his daughter's relationship with the teacher and felt brushed aside by school officials. His attorney claimed the school district had kept Mr. Thomas in the dark regarding an investigation into a January 23 incident in which a fellow student reported seeing Cummins kiss Elizabeth on the lips.
VIDEO: Here's surveillance of AMBER Alert suspect Tad Cummins, days before disappearing with Elizabeth Thomas. https://t.co/j1fuc5VJWH

— TBI (@TBInvestigation) March 20, 2017
According to a letter from Mr. Thomas's attorney to the superintendent of Maury County Schools dated February 6, school officials did not inform Elizabeth's father about the alleged kissing incident. He learned of the allegations a full week later from Marion County law enforcement.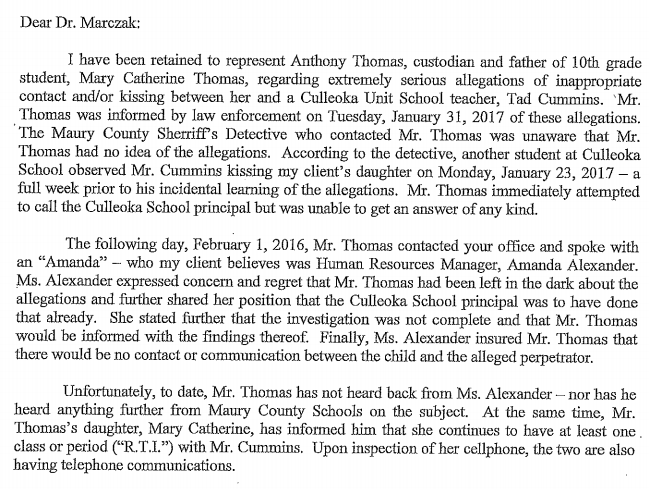 Upon learning of the incident, Mr. Thomas reportedly called the school on February 1 and spoke to a human resources manager who apologized for the delay in communication and assured him that Mr. Cummins was prohibited from having contact with Elizabeth. She reportedly told Mr. Thomas that she would follow up with him regarding the status of the investigation, but his lawyer said he had not heard from her as of February 6.
The same letter claims that Elizabeth was still taking a class with Mr. Cummins at the time, a claim that a school official denied in a responding letter. Elizabeth's father also said he found evidence in her cell phone that she had been in communication with the teacher during the investigation.
MORE VIDEO: Here's a second clip of AMBER Alert suspect Tad Cummins. https://t.co/rnUJWNdx8l

— TBI (@TBInvestigation) March 20, 2017
Tad Cummins was suspended from employment with the Marion County School district on February 6 following allegations that he violated the terms of the investigation by having Elizabeth in his classroom on February 3, when she reportedly visited him there for about a half hour.
Elizabeth admitted in interviews with school officials that she had a friendly relationship with Cummins, 50, and frequently sought him out as a counselor. She denied their relationship was romantic in nature.
Cummins is believed to have been driving a 2015 Nissan Rogue with the license plate number 976ZPT, but police told local news station WKRN that they believe the teacher may have abandoned the car.
Anyone with information regarding Elizabeth Thomas's whereabout is urged to call 911, the Maury County Sheriff's Office at (931) 375-8654, or TBI at 1-800-TBI-FIND.
Nancy Grace and investigative reporter Alan Duke take a look at the investigation of this case on Crime Stories with Nancy Grace. Subscribe on iTunes or listen below:
Photo: Tennessee Bureau of Investigation