The lawsuit alleging Katherine Jackson's nephew abused her and stole from her was dismissed on Tuesday by a California judge after the Jackson matriarch wasn't ready to go forward with a trial.
Attorneys representing the King of Pop's mother "threw themselves at the mercy of the court" according to TMZ, and asked for the lawsuit to be dismissed for now, with the option of filing again at a later date. Yet, the judge ruled that if the lawsuit wasn't ready on Tuesday, it would be closed indefinitely.
Katherine Jackson dismisses restraining order against nephew Trent in elder abuse case https://t.co/1u9AIBRyN4 pic.twitter.com/mC79hgHE49

— People Magazine (@people) April 26, 2017
The lawsuit originally claimed that Katherine's nephew, Trent Jackson, 52, stole around $40,000 from Katherine's bank account, mentally and emotionally abused her, and kept her hidden from her friends and family. Allegedly, Katherine feared Trent so much that she fled to London, where she stayed for months.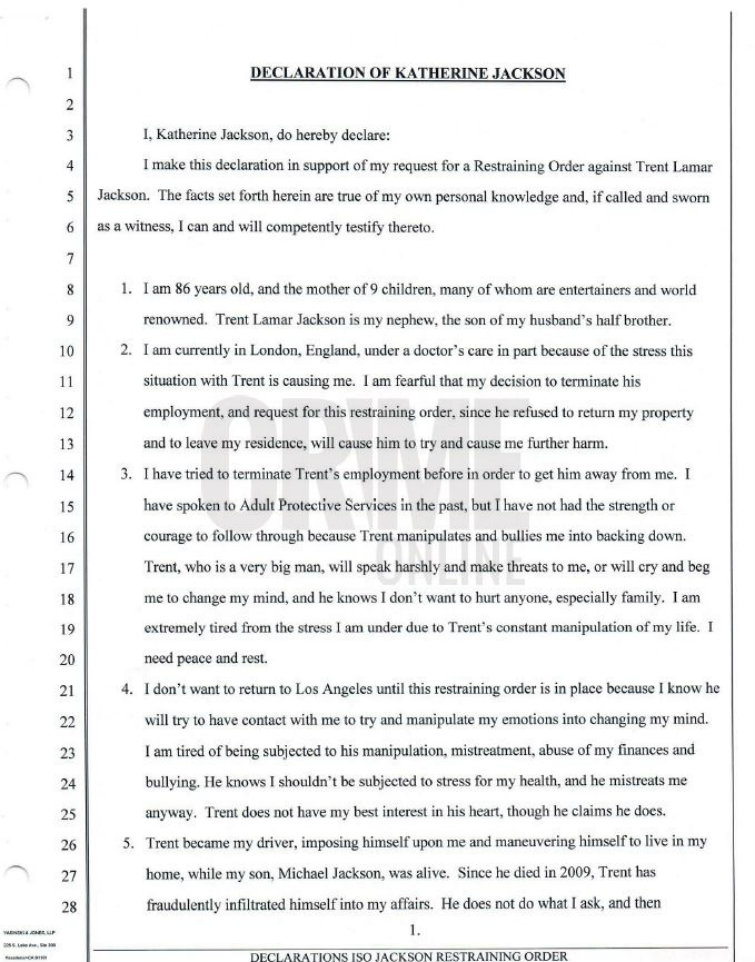 During her time away in England, Michael Jackson's youngest son, Blanket, was supposedly left alone in Katherine's Calabassas home, although, along with T.J. Jackson, she has legal custody of the teen. An undisclosed source close to the family said that several of Michael Jackson's siblings purposely kept Katherine in London after she flew in to see Janet Jackson's newborn baby earlier this year. The source claimed that the siblings were trying to block Trent from getting a $1 million a year pay for being Katherine's caretaker, although the grandmother's disappearance reportedly upset Michael Jackson's daughter, Paris Jackson.
"Paris loves her grandma and is worried Rebbie and several other siblings of Michael's have intentionally put a wall up to control the matriarch. She believes some of her aunts and uncles are trying to control Katherine for financial motives."
RELATED Reading: Jackson family feud: Did nephew abuse Michael's mom?
According to the documents filed on Katherine's behalf, Trent was accused of assigning the role of caretaker to himself in order to watch Katherine's every move.
"Trent made himself a care custodian of Mrs. Jackson to control her every move…….Constant, sometimes subtle, emotional abuse was effective in making Mrs. Jackson confused and unsure of what was happening to her. She is clear now and scared for her safety, after terminating his employment. Now that he knows his conduct will be revealed, she fears what he may do to her upon her return."
Another source claimed that Katherine got "cold feet" when presented with the idea that she may be cross-examined, prompting her to pull out of the lawsuit.
Trent's attorney, Ron Rale, said that Katherine's extended stay in London was "eerily similar" to a situation in 2012, when several of Michael Jackson's siblings reportedly purposely kept the Jackson matriarch away from Prince and Paris Jackson without telling her the kids were looking for her.
[Feature Photo: AP/Matt Sayles, File]