A man wanted for murder in Canada is believed to have confessed to the act in a series of Reddit posts that claim he had been acting in self-defense.
The Daily Dot has obtained cached versions and archives of posts made by a man claiming to be Ager Hasan, 24, who is wanted for last month's stabbing death of his on-and-off girlfriend, 22-year-old Melinda Vasilije, in Kitchener, Waterloo.
In a since-removed post titled "Wanted for Kitchener murder my side," the man believed to be Hasan insisted on his unending love for the victim and claimed he had no intention of killing her. He also denied that he had fled Canada to process what happened, not evade responsibility.
"I understand the early judgements (sic) made by society, distancing myself makes it seem like I am trying to escape a crime. I'm not. I'm only trying to give myself some space and fully take in what happened before I turn myself in," the person believed to be Hasan wrote on Reddit.
The fact is no one is more destroyed than I am. She was more than a girlfriend, a soon to be fiance, she was my everything. What happened that night was nothing but tragic.
May Melinda Vasilije #RIP & may justice be served in her murder. Our thoughts are with the victim's loved ones. #VAW https://t.co/NhbChcdalP

— Interval House (@Interval_House) May 5, 2017
In further posts, Hasan says he made plans to meet Melinda at her apartment to reconcile their relationship, after a previous breakup that seems to have been prompted by an incident at the same apartment. Hasan had reportedly been charged with breaking and entering Melinda's apartment earlier in April, and was put on a restraining order as a result.
Hasan shared screenshots of text messages purportedly between him and Melinda, in which Melinda first seems to discourage him from coming over, but then agrees to let him come by as long as they keep it from her roommate.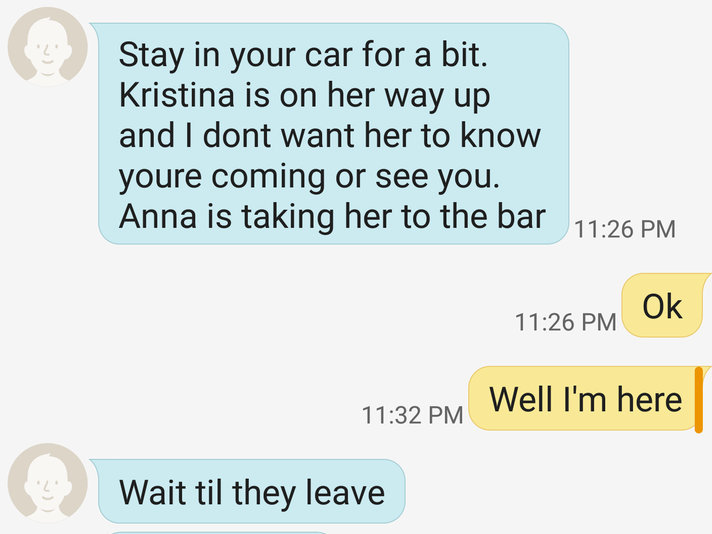 In the Reddit posts, Hasan reportedly said the night began peacefully but that Melinda got upset when she learned he had been with another woman during their breakup. The Daily Dot shared a post in which he describes the killing:
I go up to her to try and give her a hug, almost out [of] nowhere she grabs a knife by the sink … She comes at me in full force, aiming towards my face. I tell her to stop. She doesn't, I tried grabbing the knife but ended up cutting my hands. After a few cuts I lost it. I freaked out, I was scared and in a state of shock. Never in a hundred years did I think she would use a knife against me. Out of shock and fear I grab one. I hit her with it, almost blindly. A few times. I didn't know what happened. I was confused, shocked and scared. I had no intentions of that happening.
The poster claiming to be Hasan offered a weak explanation as to why he just left her there to die:
When I left I honestly thought she just passed out. Then I looked at the blood, and started freaking out and just ran. I didn't [know] for sure she had died until the next day. I honestly had no intentions of ever doing that to her. I was protecting myself.
The Reddit user reportedly posted 40 Snapchat photos of the couple together and of Melinda alone, which are now online at Imgur.
According to the Toronto Sun, police continue to search for Hasan, who, as the Reddit posts indicate, is believed to have crossed the Canadian-U.S. border and is now in hiding somewhere in the United States.
Melinda Vasilije found dead, manhunt underway for Ager Mohsin Hasan who was last seen in the U.S https://t.co/8rOVccw04H pic.twitter.com/FlM0ygWhQe

— Homicide Canada (@homicide_canada) April 30, 2017
Feature Photo: GoFundMe