New details continue to emerge at the Penn State fraternity, Beta Theta Pi, after a pledge died in February from falling down a flight of stairs. Recently-revealed text messages indicate that pledges were made to do "the elephant walk."
According to No Bullying, the elephant walk is a "degrading and humiliating" pledge ritual in which frat pledges form a straight line, then grab the genitals of the person behind them with one hand, while inserting their thumb into the rectum of the person in front of them. The pledges then walk in a circle, and should anyone break the circle, they have to insert their thumb into their mouth–the thumb that was inserted into another pledge's rectum.
#Penn State #pledges were made to do the #elephant walk https://t.co/ZuWg63ZGWU pic.twitter.com/Z6c6Q8PKcd

— newsAnglr US (@usanglr) May 10, 2017
Court documents revealed that a text message exchange between Beta Theta Pi president, Brendan Young, and another student revealed that they planned on carrying out the elephant walk just two months before pledge and Penn State student Timothy Piazza fell down a flight of stairs and died during a hazing ritual.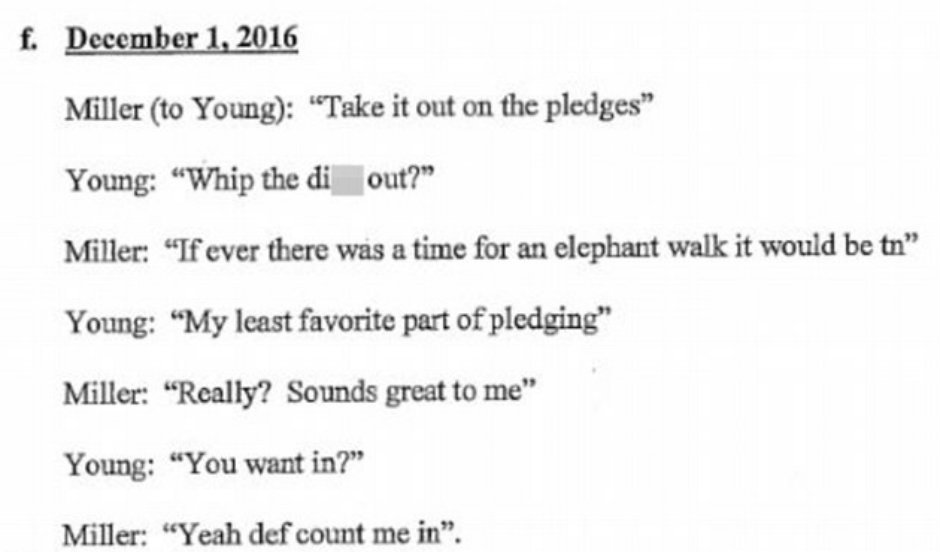 The Daily Collegiate reports that during the course of the investigation of the death of Piazza, Detective David Scicchitano of the State College Police Department found evidence of ongoing hazing and alcohol purchases between Young and other frat members dating back to 2016.
ICYMI: Breaking down the roles the 18 former Beta Theta Pi brothers allegedly played in the death of Timothy Piazza https://t.co/nSRYg5GRNk pic.twitter.com/NTPbTDe8Zc

— The Daily Collegian (@DailyCollegian) May 9, 2017
Young is one of the eight Beta Theta Pi frat members facing involuntary manslaughter charges in connection with the February 3 death of Piazza. According to prosecutors, the frat members waited too long (at least 12 hours) before calling for medical assistance for Piazza.
Piazza consumed a fatal amount of alcohol and fell numerous times the night before he passed away. His final fall plunged him 15 feet down a flight of stairs. Instead of calling for help immediately, the frat members allowed him to "sleep it off," thinking he was simply passed out from drinking.
Penn State permanently banned Beta Theta Pi on March 30, citing a history of excessive drinking, hazing, and drug use.
[Feature Photo: Flickr/opacity]