A person claiming to be a 19-year-old girl from Sydney, Australia, has placed an advertisement selling her virginity for $250,000, reports Daily Mail.
The ad on classifieds website Locanto starts out by saying, "Hey I am a 19 years old girl who wants to sell her virginity."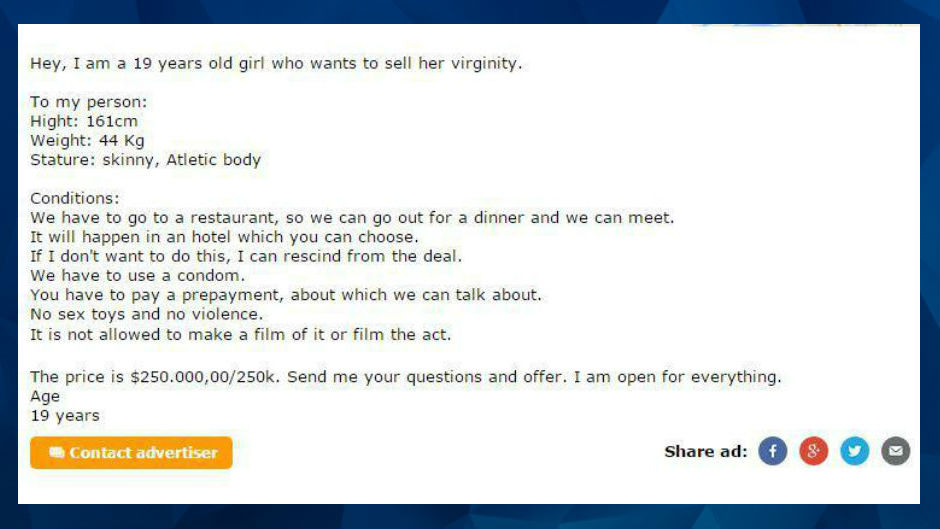 The woman describes herself as being 5 foot 3 inches and about 97 pounds, with a thin, athletic build.
She sets certain conditions that must be met for the transaction to take place. First, she requests that they have dinner, in a restaurant, so that they can meet. Next, she says the deed will happen in a hotel. She makes sure to mention that if she changes her mind, the deal is off. She requires that the man use a condom and that there be a prepayment before anything happens. She says, "no sex toys and no violence." And finally, "it is not allowed to make a film of it or film the act."
The supposed 19-year-old says that she welcomes any questions that any potential customer may have and that she's keeping an open mind.
"I'm open for everything."
Between the numerous grammar mistakes and spelling errors, it's difficult to tell if the advertisement is a scam or if this girl really means business. In any case, this isn't the first time a young girl has offered up her virginity to the highest bidder.
Recently, a Romanian teen made headlines when she auctioned off her virginity to a Hong Kong businessman for $2,586,480,000, reports The Sun. Eighteen-year-old Aleexandra Kefren went through an agency named Cinderella Escorts, which gets 20 percent of the profit.
Kefren said she felt this was the best way to lose her virginity.
"I wanted to sell my virginity with Cinderella Escorts rather than giving it to a future friend who might have left me anyway. And I think many other girls have the same attitude. How many would possibly forgo their first time in retrospect if they could have £2million instead?"
[Feature photo: Locanto]