The grandmother of missing 9-month-old William Jones-Gouchenour spoke exclusively with Crime Online on Thursday and shared her concerns about the whereabouts of her daughter and grandson.
Mesa City police have issued an alert for 19-year-old Madeline Frieda Jones and her 9-month-old son, William Jones-Gouchenour. Last seen at the Jones home near McKellips and Stapley roads at approximately 5:30 p.m. on June 15, the two have not been seen nor heard from since.
Cassandra Jones spoke with Crime Online and said Madeline was preparing to leave for an appointment with her new attorney regarding an appeal in her on-going custody battle with ex-husband, Samuel Jacob Gouchenour.
.@MesaPD asking public to help find Madeline Jones, a judge has issued an arrest warrant. pic.twitter.com/pHLIVtkvIE

— Shawn Thompson (@Shawn_TVNews) June 19, 2017
Jones said her daughter was dressed in a blue skirt and white blouse. She believes Maddie was taken, as she "just disappeared," leaving behind her wallet, purse, phone and William's diaper bag and medication.
Jones claims the family has been the target of "scary" men surveilling the house and drones entering their backyard for months, leaving the family – including Jones' three other daughters – fearful of going outside.
The worried mom also claims that on Mother's Day last year, her daughter was held against her will and her cellphone was taken from her while she was at the Gouchenour family ranch in Pondera County, Montana.
Jones provided Crime Online with a page that appears to be from a police report filed by Pondera County Sheriff Deputy Andy Lund who did a welfare check on Madeline Jones last year. The report states, "Sam Jr." said that he said he did have an argument with Madeline, he did not touch her, but did admit that he took her phone."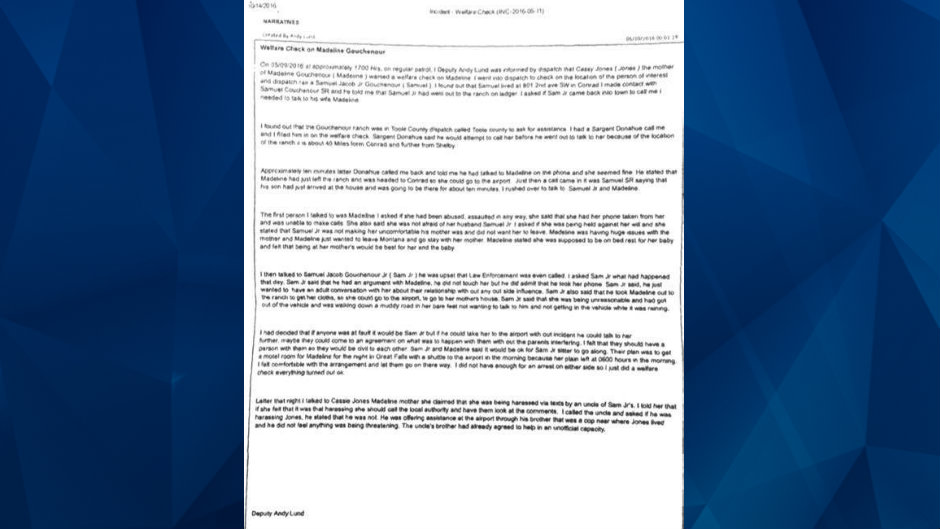 Madeline told authorities that "Samuel Jr. was not making her uncomfortable but his mother was and did not want her to leave." She indicated she was supposed to be on bedrest and "just wanted to leave Montana and be with her mother."
Jones also supplied a copy of a letter that appears to be from the BYU Title IX office indicating Madeline Jones had filed a complaint against her husband, accusing him of repeatedly sexually assaulting her.
"The investigation found that Samuel Jacob Gouchenour did violate the Sexual Misconduct Policy by engaging in nonconsensual sexual behavior against you," the letter, dated April 17, 2017, and signed by Title IX Coordinator Tiffany Turley states
An email provided to Crime Online from Marcus Williams, the Deputy Title IX Coordinator for Students at BYU dated June 7 states,
"Dean Heperi has reviewed the appeal and made his final decision" and "Dean Heperi has changed the sanction from Suspension to Expulsion. Jacob will be required to immediately sever all formal connections with the university and a hold has been placed on his account preventing him from being considered for admission to any Church Educational System school."
A source close to both the Jones and Gouchenour families who spoke with Crime Online on the condition of anonymity claims Cassandra Jones is likely behind her daughter's disappearance.
"If Maddie gets arrested for this they've arrested the wrong person," the source said, asserting Maddie and her three younger sisters were routinely emotionally abused and manipulated by their mother, who was eager to marry them off, even at young ages to older boys.
What remains undisputed is the fact that nine-month-old William Jones-Gouchenour is still missing and believed to be at risk.
Mesa City Police ask for the public's help in locating the missing persons and request anyone with information call the authorities at 480-644-2211.
This story will be updated. Check back with Crime Online as additional details become available. 
[Feature Photo: Facebook]