From the time motorized vehicles first hit the streets, cars have been the center of many crimes. From getaway cars to murder scenes, criminals have made their vehicles become almost as notorious as the crimes themselves. Here are 10 cars that have gone down in history as the most infamous crime cars of all time.
O.J. Simpon's 1993 Ford Bronco
Many people remember O.J. Simpson's infamous police chase through Los Angeles, not only because of the crime the celebrity was accused of, but because it was the first of its kind to be televised live on news networks. To this day, people still associate the Bronco, which was discontinued by Ford just two years after that eventful day, with O.J. Simpson and his grand attempt to run from the law.
Bonnie and Clyde's 1934 Ford V8 Sedan
Bonnie Parker and Clyde Barrow became notorious criminals in the 1930's when they began their two-year crime spree robbing banks and small stores across the United States. The 1934 Ford V8 Sedan that the two used as a getaway car achieved its notoriety when the couple was cornered by police in Louisiana. The car was peppered with at least 100 bullets, and Bonnie and Clyde died inside the vehicle.
JFK's Lincoln SS-100-X
The car that one of America's most beloved presidents was assassinated in was actually specially built for presidential parade use. The car was known as X-100, which was the code name that the Secret Service used. Hess & Eisenhardt of Cincinnati, Ohio, customized the limousine by literally cutting it in half, reinforcing it, and extending it 3 ½feet in length among other customizations.
Princess Diana's 1994 Mercedes-Benz S280
In one of the more notable and tragic car accidents in history, Princess Diana lost her life in this Mercedes-Benz when its driver, Henri Paul, struck a pillar in the middle of the Pont d'Alma tunnel in Paris while going an estimated speed of 60 MPH. Speculation that the car had suffered previous damage or was tampered with circulated after the princess died, but forensic examinations in both France and England determined that the wreck was the driver's fault.
Stolen Ford GT40 Replica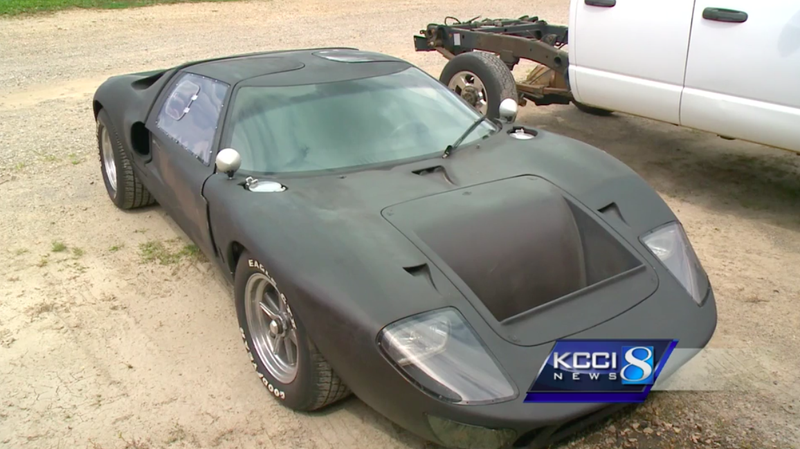 A car thief in the small town of Marshalltown, Iowa, was caught driving a stolen 1966 Ford GT40 Replica after he tried to disguise the highly noticeable car by spray painting it black. In a town of 30,000 people, the car, which was once bright yellow, wasn't too hard to spot. The police chief in the town said the paint job actually made the car even more discernible, and authorities located it within a day.
James Dean's 1955 Porsche 550 Spyder
The car that Hollywood legend James Dean died in is rumored to be cursed. Dean died near Bakersfield, California, when his Spyder crashed into a 1950 Ford Tudor as he was speeding down what is now State Route 46. Parts of the car were sold off after the wreck, with mysterious and sinister consequences. The driver of the car that received the engine died after it stalled and the car wrecked. Those who loaded and unloaded the other parts of the car were seriously injured in the process, and one person was killed.
Hank Williams' 1952 Cadillac Convertible
It's unclear if Hank Williams died in the backseat of his baby blue Cadillac Convertible, but it is where he was found dead. As the story goes, Williams, who was 29 at the time, went into convulsions from a drug overdose in the Andrew Johnson Hotel in Chattanooga, Tennessee. The college student he was with picked up the famous country singer and loaded him into the back of the car. Williams' could have already been dead, but it's uncertain as the man he was with claims he didn't realize Williams was dead until he reached West Virginia.
Archduke Ferdinand's Gräf and Stift Double Phaeton
Probably the most infamous assassination in world history is credited with starting the First World War. Archduke Franz Ferdinand was riding in a Gräf and Stift Double Phaeton when he was assassinated by Serbian nationalists, sparking the beginning of World War I. The archduke had merely missed a grenade just minutes before, but he was taken down by a gunshot. His famous last words to his wife were, "Don't die darling. Live for the children." Sadly, his wife died along with him that day.
Ted Bundy's 1968 Volkswagen Beetle
The Volkswagen Beetle that notorious serial killer Ted Bundy used was actually customized by Bundy himself to better fit dead bodies inside. The serial killer was caught after he was pulled over in the very same car in August of 1975. Police were unable to arrest him that day, but after examining the car (which Bundy had sold to a teenager after what he thought was a thorough cleaning) police found hairs that matched his victims. He ended up admitting to murdering 36 women, but it's possible there were even more victims.
Suge Knight's 1996 BMW 750iL
The BMW owned by record producer Suge Knight gained notoriety when rapper Tupac Shakur was killed in it during a drive-by shooting that was likely targeted. In September 1996, Knight was driving the rapper home from a Mike Tyson fight when the car was sprayed with bullets. The killers were able to get away, and amid many rumors and stories, to this day no one knows who killed Tupac.
Feature photo: Associated Press