An Ohio woman was found guilty on Friday of child endangering and telecommunications fraud after pretending for over a decade she was a doctor. She also claimed her son had cancer in order to accept GoFundMe donations.
NBC 11Alive reports that for more than decade, Monika Burgett lived as a doctor and her husband, Jonathan, believed her the entire time. Burgett's lies crumbled around her last year when she was accused of fraud and making up her 5-year-old son's symptoms after she announced he had cancer. The boy never had cancer, but her husband, again, believed her lies, and went on for years thinking his son was ill.
Monika Burgett is charged with child abuse, felonious assault and telecommunications fraud. ht https://t.co/rb0L1QcQD9 pic.twitter.com/2ayc7n3ZD6

— Imran Abim (@ImranAbim) August 10, 2017
Jonathan admitted that despite the lies, he still loved his wife. He did file for divorce, but said it was only to ensure that their three children remained in his custody after Burgett was charged, but he never planned to actually follow through with the divorce. In a video testimony, he said that he made the plan with his wife and she understood it was for the children's sake only and that he still loved her.
During her week-long trial last week at the Hamilton County Common Pleas Court in Cincinnati, Assistant Prosecutor Anne Flanagan said that Burgett's motives were unclear, but the fake doctor had a history of mental illness. A child abuse expert at the hospital where Burgett took her son said the mom suffered from Munchausen syndrome by proxy, a mental health disorder in which a caregiver causes illnesses or makes up fake illnesses for the person they're taking care of.
However, the motive, at least for faking her son's illness, could have been financial. Burgett swindled $40,000 from concerned people who truly believed the little boy had cancer. Burgett even told a few people that her son was "terminally ill" and wouldn't make it through the night. Most donors were also convinced that Burgett was a doctor.
Legitimate physicians confirmed that the boy had neurofibromatosis, a genetic condition that can produce harmless tumors. He also had a small growth on his hand. Burgett took him to the Cincinnati Children's Hospital's pediatric pain clinic when he was just two, and insisted he was in chronic pain. Doctors ended giving the boy methadone and Oxycodone. She passed herself off as a doctor and became "part of the team" working on a treatment plan for her son.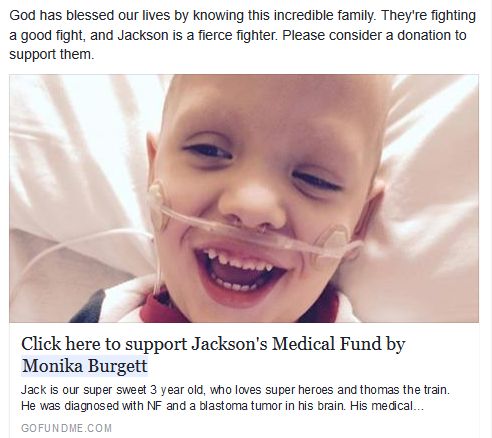 Later came two different GoFundMe pages. The 2nd page, created in March 2016, showed photos of the boy with shaved eyebrows and a bald head. The page claimed the boy was "diagnosed with NF and a blastoma tumor in his brain." During the same month, doctors at the Children's Hospital reported their suspicions to Hamilton County social workers. The following day, the county was granted emergency custody and took the boy away. Later, Jonathan came up with the plan to pretend to divorce Burgett so he could take custody of his son.
The boy is now living with his siblings and father in Texas. Jonathan reports that his sone doing well. Burgett is scheduled for sentencing in September.
[Feature Photo: Police Handout]