Actor Corey Feldman says he filed a formal formal police report with the Los Angeles Police Department and told him everything he knew about the Hollywood men who allegedly sexually assaulted him when he was a boy.
New York Daily News reports that the 46-year-old actor, who recently sat down with Dr. Oz and placed a phone call to LAPD to report being abused as a child, made good on his word and filed the necessary report needed to start a police investigation.
The alleged pedophile specifically mentioned on the Dr. Oz show was a man named Jon Grissom, who once worked as the actor's assistant during the heyday of his career during the 1980s. Feldman was around 14 when Grissom allegedly started molesting him. Shortly after his name was exposed, Grissom deleted his social media account, which had a photo of a young Feldman, as well as a photo of former child stars, Sean and Mackenzie Astin.
THE LAPD WILL BEGIN AN OFFICIAL INVESTIGATION NOW! THINGS R HEATING UP, IM PRAYING 4 SAFETY! PLEASE HELP: https://t.co/wU3kV0cBOI

— Corey Feldman (@Corey_Feldman) November 7, 2017
"This guy on his Myspace page and his Facebook page has got pictures of me and Corey Haim…..He still  taunts it and flaunts it," Feldman said last week.
Feldman also publicly named former child star manager Martin "Marty" Weiss as one of actor Corey Haim's abusers. Both Grissom and Weiss were previously convicted of sexual-related charges against children.
In 2012, Weiss was convicted of two counts of child molestation, according to theState of California Department of Justice Office of the Attorney General's site.
Weiss was included the documentary, An Open Secret, in which a young child star, Evan H., secretly recorded Weiss as he admitted to sexually assaulting the boy. Weiss claimed that he would have never made a pass at Evan, who was just 12 when the abuse again, had the child not shown interest. Evan told Weiss that he was never interest and felt pressured by Weiss, who told him everyone in the industry does it.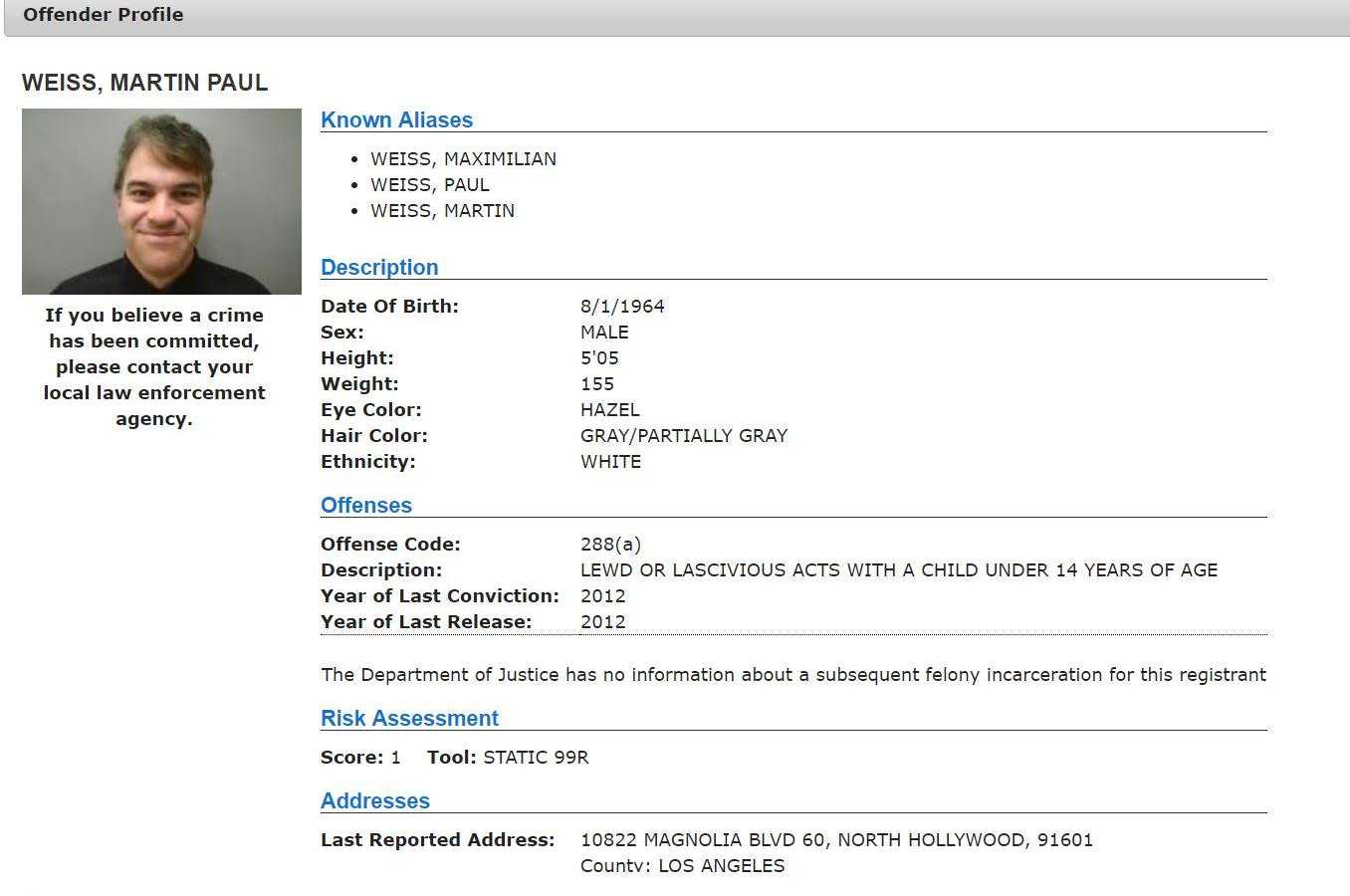 Weiss ended up pleading "no contest," according the the Los Angeles Times. He served less than a year in jail before his release.
As CrimeOnline previously reported, Grissom has a number of convictions on his criminal history file. The State of California Department of Justice Office of the Attorney General's site noted that both Weiss and Grissom are registered sex offenders. Grissom's listed convictions include oral copulation with a minor under 16 and lewd or lascivious acts with a child 14 or 15 years old.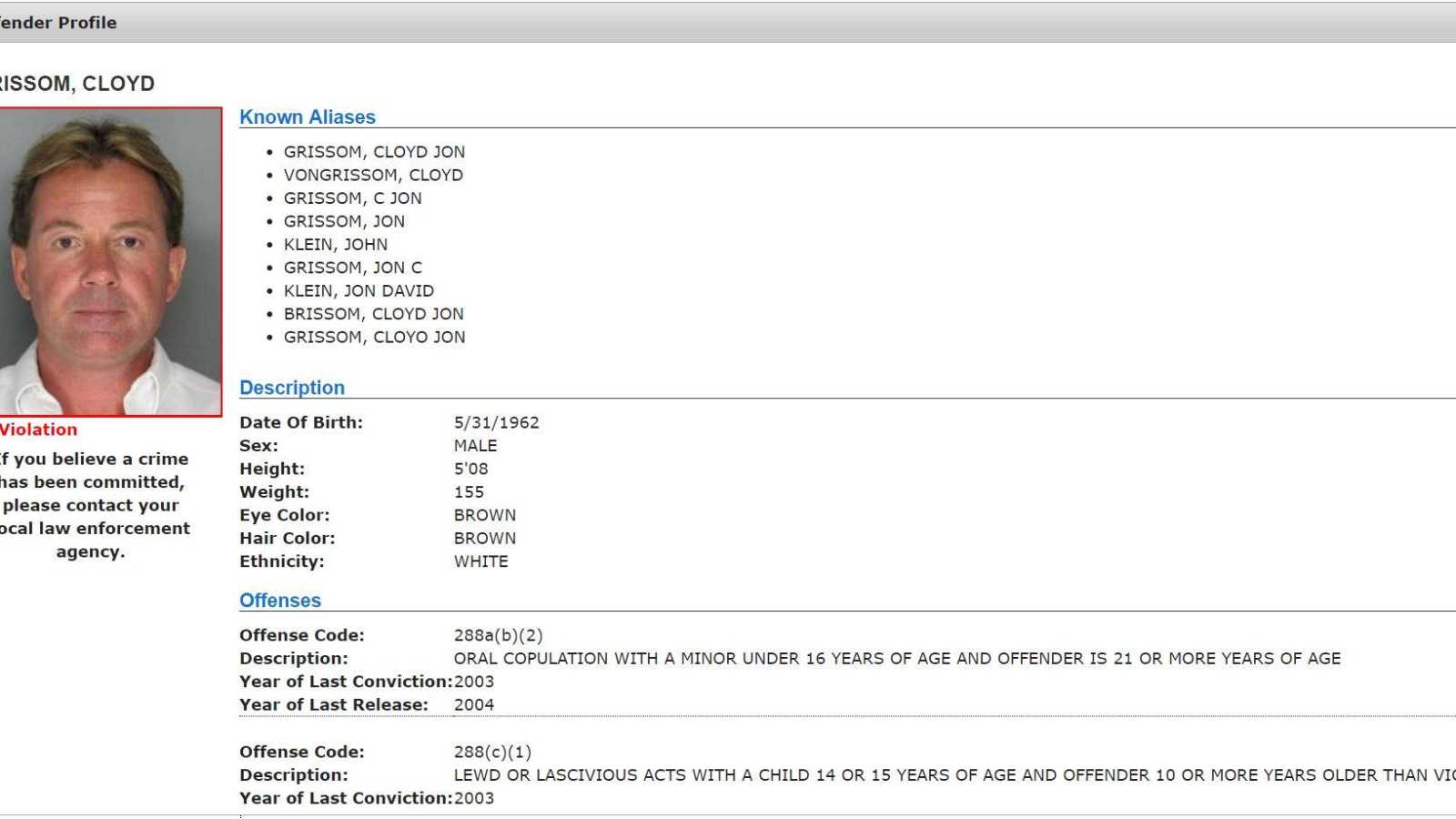 Check back with CrimeOnline as additional information becomes available.
Additional Reading 
Who is Jon Grissom? Corey Feldman names man who he says molested him in the 1980s
'They're living in Mexico!' Corey Feldman reveals more details on alleged Hollywood pedophiles to Dr. Oz
Santa Barbara police claim Corey Feldman never told them names of alleged Hollywood pedophiles
Corey Feldman names one Hollywood pedophile, gives hints to another while defending his $10M fundraiser
Part of a 'long con': Corey Haim's mother warns Corey Feldman has ulterior motives with fundraiser to expose pedophilia
Corey Feldman says his life is in danger, but vows to expose Hollywood pedophiles with YOUR help
'You're damaging an entire industry!' Barbara Walters faces heat as clip resurfaces of Corey Feldman Hollywood pedophilia interview
[Feature Photo: YouTube Screenshot]