On Friday night, a federal judge unexpectedly unsealed over 300 pages of search warrants related to the October 1 Las Vegas mass shooting investigation, revealing that authorities were investigating cryptic email exchanges between gunman Stephen Paddock and unidentified person that appear to make reference to the shooting massacre, and that investigators may have at one point suspected Paddock's girlfriend Marilou Danley may have aided him in some way.
The documents, obtained by CrimeOnline, show that investigators obtained email communication between Stephen Paddock's email account (referred to in the documents as TARGET 1) and an account listed as "centralpark4804@gmail.com." It is not known who the latter email account belongs to, though investigators appear to believe it is possible that Paddock was sending messages to himself. According to the court filings, investigators also believe it's possible an additional person had control of the account at some point.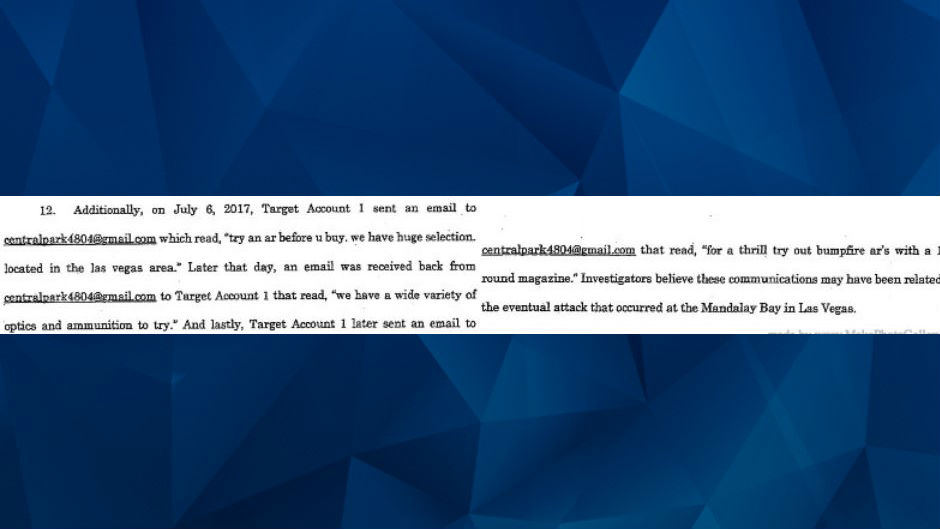 The July 7, 2017 exchange appears to be a discussion about firearms, and the document states plainly that "investigators believe these communications may have been related to the eventual attack at the Mandalay Bay in Las Vegas."
While the unsealed documents corroborate earlier confirmations from law enforcement officials that Marilou Danley was out of the country at the time of the deadly shooting, investigators also believe or at one time believed that Danley was "the most likely person who aided or abetted Stephen Paddock."
Danley reportedly told investigators that they should expect to find her fingerprints on some of the weapons used in the massacre, which killed 75 people, because she sometime helped Paddock load ammunition into his guns.
CrimeOnline will continue to provide updates on this developing story.
[Feature image: Associated Press/Stephen Paddock]