A bruised and nervous teen who stood on the corner of 8th Street and Columbia Street in Newport, Kentucky, on Wednesday morning, told witnesses he had been traded through different people and just wanted to go home.
FOX 19 reports that witnesses who spotted the teen said he seemed extremely afraid and wasn't sure who would harm or help him. He had red marks and bruising on his face, as if he'd been beaten up. Despite his reservations, he pleaded for assistance, claiming he was Timmothy Pitzen, kidnapped years ago and traded through people.
"He walked up to my car and he went, 'Can you help me?'" a 911 caller told dispatchers, according to Today. "'I just want to get home. Please help me.' I asked him what's going on, and he tells me he's been kidnapped and he's been traded through all these people and he just wanted to go home."
How do you protect your children from predators? Join Nancy Grace and a team of world-class experts for the online course 'Justice Nation: Crime Stops Here'.
Officials are now waiting on rushed DNA test results to come in, which could happen at some point on Thursday. While waiting, Timmothy Pitzen's family members, who haven't seen the boy since 2011, are anxious and scared themselves, but also hopeful that they'll finally have answers.
"We were shocked and overjoyed, but scared at the same time," Timmothy's maternal aunt, Kara Jacobs, said. "We've always felt strongly that this day will come."
The teen, who was wearing a red hoodie under a green jacket, told police that he was indeed Timmothy Pitzen. When asked his date of birth, he gave the same day, month, and year that Timmothy was born.
"He just was real antsy. He wouldn't stand still. Even the police had to get him up to the car, because he wouldn't stand still. Whenever they would walk up like this, he would walk back. So he was pretty much scared of everybody," Fray Knight, one of the witnesses who saw the teen on Wednesday said, according to CBS Chicago.
The teen also said he was 14 years old and kidnapped years ago, but finally managed to escape. He claimed he last saw his captors at a Red Roof Inn, but he didn't know the exact location. With the assistance of the Sharonville police, authorities began searching area hotels, but nothing substantial was found.
The teen said after he escaped, he kept running and running, and crossed over a bridge in Kentucky. He described his captors as two white men with "bodybuilder builds."
One of the kidnappers, according to the teen, has a spider web tattoo on his neck, a possible cross or Swastika tattoo on his head, and black curly hair. He was last seen by the boy wearing a Mountain Dew shirt and jeans. The other captor was described as short with "snake tattoo on his arms" and a snake tattoo on his chest.
Sharonville police said the teen described the abductors' vehicle as a late model Ford SUV with a Wisconsin license plate. The vehicle is white with yellow transfer paint and has a dent on the left bumper.
"He said his name was Timmothy Pitzen."

This young woman wouldn't go on camera due to safety reasons but her willingness to hear a stranger out & call police, might have saved the life of a boy who was abducted and has been missing for over 7 years. @WCPO @ABC #TimmothyPitzen pic.twitter.com/4UqtPq0Nn7

— Jasmine Minor (@jasmineminortv) April 4, 2019
Timmothy Pitzen: What we Know
In 2011, Timmothy Pitzen, a 5-year-old boy from Aurora, Illinois, went on a three-day road trip with his mother, Amy Pitzen. He was never seen again.
Timmothy, a typical happy-go-lucky kid, hopped out of his family's Jeep on May 12, 2011, grabbed his Spider-Man backpack, waved goodbye to his dad, Jim Pitzen, and darted off towards his Kindergarten class at Greenman Elementary School.
Jim had no idea it would be the last time he'd see his son. He still remembers watching Timmothy happily run to his teacher, ready for another day of school. Less than 30 minutes after he settled into class, Timmothy's mother, Amy, 43, called the school, citing a family emergency, and pulled Timmothy out of class.
Three days later, police found Amy in a hotel room, dead from self-inflicted cuts and slashes on her wrists and neck. A toxicology report later revealed she'd taken a deadly dose of antihistamines. Little Timmothy wasn't there. The only evidence left of Timmothy's disappearance was a suicide note from Amy, stating that her son was safe and with people who would care for him. At the end of the note, she wrote, "You will never find him."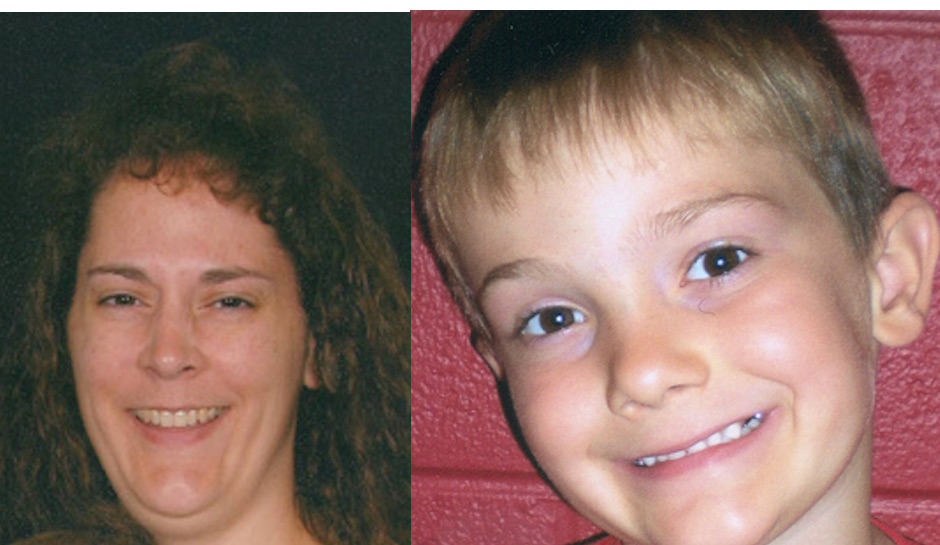 A Father Never Gives Up
Jim continues to search for his son. Although he's went five years without seeing his son's face,he vows to keep searching until he gets answers. In 2015, Jim appeared on the The Hunt With John Walsh, and recalled how he saw his son running to school. It's an image he can't forget.
"I have one image. It's the day I dropped him off at school and he's off — running off to class — and that's pretty much the last image I have in my mind of him," Jim said.
He also touched on Amy's issues that led up her death. Jim dated Amy via a long distance/online relationship for close to a year. She admitted relatively early into the relationship that she battled depression. Yet, Jim felt the relationship had potential and thought being with Amy would help bring her out of her dark moods. Even after she was taken to an Iowa hospital for overdosing, he said he stood by her side.
"She had taken some pills, I guess, and [had been] sitting on the edge of the cliff, and supposedly passed out and fell off the cliff."
Once Amy became pregnant, the couple married, and Timmothy, a healthy baby boy, was born on October 18, 2004. It was an idyllic setting at first. Jim and Amy spent the majority of their time doting on their new baby. Amy felt her baby boy was special, and to differentiate him, she added the extra "m" to his name.
It wasn't long after the baby's birth that problems between Jim and Amy started. From money issues to Amy's battles with depression, they began arguing frequently, with Amy often threatening divorce.
Amy thought a judge would take her son from her due to mental health issues. The couple never divorced, and it's been speculated that it was the fear of losing her son that kept her in the marriage.
Disappearance and Crime Scene
On May 12, Amy took Timmothy to the Kalahari Resort, a waterpark resort chain in Wisconsin Dells, Wisconsin. At around 10:00 a.m. the following morning, surveillance footage showed mom in son waiting in line together. Both seemed content. Later on that evening, Amy placed a series of calls to family and friends.
She informed her loved ones that Timmothy was safe and happy, even handing the phone to the boy so he could talk with a few of his family members. Timmothy sounded as if he was having a wonderful time with his mother, although he reportedly complained that he was hungry.
The following day at around 7:25 p.m., surveillance footage at the Family Dollar store in Winnebago, Illinois, captured Amy buying stationary. She was alone. She stopped by Sullivan's Foods afterwards, and then checked into the Rockford Inn a little after 11:00 p.m.
Employees at the hotel found her lifeless body the following day, at around noon.
Authorities noted that Timmothy's Spiderman backpack, toys, and clothes were missing. The clothes Amy wore when she checked into the hotel were also missing. While checking her SUV, a blue, 2004 Ford Expedition, detectives noticed it was extremely dirty, with weeds and dirt caked on the undercarriage.
Forensic professionals indicated that the vehicle had been on a gravel road at some point, and authorities surmised by the evidence on the vehicle, that Amy likely drove in a meadow area, possibly in Northwestern Illinois or Lee and Whiteside Counties. Her cellphone was later found on the side of a road, off of Route 78.
According to the National Center for Missing & Exploited Children (NCMEC), an Illinois-based forensics lab compiled a list that detailed the exact materials found on Amy's vehicle. After reviewing the list, investigators think that:
Amy stopped her SUV on a wide gravel road or an asphalt secondary road that was treated with road-marking beads.
The vehicle, at some point, backed into a treeless, grassy field.
Oak and birch trees may have been in the general area where Amy stopped, but the trees weren't directly over the vehicle.
The grass Amy backed into wasn't mowed or landscaped, meaning it likely wasn't a residential area.
There was probably some sort of stream, pond, or small body of water in the area.
Given Amy's previous actions, detectives surmised that she'd been planning her son's disappearance several months in advance. She took two private, unexplained road trips in early 2011. She went, during both trips, to the exact area that Timmothy disappeared from.
A Long List of Dead Ends
Throughout the course of the next five years, numerous tips poured in to investigators. Someone in Florida said she recognized Timmothy as a boy who'd recently moved into the neighborhood with a family who all had Northwestern accents. Another tipster thought she recognized the boy at a garage sale in Rockton, Illinois. Out of the hundreds of tips that piled in, none have led to Timmothy.
Aurora police Detective Lee Catavu stated that although the leads are going nowhere, he goes through each and every one, and will continue to do so until he can locate Timmothy. In 2015, according to the Chicago Tribune, Catavu he said the family's hope that the boy is out there alive somewhere is a strong driving force that keeps his own hope alive.
"That's what motivates us to keep looking," said Catavu. "The family is just devastated … in some ways it's worse than knowing he's dead because there is no closure."
The biggest challenge, according to Catavu, is determining if there was anyone else Amy communicated with that may have taken the boy in. Family members insist that Amy was a loving mother and would have never harmed Timmothy. In fact, Catavu said that there isn't one person who knew Amy that thought she hurt him.
"There is not a single person in her life that believes Amy Fry-Pitzen hurt her son."
Timmothy's case remains active. Anyone with any information should contact the Aurora police at 630-256-5500, or the NCMEC hotline at 1-800-843-5678.
Join Nancy Grace for her new online video series designed to help you protect what you love most – your children.
[Feature Photo: Timmothy Pitzen/NCMEC]