A Kentucky prosecutor said Friday his office would move to dismiss all charges against Kenneth Walker, the boyfriend of a Louisville EMT who was shot and killed by police earlier this month in what has been described as a botched drug raid, the Louisville Courier Journal reported.
Walker, 27, had been charged with attempted murder and assault on March 13 when police executed a warrant at Breonna Taylor's home, where the two had been in bed. Thinking someone was breaking into the home, Walker took out his gun and fired a single shot as police battered open the front door, striking a police sergeant in the leg, as CrimeOnline previously reported.
Police opened fire in response, spraying the apartment with more than 20 rounds. Eight of them hit Taylor, killing her.
Read more on the Breonna Taylor story from CrimeOnline.
The warrant was obtained in connection with a drug investigation into Jamarcus Glover, who dated Taylor two years ago. Police believed Glover, who was arrested 10 miles away at almost the same time officers entered Taylor's apartment, had been receiving drugs in the mail at Taylor's home. The search there found no drugs.
Walker's attorney said he was "thrilled" with the news, the Courier Journal said.
"Theoretically, they can bring it back," he said, "but now he is freed from home incarceration and can go on with his life."
Commonwealth's Attorney Tom Wine said Friday that charges against Walker could be brought again to a grand jury.
"I believe that additional investigation is necessary," Wine said.
Wine defended the officers who executed the warrant that night, saying that although they had obtained a "no knock" warrant that didn't require they announce themselves, they had decided before arriving at Taylor's home to knock and announce. Wine said that the evidence shows police knocked several times before using a battering ram to enter the apartment.
Allegations that police didn't knock, he said, are "clearly refuted by one person inside that apartment who knows best what happened — Walker."
Wine played excerpts of Walker's statement to police that night, in which he said that he and Taylor were watching a movie when they heard loud knocking on the door. As it was after midnight, Walker said, "she was scared to death, and me too." Taylor yelled "at the top of her lungs, 'Who is it?'" Walker said, and there was no answer, but more banging — "Boom! Boom! Boom! Boom!"
Walker told police he fired one shot just as the door was knocked off its hinges and that he aimed down. "I didn't want to kill anyone," he said." I just wanted to get them out of there."
It wasn't until after police opened fire, he said, that "I saw it was police."
Wine also played excerpts of Sgt. John Mattingly, the officer hit by Walker's bullet, who said that officers announced they were police and had a warrant on "six or seven occasions." Mattingly said when the door was opened, he saw Walker and Taylor in a hallway. Walker, he said, was in a "stretched-out position with his hands with a gun," and he fired "like he was at a shooting range."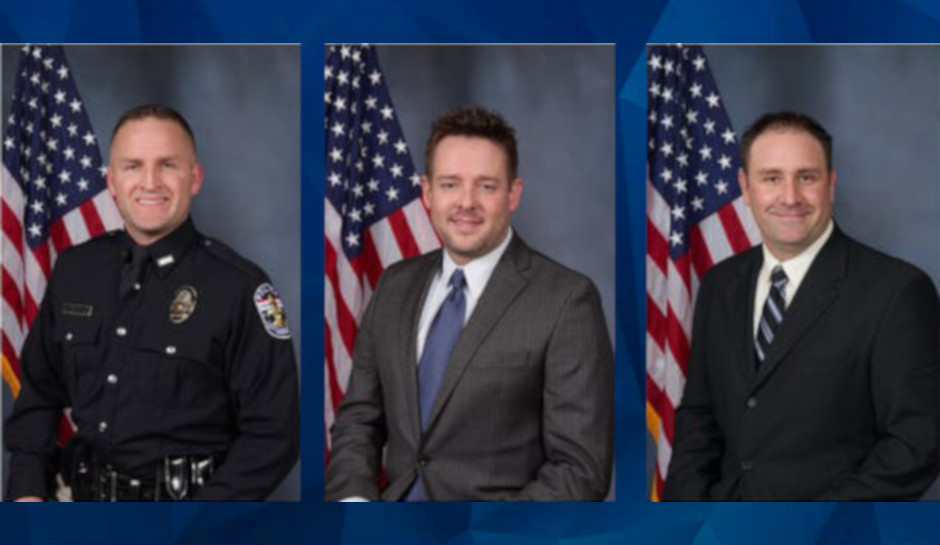 Walker's gun was licensed, and he has a concealed carry permit.
Wine hinted that he was leaning toward reintroducing the charges when he said that a jury would ultimately have to decide if they believed Walker when he said he didn't hear it, and the jury's decision would hinge on "what you think of his credibility."
Wine dismissed complaints from Walker's attorney that prosecutors had been unethical by not disclosing to the first grand jury that Walker said he didn't know the intruders were officers, saying they are not required to present exculpatory evidence to a grand jury. But, he said, more information from Walker's statement should have been presented, and he said that if the case is brought to a grand jury again, Walker will be called to testify.
Wine began his comments with condolences to Taylor's family. "No amount of cocaine or marijuana or other drug or money from the sale of drugs if worth the life of one person like Breonna Taylor or a police officer," he said.
Wine also countered what he said was "a tremendous amount of false information that has been disseminated." Mattingly was not hit by "friendly fire," he said, despite reports to that effect, and Walker did not call 911 before police entered, as initial reports said.
Civil rights attorney Ben Crump, one of the lawyers representing Taylor's family in their wrongful death suit against Louisville police, said in a statement that the charges "never should have been filed" and the dismissal was "a belated victory for justice." Taylor and Walker, he said, "did everything right the night police ambushed their home.
"They asked several times who was at the front door without a response. Kenneth fired a non-lethal warning shot from a legally registered gun. Unlike the police, he did not shoot to kill."
For the latest true crime and justice news, subscribe to the 'Crime Stories with Nancy Grace' podcast:
Join Nancy Grace for her new online video series designed to help you protect what you love most – your children.
[Featured image: Breonna Taylor/Facebook]