Update: 5:37 p.m. ET
The Atlanta Police Department has said that a group of uniformed militia captured in a viral video taken at a protest early Saturday morning are not children.
In response to an inquiry about a viral video that appeared to depict people in uniform and riot gear who may have been underage, the Atlanta Police Public Affairs unit sent a photo that appears to be a screenshot of the same video or another video obtained by CrimeOnline.
"The below picture depicts adult members of the Georgia National Guard," Sergeant John Chafee said in an email, and directed us to the Georgia National Guard for any specifics.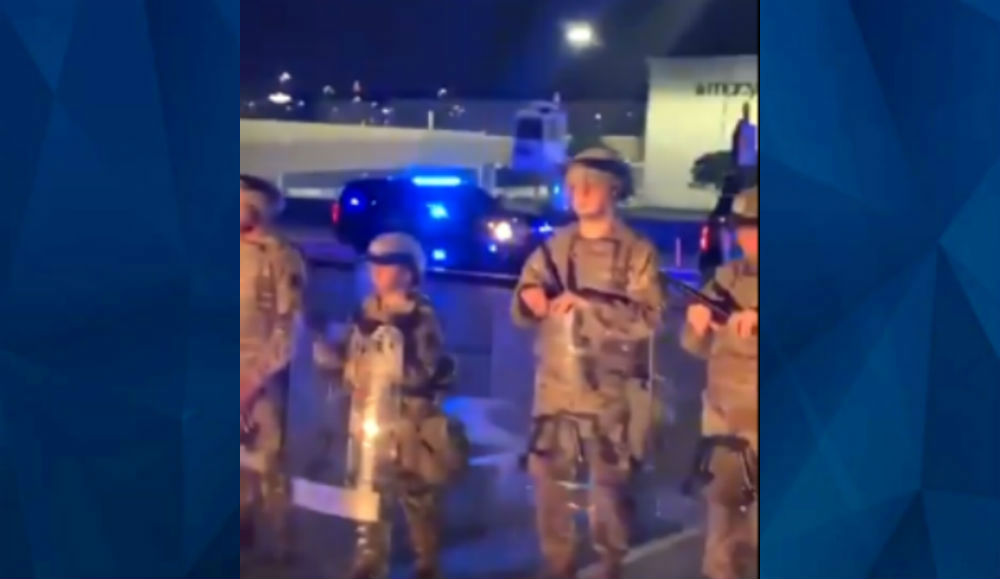 CrimeOnline is awaiting further confirmation from the Georgia National Guard.
ORIGINAL STORY: 
As anti-police violence protests rang out through the United States on Friday into Saturday morning, one protester captured video of what appeared to be minors dressed in camouflage and riot gear at an Atlanta mall.
After a video appearing to show children and/or teenagers standing near a police blockade at the Lenox Square shopping center went viral on Saturday morning, CrimeOnline contacted the protester who shot the video.
The below videos and posts include language that may not be suitable for children. 
"They literally gave a 13-year-old a baton and a riot shield," the person who recorded the video is heard saying in the footage they provided to CrimeOnline.
"You need to f$#*@ read 'To Kill a Mockingbird,'" they say in the video. "Do your homework!"
Atlanta has deployed a child militia at Lenox Mall fitted with riot shields and batons. What the actual fuck is going on? pic.twitter.com/zTtmw5mDTN

— Fox Wound (@foxwoundband) May 30, 2020
The individual, an Atlanta resident in their twenties, asked not to be identified, but shared more details about the scene at Lenox Square, shortly after midnight on Saturday.
"A lot of the people in military gear looked really young," the protester said, adding that three of those dressed in riot gear and carrying batons "looked like teenagers. There was another guy who looked like he was maybe 18."
The person who recorded the videos said they did not hear or see any of the people in military gear who appeared to be underage engage with protesters who were responding to the police killing of an unarmed black man, George Floyd, who died in Minneapolis on Monday after a police officer knelt on his neck for nearly eight minutes. The former officer, Derek Chauvin, was fired on Tuesday and arrested on Friday. Chauvin is facing charges of third-degree murder and second-degree manslaughter in Floyd's death.
CrimeOnline contacted authorities in Atlanta for comment about the videos. The Dekalb County Sheriff's Office said to contact the Atlanta Police Department with inquiries. The police department did not immediately respond to a request for comment.
The protester who captured the video is asking the public to donate to the Action Network's Atlanta Solidarity Fund, which raises money to provide bail and legal fees to activists who are arrested while participating in social justice actions.
This is a developing story. CrimeOnline will provide further updates when more information is available.
For the latest true crime and justice news, subscribe to the 'Crime Stories with Nancy Grace' podcast. Listen to the latest episode: