A bicyclist seen in a video accosting teenagers putting up posters protesting the killing of George Floyd threw away his bicycle shirt, hid his helmet in a bag beneath his front porch, and locked the bike up four blocks from his house before police tracked him down, charging documents reveal, according to WTOP.
Anthony Brennan III, 60, has been charged with three counts of second degree assault, the Maryland-National Capital Park Police said Friday.
The incident took place early Monday afternoon on the Capital Crescent Trail near the Dalecarlia Tunnel, police said. The three victims, two women and a man between the ages of 18 and 19, were putting up flyers along the trail when they were approached by Brennan. The young man filmed part of the encounter.
How do you protect your children from predators? Join Nancy Grace and a team of world-class experts for the online course 'Justice Nation: Crime Stops Here'.
Brennan aggressively pursues first one of the women and then the other, grabbing her and trying to pull posters from her hand. Then he grabs his bike and appears to run down the young man who is filming the encounter.
They were putting up signs to commemorate the death of George Floyd. He wasn't having it. pic.twitter.com/eukrXrxoLN

— Victor Stoddard (@VicStoddard) June 4, 2020
"He sees me recording him and sees the fact that I recorded him as he was doing that, and he grabs his bike and he runs it into me and pins me to the ground," the man told News 4.
"He pretty much screamed at us. He was saying, 'F— you. You guys [are] inciting riots.' He kept saying we're 'deviants.' I'm not sure exactly what he meant by that."
Police quickly began searching for the man, using images from the video. Internet sleuths misidentified him during the course of the investigation, but police eventually got several tips that led them to Brennan.
Andrew Jezic, one of Brennan's attorneys, told WTOP that by Thursday, Brennan was aware other people were being accused of his crime. "We had a bunch of texts overnight. He wanted to let the police know it wasn't the other people," said Jezic.
Early Friday morning, Jezic said, Brennan was on his way to Jezic's office and was planning to stop and see a clergyman first. According to the court documents, Brennan's son, who was driving, ran a stop sign, and police, who had been staking out his house, pulled him over. When the officer "asked if Anthony Brennan knew what this was about, he at first stated he did not," the documents say.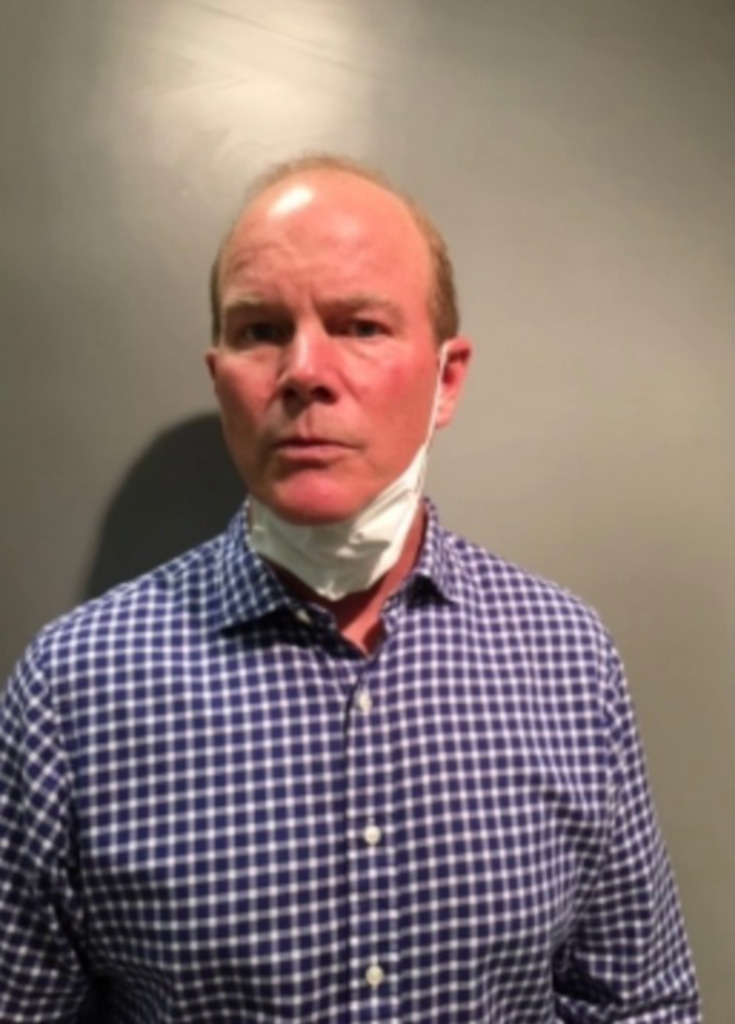 "When they asked 'are you the bicyclist,' he said, 'My lawyer advised me not to speak about the subject,'" Jezic told WTOP. When police let them go, Brennan went straight to Jezic's office, and from there, they called police.
According to the charging documents, Brennan agreed to a search of his home. "We showed them where everything was," said Jezic. "Some of the clothes were in his closet, the bicycle stuff was in a bicycle bag."
With the exception of the bicycle shirt, the charging document said police recovered all the clothes he was seen wearing in the vido. Brennan showed police to
According to the charging document, police recovered Brennan's sunglasses, cycling shoes, blue bandanna, water bottle, and shorts that were seen in the video. Brennan showed police to "a bag hidden under the front porch containing the bike helmet," and police found "the fliers and tape that were taken from the victims" in a basement office.
Jezic said Brennan led police to the bicycle, which he had locked up behind a former office building about four blocks from his home.
Brennan released a statement through his attorneys after he was arrested:
"I am sick with remorse for the pain and fear I caused the victims on the trail, and online. I am cooperating fully with authorities. I am committed to making amends by addressing, through counseling, the underlying issues that led to my abhorrent behavior. I am dedicated to working with the Montgomery County State Attorney's Office to provide peace to our community and justice to the victims in the video, as well as to all victims of racism and police brutality."
Later Friday evening, Brennan's employer, marketing company Made To Order, announced that it had fired him.
STATEMENT: Recently, we discovered one of our employees engaged in disturbing, wrongful, and completely unacceptable behavior directed towards peaceful demonstrators. [continued] pic.twitter.com/F9M2zQTK8j

— MadeToOrder, Inc. (@MadeToOrderInc) June 6, 2020
For the latest true crime and justice news, subscribe to the 'Crime Stories with Nancy Grace' podcast:
Join Nancy Grace for her new online video series designed to help you protect what you love most – your children.
[Featured image: Screenshot from video]