Almost immediately after NASCAR reported that a crew member had found a noose in the garage area of Black driver Bubba Wallace at Talladega Superspeedway in Alabama, posts and comments on social media spread casting doubt on the news.
Even as all the drivers and crew members on hand for Monday's race literally stood behind Wallace for the national anthem, claims that he'd faked it or that he had mistaken an automotive belt for a noose were common.
But there's no evidence that Wallace or anyone else faked the incident, and a Facebook post claiming to have a statement from NASCAR saying it was mistaken is, indeed, a fake.
How do you protect your children from predators? Join Nancy Grace and a team of world-class experts for the online course 'Justice Nation: Crime Stops Here'.
As CrimeOnline previously reported, one of Wallace's crew members found the noose Sunday afternoon in Wallace's garage stall and reported it to race officials. The discovery didn't become public until late Sunday night, well after Sunday's race had been postponed until Monday because of rain.
NASCAR and Richard Petty, the legendary driver who heads up Wallace's Richard Petty Motorsports team, immediately condemned the incident. Petty, 82, travelled from his North Carolina home to Alabama on Monday, attending a race for the first time since the outbreak of COVID-19. NASCAR launched an immediate investigation, and the FBI is also investigating.
Wallace, currently NASCAR's only Black driver, made headlines last week when his #43 Chevrolet wore a Black Lives Matter paint job in Martinsville. He was also instrumental in pushing NASCAR to ban flying the Confederate flag at its events.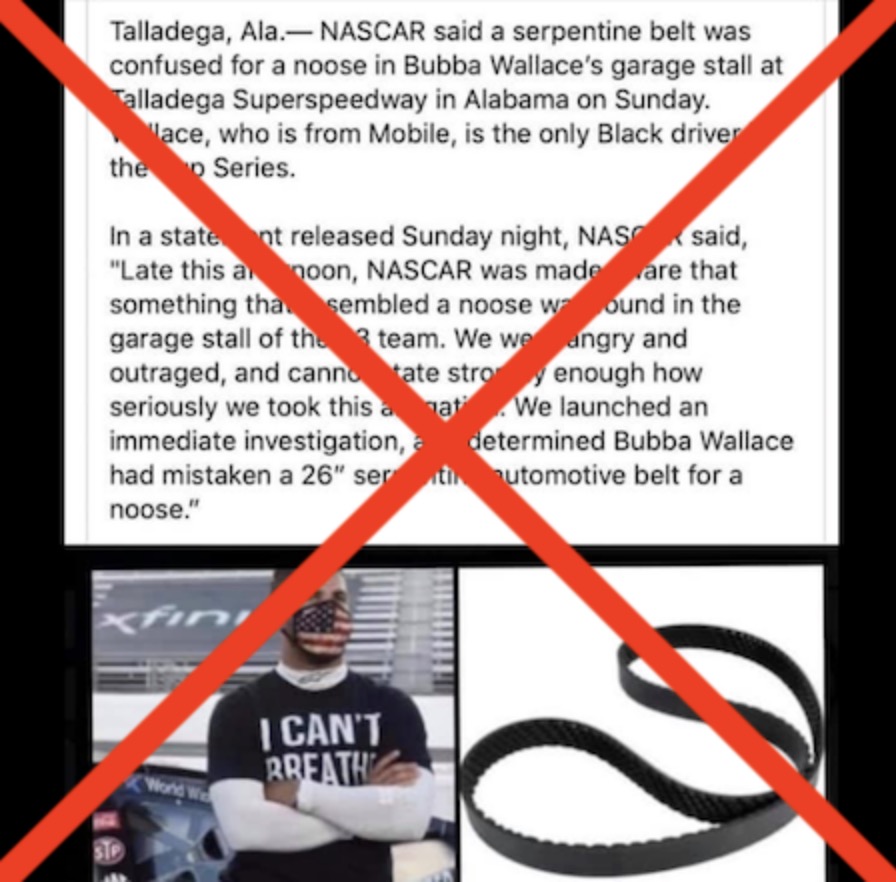 The Facebook post contained what looked like a screenshot of a news story saying that a "serpentine belt was confused for a noose" and that NASCAR's "immediate investigation … determined Bubba Wallace had mistaken a 26″ serpentine automotive belt for a noose.'"
The person who posted the image wrote: "What a moron! Can't drive and don't even know what a serpentine belt is. Get everybody all stirred up over your stupidity AGAIN!!!!"
As NASCAR had already announced, Wallace did not discover the belt, which was found by a member of his crew. The faked screenshot contains no information about where it came from. The post was later removed by Facebook, according to Politifact, which rated the claim "Pants on Fire."
Meanwhile, multiple podcasters and pundits decreed with no evidence that Wallace set up the noose himself, comparing him to Jussie Smollett, the Empire actor who staged an attack in which two men beat him, doused him with bleach, and left a rope around his neck.
"This has Jussie Smollet [sic] written all over it. Just stop using the same playbook please. Can u switch it up? I'm not buying this. Sorry," No Mercy podcast host Tommy G tweeted. Media analyst Mark Dice tweeted, "I call BS. Probably just an extension cord hanging from the ceiling. 99.9 percent of these 'noose' stories turn out to be false." Dozens of other Twitter accounts, from known and unknown people, tweeted similar comments.
Meanwhile, in Alabama Monday afternoon, it was clear NASCAR and its drivers were behind Wallace. Before the race, drivers and their crews walked pit road to push Wallace and his car to the front of the line. Wallace climbed out of his car in tears, as Petty came up to hug him. Then, all the drivers and crews stood with Wallace for the national anthem.
For the latest true crime and justice news, subscribe to the 'Crime Stories with Nancy Grace' podcast:
Join Nancy Grace for her new online video series designed to help you protect what you love most – your children.
[Featured image: Bubba Wallace and Richard Petty/Screenshot from NASCAR video]