A Netflix documentary about the brutal murders of a pregnant mother and her two young daughters has brought renewed attention to the shocking case of a seemingly devoted husband and dad who slaughtered his family at their Frederick, Colorado, home shortly after he started an extramarital affair.
"American Murder," a feature documentary about the August 2018 murders of Shanann Watts and her young daughters Bella and Celeste, which premiered on Netflix this week, has prompted new discussions about the case that riveted the country two years ago. Shanann's husband Chris Watts initially denied involvement after his wife and daughters went missing, but soon admitted to investigators that he killed Shanann, claiming she had first tried to kill their 3-and-4-year-old daughters. He later admitted that wasn't true, and that he alone was responsible.
READ MORE: 'Can't get that image out of my head': Chris Watts investigators open up about harrowing discovery of Bella and Celeste Watts in oil tanks
At the time of the murders, Chris Watts had been having an affair with Nichol Kessinger, a woman he met at work, reportedly just a few months before Chris killed his family.
In November 2018, Watts pleaded guilty to multiple counts of first-degree murder, sparing him the death penalty. He is now serving multiple life sentences without the possibility of parole.
Chris Watts' confession and guilty plea effectively ended the investigation, and meant that Shanann's family would not have to endure a painful murder trial. It also meant that authorities would not further probe possible inconsistencies in Kessinger's account of events, which she provided to investigators shortly after Shanann and the girls went missing.
READ MORE: Killer Dad Chris Watts drove daughters Bella and Celeste, STILL ALIVE, to oil field graves with dead mother in truck: Report
As CrimeOnline previously reported, the Weld County District Attorney's Office released hours of audio interviews and thousands of discovery pages documenting the investigation. In some cases, the data obtained from Kessinger's electronic devices conflicted with claims she made in voluntary interviews with investigators.
Chris Watts Would Like To Tell Former Mistress Nichol Kessinger He's Sorry https://t.co/BghFhemVK0 pic.twitter.com/3hc2GaDzlD

— Crime Time (@OxygenCrimeTime) March 8, 2019
For example, Kessinger said in an interview with agents from the Colorado Bureau of Investigation that she was not in love with Watts and indicated that Watts was more serious about the affair than she was. But data recovered from Kessinger's phone showed that she spent two hours looking online at wedding dresses less than two weeks before Watts killed his family, and that she performed internet searches about "marrying your mistress."
Kessinger told investigators that she knew Chris was married but believed he and Shanann were separated, and claimed she did not know Shanann was pregnant. According to multiple reports, Kessinger contacted police within days of Shanann and her daughters' disappearance, once she became concerned that something may have happened to them. During that interview she said she didn't know Shanann's name until for a while after she and Chris became romantically involved.
More than two years after the murders, it remains unclear if investigators ever verified Kessinger's whereabouts on the day of killings. In the interview she gave to CBI agents, she was reluctant to provide them without contact info for her friend "Jim," who she said was visiting her that day.
"Leave Jim alone. Leave Jim alone," Kessinger said to the CBI agents after they asked for Jim's phone number, according to the interview audio reviewed by CrimeOnline. "Jim doesn't need to be wrapped up in this."
Eventually, Kessinger told the agents that she would give them her friend's contact info if they were unable to verify her movements using phone GPS from the day of the murders. CrimeOnline was not able to confirm if investigators ever contacted Kessinger's friend.
The discovery documents examined by CrimeOnline included a "Phone Data Review," which showed the internet search history of principals in the case, including Kessinger. The recovered phone data, which included some entries that had been deleted from her search history, appear to show that Kessinger did online searches for the names Shanann Watts and Chris Watts as far back as 2017, and on multiple occasions before both she and Chris Watts said their affair began. A records supervisor initially told CrimeOnline that an entry for a Google search of Shanann Watts in September 2017 was a "typo" in the report. But Weld County District Attorney Michael Rourke later said, in a December 2018 interview with CrimeOnline, that the items in the report accurately reflected what was found in the data review.
"The dates to which you are referring — in 2017 where it appears she Googled or otherwise searched Shanann — was data that came off her phone," Rourke said.
"It's not a typographical error in the report. [The detectives] are reporting what was contained in the data from her phone. I don't know the answer to the question of why or how those dates ended up in her phone."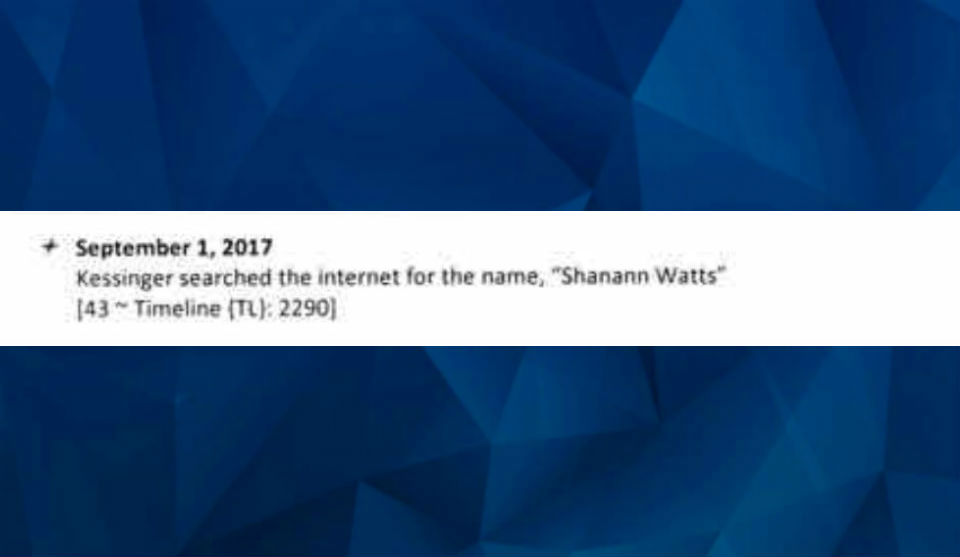 The District Attorney also said in the interview that authorities did not suspect anyone else was involved in the murders besides Chris Watts.
"I have no information nor any belief that any other criminal defendant is out there," Rourke said, while acknowledging the apparent discrepancies.
"Nichol Kessinger told us that she met and started the relationship with the defendant in 2018," Rourke said. "So where that anomaly in the data comes from, I can't answer it for you. I don't know the answer to it."
Also unknown is Kessinger's whereabouts since the early days of the murder investigation. Over the years, some online reporting has indicated that Kessinger may have altered her name or identity and moved to another state. Kessinger has not spoken publicly since November 2018 and does not appear to have any kind of social media presence.
According to the Daily Mail, Kessinger told police around the time of the murders that  she "would not be surprised if it's gonna be hard to go out in public sometimes for a couple of years."
For the latest true crime and justice news, subscribe to the 'Crime Stories with Nancy Grace' podcast. Listen to the latest episode: