The attorney representing Lori Vallow at her upcoming trial has suggested in a social media post that Vallow's good friend and the friend's boyfriend may have somehow been involved in the disappearance and death of Vallow's two children.
Tylee Ryan, 16, and her 7-year-old brother JJ Vallow were found buried at the home of Vallow's husband Chad Daybell in June. Both were last seen alive on separate dates in September 2019, and by the time investigators found their bodies in Daybell's backyard, Vallow had been arrested and was in custody in Madison County on child desertion charges.
The same day the children were found, Daybell was arrested, and remains in a Fremont County jail on charges of concealing evidence and conspiracy to conceal evidence. After the children were discovered dead, prosecutors dropped the desertion charges against Vallow, and she is now facing charges of conspiracy to conceal evidence. Neither Daybell or Vallow have yet been charged with murder.
As CrimeOnline previously reported, Vallow's close friend Melanie Gibb and her boyfriend David Warwick were among the very last people to see JJ Vallow alive, when they visited Vallow in Rexburg, Idaho, in September 2019. By that time, Tylee was missing and likely dead, but Gibb said in an interview with East Idaho News that Vallow told her the 16-year-old had graduated from high school early and was enrolled at Brigham Young University in Idaho. In the same interview, Gibb said that she, Vallow and Daybell visited the campus, but did not mention seeing or asking about Tylee during their visit.
Police did not discover either Tylee or JJ were missing until late November 2019, when they went to Vallow's home to perform a wellness check at the request of a concerned relative. Vallow told police at that time that JJ was staying with Gibb in Arizona.
Gibb provided testimony at Daybell's preliminary hearing in August, admitting that she initially lied to a police officer in her hometown of Gilbert, Arizona, and said JJ had been visiting her and was on his way back to Rexburg. About a week later, she reportedly contacted Rexburg police and told them the truth — that Vallow and Daybell had asked her to lie to police, and she didn't know where JJ was.
"I was very perplexed, very troubled, and I did not know what to do," Gibb said on the stand at the preliminary hearing.
On Wednesday, Vallow's lawyer Mark Means posted a cryptic message on Twitter, appearing to implicate both Gibb and her boyfriend, and asking anyone with more information to come forward.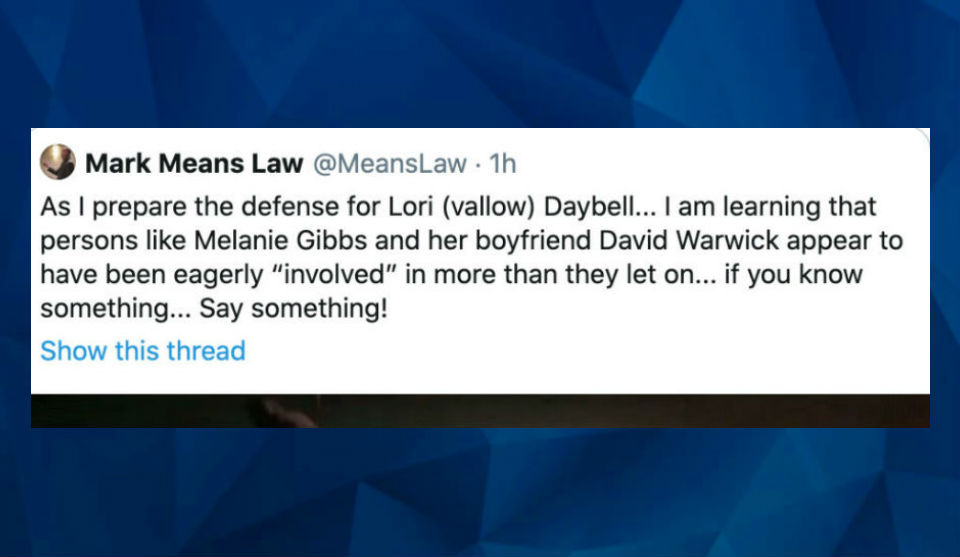 Means attached an image of scurrying rats to his tweet.
In another Twitter post, East Idaho News reporter Nate Eaton said he spoke to Gibb about Means' accusation, and she said, "Truth will prevail."
Chad Daybell's trial is set to begin in January, and Vallow's case will be tried in April.
Click here to read all of CrimeOnline's coverage of the Vallow case. 
For the latest true crime and justice news, subscribe to the 'Crime Stories with Nancy Grace' podcast. Listen to the latest episode: