The woman allegedly attacked by former NFL player Chad Wheeler appeared on "CBS This Morning," sharing new details and photos from the night she believed Wheeler was going to kill her.
As CrimeOnline previously reported, Alleah Taylor suffered numerous injuries–including a dislocated shoulder, broken arm, bruising and fingerprint-shaped lesions on her neck –– after Wheeler allegedly attacked her at their shared apartment outside Seattle late last month.
Wheeler, who weighs over 300 pounds, reportedly became violent after he demanded that Taylor "bow" to him, and she refused. He allegedly choked her repeatedly to the point of unconsciousness, at one point putting his fingers down her throat, suffocating her. As CrimeOnline previously reported, Taylor told responding police officers that she believed at one point during the attack that she had died.
READ MORE: 'I am not safe': Chad Wheeler victim begs judge to keep former NFL player who allegedly choked, smothered her behind bars
WARNING: Disturbing images of violence below
In the interview with "CBS This Morning," Taylor said that she and Wheeler had previously had a happy, conflict-free relationship before he suddenly turned on her. Taylor said she was aware that Wheeler suffered from bipolar disorder, but believes he should be held accountable for his crimes, even if a mental health condition contributed to the terrifying episode. She noted that while Wheeler appeared apologetic once police arrived (though he did not cooperate with their attempts to detain him,) his demeanor towards her before police responded was chillingly apathetic — at one point, after Taylor regained consciousness, Wheeler allegedly said, "Wow, you're still alive?"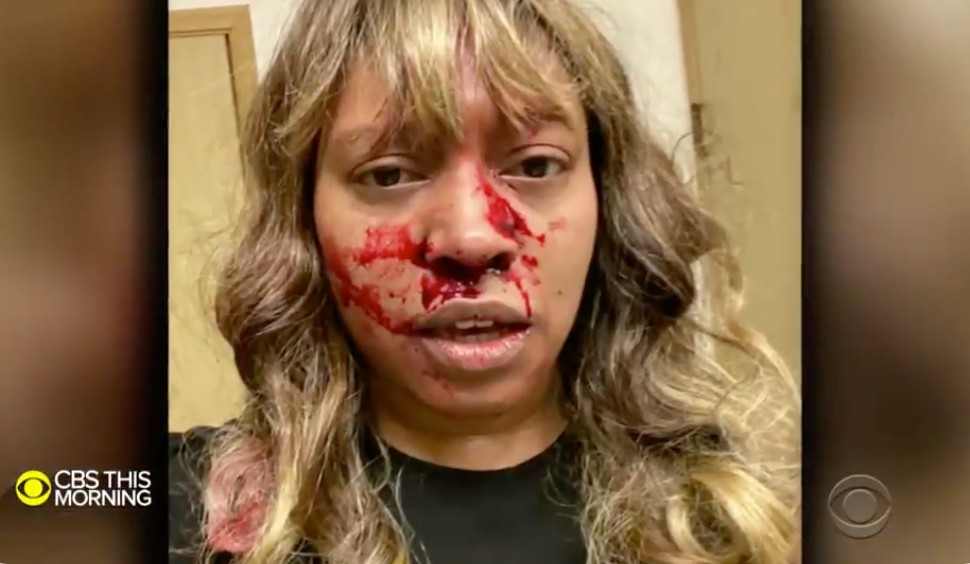 For the interview, Taylor shared photos of her injuries, showing her bruised, swollen and bleeding face after the attack. CBS This Morning also played a recording of a 911 call Taylor made, where she is heard whispering: "Please help me now. I'm gonna die." As CrimeOnline previously reported, Taylor also texted friends and relatives for help and asked them to call 911 on her behalf, fearful of Wheeler's response if he heard her calling for help.
Watch Taylor in the "CBS This Morning" interview here:
For the first time, the woman who says she was attacked by former Seattle Seahawks player Chad Wheeler is speaking out.

Wheeler pleaded not guilty to 3 charges, including domestic violence assault.

Alleah Taylor spoke exclusively with @JerickaDuncan for @CBSThisMorning. pic.twitter.com/HMQAh3Md6o

— CBS This Morning (@CBSThisMorning) February 10, 2021
Wheeler, who most recently played for the Seattle Seahawks, resigned from the NFL after his arrest. Though he appeared to acknowledge the harm he had caused in a Twitter post referring to his mental health condition and apologizing to Alleah, Wheeler has since pleaded not guilty to first-degree domestic violence assault, felony domestic violence-unlawful imprisonment, and resisting arrest.
Despite Taylor's courtroom plea to keep Wheeler in custody or at least a good distance from her, a judge ordered his conditional release, issuing a GPS ankle monitor. The defendant is required to stay in King County and its neighboring counties in Washington State. His trial is set to begin in April.
For the latest true crime and justice news, subscribe to the 'Crime Stories with Nancy Grace' podcast. Listen to the latest episode: