A man who says he was partially paralyzed at a 2017 Travis Scott concert is reportedly overcome with grief after learning about the tragedy in Houston where eight people were killed and hundreds of others were injured while attending a show by the same performer, Rolling Stone reports.
The man, 27-year-old Kyle Green, alleges that he was pushed over the edge of a third-story balcony at the rapper's April 30, 2017, concert in Manhattan.
Green's lawyer, Howard Hershenhorn, told the magazine that his client feels terrible about the Houston incident.
"He's devastated and heartbroken for the families of those who were killed and for those individuals who were severely injured," Hershenhorn told Rolling Stone. "He's even more incensed by the fact that it could have been avoided had Travis learned his lesson in the past and changed his attitude about inciting people to behave in such a reckless manner."
Green suffered multiple broken bones in the fall, including a broken vertebra. He has a pending lawsuit against Scott because of the injuries.
At the same 2017 concert, Scott was recorded on video telling another fan to jump into the crowd below from a second-floor balcony.
"I see you, but are you gonna do it?" the rapper told the fan, according to the magazine. "They gonna catch you. Don't be scared. Don't be scared!"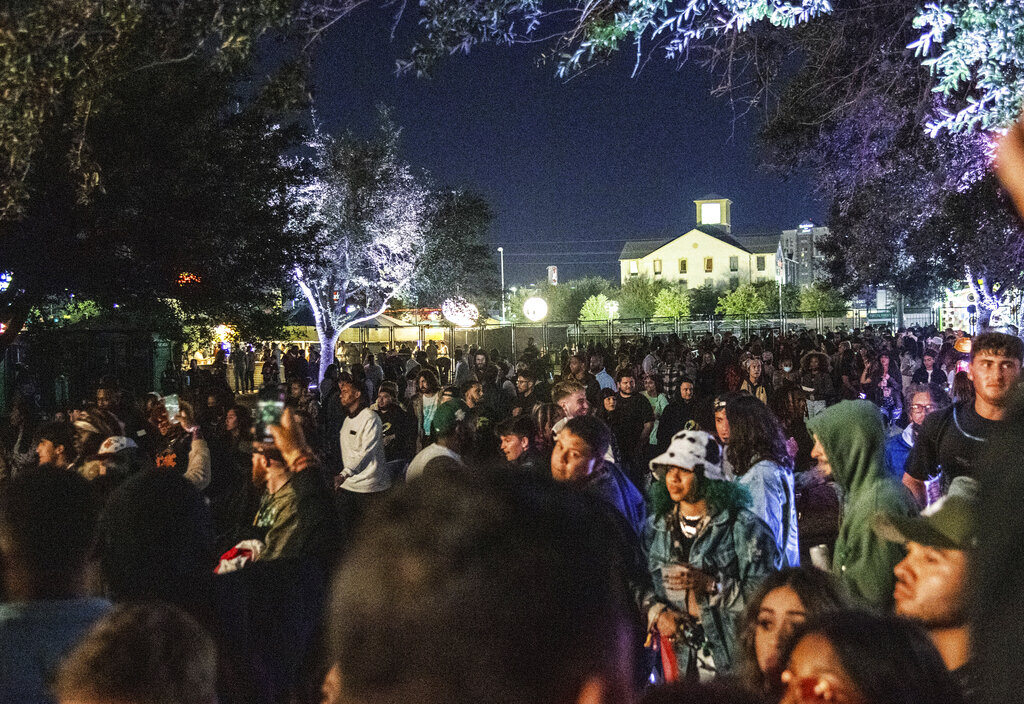 Green claims he was pushed over the edge into a "severely overcrowded" concert venue and that security personnel failed to properly care for him. Staff allegedly moved Green "without a cervical collar, backboard and other safety precautions," the lawsuit alleges, according to the magazine.
"Security picked him up like a sack of potatoes and carried him toward the front. Travis offered him his ring. Then they finally carried him out. Unfortunately, he was paralyzed," Hershenhorn told Rolling Stone on Saturday.
Green alleges that he had to use a wheelchair when he filed the suit, but he is now able to walk with what Hershenhorn described as a "significant, significant disability," the newspaper reports.
Scott, whose legal name is Jacques Bermon Webster II, is widely known for hosting boisterous shows and encouraging intense moshing, which Hershenhorn criticized.
"His desire to rile up the crowd beyond hysterics, where people are pushing and shoving, has resulted in a massive catastrophe. It's time for him to do some significant self-reflection," Hershenhorn told the magazine.
— TRAVIS SCOTT (@trvisXX) November 6, 2021
Scott has denied liability for Green's injuries in court filings, Rolling Stone reports.
The same year Green was injured, police arrested Scott for what authorities described as inciting a riot at the Walmart Arkansas Music Pavilion, where Scott allegedly "encouraged people to rush the stage," Rolling Stone reports.
He subsequently pleaded to a less serious charge of disorderly conduct and paid $6,825.31 to two people who claimed injuries, according to the Northwest Arkansas Democrat-Gazette.
Two years earlier, in 2015, organizers of Lollapalooza in Chicago shut down Scott's performance after just five minutes because numerous fans had jumped security barricades and onto the stage. Scott can be heard in a video recording yelling at security to "get the f*ck back" and starting the chant "we want rage," according to the New York Post.
Authorities arrested Scott because of the skirmish and he later pleaded guilty to charges of reckless conduct, the New York Times reports.
As for the Houston incident, Scott has said he welcomes investigations from law enforcement.
"I'm absolutely devastated by what took place last night. My prayers go out to the families and all those impacted by what happened at Astroworld Festival," Scott posted to Twitter on Saturday. "Houston PD has my total support as they continue to look into the tragic loss of life. I am committed to working together with the Houston community to heal and support the families in need."
The concert, which reportedly drew 50,000 people, turned deadly around 9:30 p.m. Friday when the crowd began rushing toward the stage. There are reports of people being trampled, as well as an investigation into whether some attendees were unwittingly injected with drugs.
Medics transported 25 people to the hospital, 11 of whom were in cardiac arrest, according to authorities. One of the hospitalized is as young as 10 years old, while at least two of the deceased were in high school.
For the latest true crime and justice news, subscribe to the 'Crime Stories with Nancy Grace' podcast.
Join Nancy Grace for her new online video series designed to help you protect what you love most – your children.
[Feature image: Festival goers are seen exiting NRG Park on day one of the Astroworld Music Festival on Friday, Nov. 5, 2021, in Houston. (Photo by Amy Harris/Invision/AP)]