Anthony Thomas, kidnapped Tennessee teen Elizabeth Thomas's father, has filed a petition, through his attorney, to depose witnesses who purportedly have knowledge of the relationship between Elizabeth and her suspected abductor Tad Cummins.
On Thursday, Anthony Thomas's lawyer filed a Petition for Perpetuation of Testimony at the Maury County Courthouse, appealing to the court to allow the attorney to take depositions of witnesses who were privy to Elizabeth's relationship with Cummins, who was a teacher at her high school, and her state of mind prior to her March 13 disappearance from Columbia, Tennessee. Elizabeth is believed to have left town with Cummins, and the two were spotted on a surveillance camera at an Oklahoma City Wal-mart two days later. Neither has been seen or heard from since.
The petition reveals further details — some that are new and some that have been previously reported — about interactions between Cummins and Thomas. The document claims, among other things, that:
Cummins was a chaperone — and perhaps the only chaperone — on a student field trip Thomas attended in late January, after school officials had been notified that Cummins was seen kissing Thomas on the lips in a classroom and were said to be investigating the incident.
Cummins allegedly went to Elizabeth's home on multiple occasions, without her father's knowledge, and pressured her to go out for a meal with him, threatening "repercussions at school" if she did not comply.
Elizabeth reportedly told friends and siblings that she felt overwhelmed and in "over her head" in her relationship with the teacher, and that she was scared of him.
Cummins would allegedly visit Elizabeth's place of work at a fast food restaurant, sometimes against the girl's wishes. On multiple occasions she reportedly asked co-workers to tell him she was not there.
Cummins allegedly told Elizabeth that "her future collegiate and work career was ruined" because of the kissing incident, and further attempted to make her feel guilty for his subsequent suspension from the school.
A fellow high school student allegedly found Elizabeth sleeping alone on a hospital bed in Cummins' classroom one morning before classes began.
Elizabeth reportedly told the friend who dropped her off at a restaurant to meet Cummins on the morning of March 13 that she did not want to go, and was having second thoughts about spending the day with him — and that she told this friend that she was meeting someone other than Cummins.
The petition, in part, reads as follows: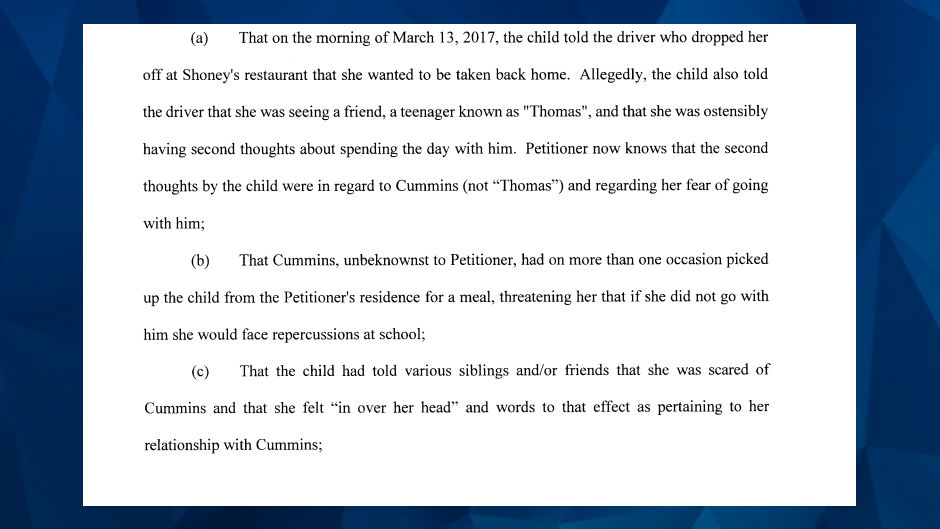 The petition claims that it is necessary for Mr. Thomas and his attorney to obtain witness testimony through sworn depositions, as many of the witnesses who provided information for the statements made in the petition "are not family or necessarily amenable to fully cooperating or otherwise giving statements under oath about their knowledge on these matters." The petition continues:
In summary, the petitioner believes that the facts support and will, once confirmed, fully support that his daughter, the child, was as much a victim of as a child abducted by night by an intruder, the difference being that instead of being forcefully taken without warning, the authority figure Cummins preyed upon the child for months on end, nudging and molding her until her will to resist was conflicted and ultimately broken.
On Thursday, Anthony Thomas released a statement explaining his intentions for the petition. It reads:
We are now facing four weeks into the abduction of Elizabeth Thomas.  As it would be for any family in this situation, the process of this investigation has been frustrating.  Perhaps the most concerning element has been the hesitancy of some persons to fully cooperate in sharing information that they know.  As time goes on, the family is growing more and more desperate to formally examine all witnesses who have information that might assist in finding and rescuing her.  The purpose of our petition as filed today will hopefully put an end to that hesitancy displayed by some and will help us, as the family, to methodically confirm facts that have been at times unclear.  We believe Tennessee law permits us to do this through pursuing the concurrent goal of preparing for legal restraint and other legal remedies against Tad Cummins once he is caught and Elizabeth is home.  Therefore, through the power and process of the Court, we intend to clarify and confirm the facts that led to Elizabeth's disappearance, including statements made by her or Tad Cummins, that might provide clues as to where they are.  As directed by the Court, and in exploration of civil claims against Tad Cummins, we will be able to do this and satisfy the concurrent goals of gathering evidence to help find Elizabeth and also dealing with Tad Cummins once he is captured.

Let it be clear:  We have brought this petition for no purpose except to provide a vehicle for gathering information.  Also, the family wishes to praise law enforcement, including the Maury County Sheriff's Department, the Tennessee Bureau of Investigation, as well as the F.B.I., for their continued and tireless efforts to find Elizabeth.  Our investigation is meant only to assist, not to detract from, what law enforcement has done and is doing.  We also thank the media for its continued coverage of Elizabeth's story.  We know that the most likely way this nightmare ends is that a good citizen sees this story through media coverage and then calls the authorities.

The Thomas family humbly asks for your continued prayers and diligence as we seek daily to bring Elizabeth home.