In response to a public records request by the Associated Press, the Bristol County District Attorney's office released the Massachusetts Department of Correction's prison file on Aaron Hernandez on Friday.
Included in the file are details about lifesaving measures taken to save Hernandez's life after he was found hanging in his cell on the morning of April 19, as well as a medical examiner's findings and a "psychological autopsy" that analyzed Hernandez's state of mind in the days and hours before his death.
According to the report, Hernandez made seven phone calls before being locked into his cell for the night on April 18. The last call was placed at 7:48 p.m. and the name of the call recipient is redacted.
"It was reported they were discussing an upcoming visit," the file states. As Crime Online previously reported, the file includes notes from interviews with fellow inmates, and one of those inmates mentioned that Hernandez had been talking about an upcoming visit from his fiancee Shayanna Jenkins and his four-year-old daughter.
"All content [of the phone calls] was future oriented and did not elicit any concerns for safety, even in retrospect," the report states.
The file also includes a view of the suicide note Hernandez left for his fiancee. Even the letter suggests that Hernandez was in a relatively upbeat mood, considering the circumstances.
"I told you what was coming indirectly!" Hernandez wrote, adding that it was "the Almighty's plan. At the close of the note, he wrote in a parenthetical, "You're rich."
As Crime Online previously reported, Hernandez's estate was found to be essentially worthless at the time of his death, save his home in Attleboro, Massachusetts, which is worth well over a million dollars.
Read the suicide note here: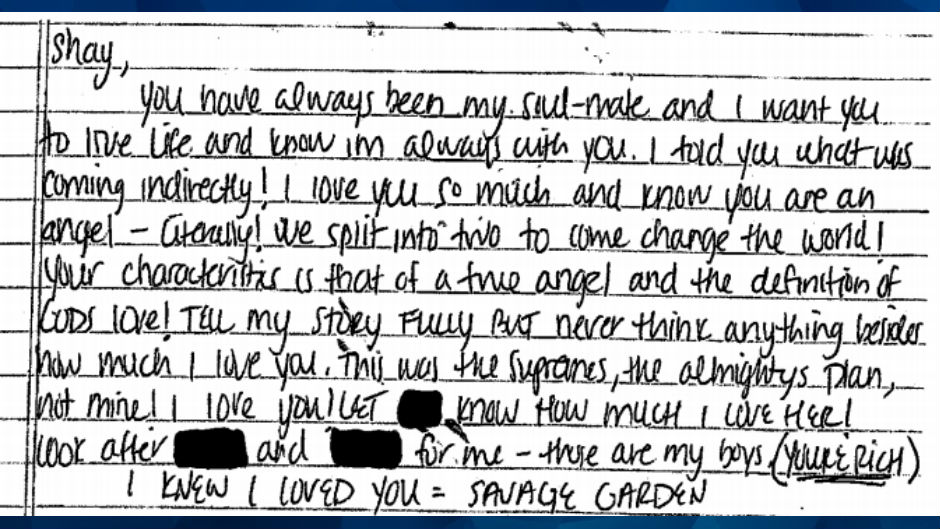 Photo: Associated Press