The Bristol County District Attorney's office has made a court filing that includes the Massachusetts Department of Correction's prison file on Aaron Hernandez, which contains details of inmate interviews following the former NFL star's death. It also reveals the contents of the suicide note he left to his fiancee Shayanna Jenkins before hanging himself in his prison cell on April 19.
Deadspin obtained the D.A. filing, which reportedly includes a view of the handwritten note Hernandez left his fiancee before he died. It comes across as somewhat upbeat in tone, with Hernandez repeatedly referring to Jenkins as an "angel."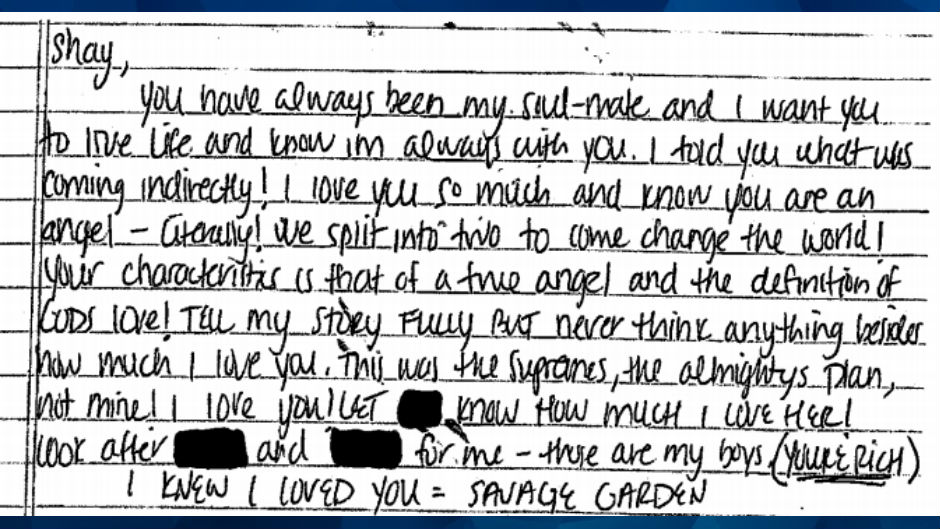 Hernandez said, presumably in reference to his impending death, that it was "the Almighty's plan."
"I told you what was coming indirectly!" Hernandez wrote, adding later in a parenthetical: "You're rich."
As Crime Online previously reported, Hernandez's estate was found to be just about worthless at the time of his death, but he did own a house in North Attleboro, Massachusetts, that had been on the market for well over a million dollars.
Hernandez's prison file includes heavily redacted notes from interviews with fellow inmates after his death. The visible interview notes indicate that Hernandez's friends and acquaintances observed him to be in good spirits in the days before his death, and saw on indication he planned to take his own life. One inmate reportedly said that Hernandez asked him to have clean laundry ready for him for the upcoming weekend, as his fiancee and daughter were expected to visit.
Multiple inmates noted that Hernandez had become increasingly spiritual during his incarceration. And one mentioned a conversation with Hernandez in which the deceased mentioned a "rumor" he heard that if a suspect dies during an open appeal, the conviction will be vacated under Massachusetts law — which is in fact true.
The District Attorney's filing of Hernandez's prison file appears to be part of its case to preserve Hernandez's 2015 murder conviction for the shooting death of Odin Lloyd. Read the full prison file here:
Aaron Hernandez Prison File by NESNdocs on Scribd