Tad Cummins reportedly told authorities that he had sex with a 15-year-old student he allegedly abducted numerous times. Prosecutors are now pushing for a statutory rape charge against the former teacher.
Special Agent Utley Noble with the Federal Bureau of Investigation (FBI) testified in a Nashville, Tennessee, courthouse on May 12 that Cummins, 50, told authorities that he had sex with Elizabeth Thomas "on most nights" during the 38 days they were on the run, starting on the first night they fled on March 13. The information not only prompted authorities to fight for adding a statutory rape charge to his Cummins' list of charges, but was also used to help keep him behind bars without bail until his trial.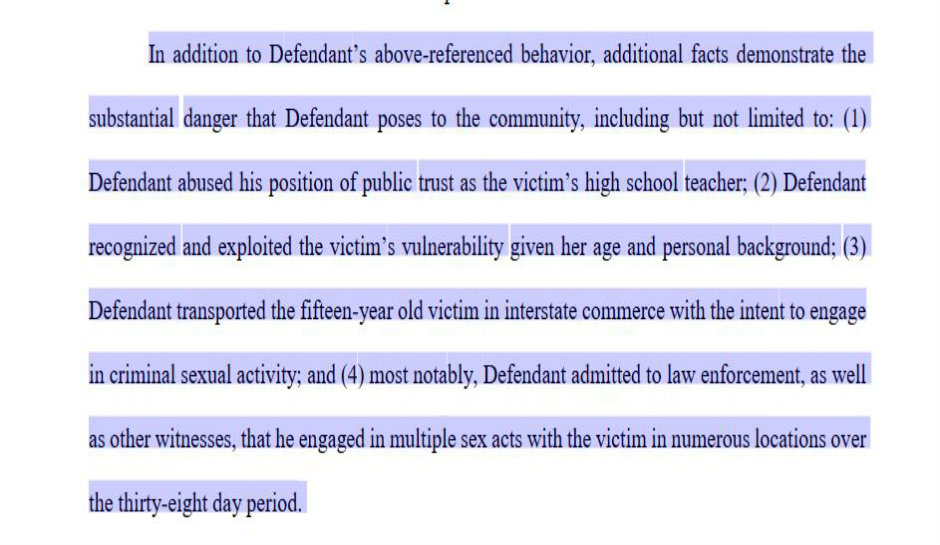 A phone conversation that Cummins made to his wife, Jill Cummins, was also used as evidence against him. Tad Cummins called his wife while in a federal detention center in Sacramento, California. All calls made from federal detention centers are recorded.
"I said, 'Well, did you sleep with her?' and he said, 'Yes I did,' and I didn't want any details," said Jill Cummins, who filed for divorce in April.
Prosecutors plan to use the phone conversation in connection with Tad Cummins told them, and what the teen girls tells them, in order to tack on the additional charge.
READ More: Tad Cummins denied bail after escape plans and last letter to wife revealed in court
According to Find Law, statutory rape is defined as having a sexual relationship with someone under the "age of consent." In most states in the U.S., the age of consent starts at 17 or 18. Two factors that determine whether a statutory rape charge will consist of a felony or a misdemeanor is the age of the victim and the age of the suspect.  Since Tad Cummins is 50 and the victim is 15, he will likely face a felony charge.
Tad Cummins' Motion for Detention by Leigh Egan on Scribd
Statutory rape by an authority figure (Tennessee code § 39-13-532) is a charge unique to the state of Tennessee, and applies when the victim is below the age of consent, whether they willingly participated or not. It's a Class C felony that carries a punishment of up to 15 years in prison and a find of up to $10,000.
Cummins currently faces Tennessee state charges of kidnapping and sexual contact with a minor. He also faces a federal charge of "transportation of a minor across state lines for the purpose of having criminal sexual intercourse." Prosecutors are fighting to add on a statutory rape charge.
[Feature Photo: TBI]