Details emerged on May 12 regarding Tad Cummins' escape plan with a 15-year-old girl that he's accused of abducting. Prosecutors allege he hatched the detailed plan and threw his wife off with a fake note that claimed he was simply leaving for a few days to "clear his head."
Cummins' letter to his 49-year-old soon to be ex-wife, Jill Cummins, was presented in court as evidence that he was a flight risk and shouldn't be granted bail. Court records indicate that a judge agreed with prosecutors and ordered the former teacher to remain in custody while awaiting trial.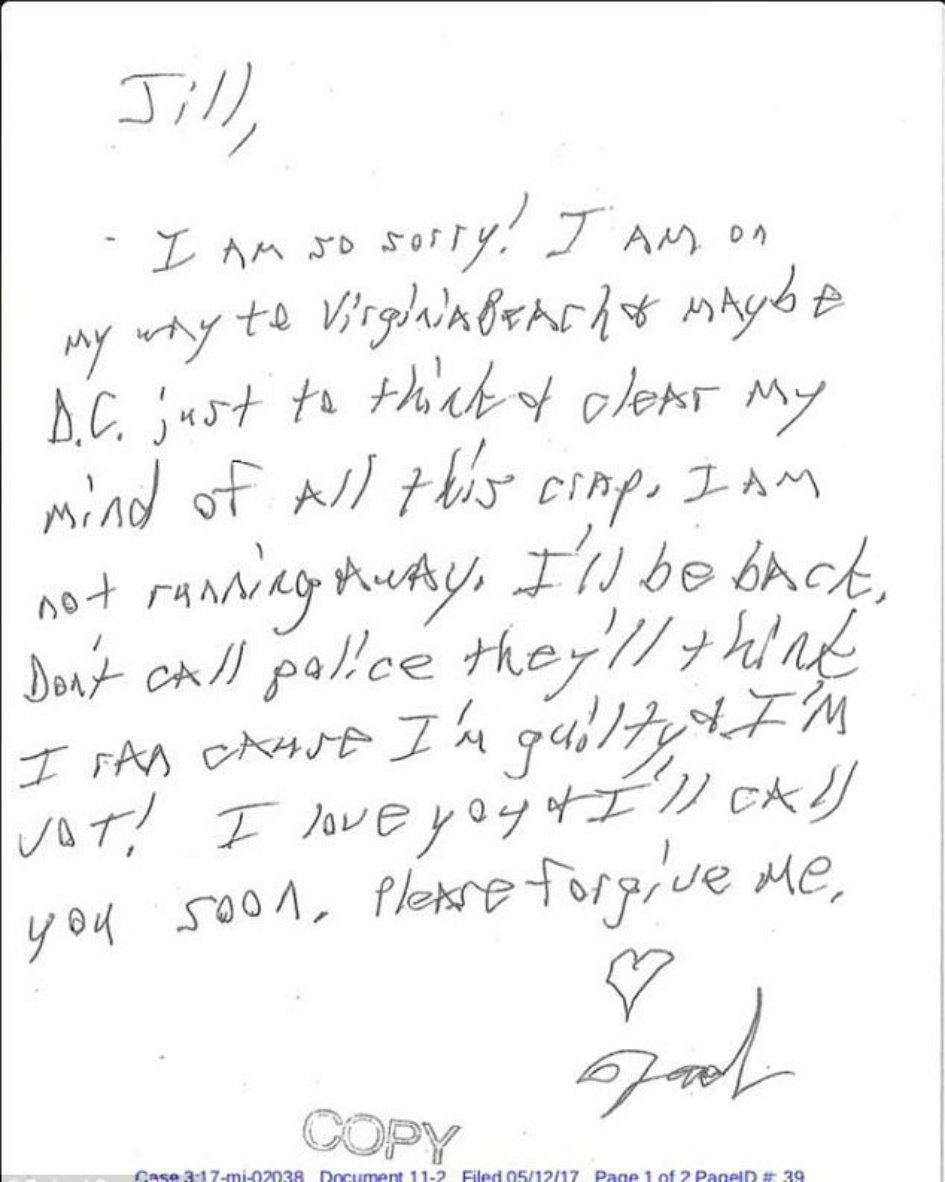 The letter was allegedly created to buy Tad Cummins a few days to escape without police interference. In the letter, he wrote to his wife that he was "sorry" and needed to go clear his head. Apparently, Tad Cummins was referring to his administrative suspension from his teaching position at Culleoka Unit School, where he taught health sciences.
Tad Cummins was suspended pending an investigation into allegations that he was having an inappropriate relationship with Elizabeth Thomas, 15. Jill Cummins, thinking he simply needed time to think about his work issues, didn't initially call the police when she saw the letter.
According to Special Agent Utley Noble with the Federal Bureau of Investigation (FBI), the letter was part of an intricate plan that Cummins planned out well before he took Elizabeth Thomas across state lines to allegedly have sex with her.
After leaving Tennessee on March 13, the pair drove to Decatur, Alabama, where they both threw the cellphones away, per Tad Cummin's request. Cummins also dismantled the GPS on his wife's vehicle that he escaped in, and switched the car's Tennessee license plate to an Alabama tag.
After leaving Alabama, Tad Cummins and Elizabeth stayed in Mississippi for a night before traveling to Oklahoma, where they spent the night in a Super 8 Motel and bought food and supplies at two different Oklahoma Walmart stores. Cummins admitted he bought an iPad at Walmart in order to watch the news and stay informed about his case. He allegedly said he saw his wife plea for him to return when she spoke to the media on March 17.
Tad Cummins Court Paperwork by Leigh Egan on Scribd
After the duo left Oklahoma, they headed for Colorado, where Tad Cummins made up alias names for himself and for Elizabeth: John and Joann Castro, ages 40 and 24 (respectively). From there, they headed to San Diego, where Cummins bought a kayak. He planned to take the kayak into Mexico with Elizabeth, but a police officer stopped them and told them water was too rough. Cummins was convinced he'd been caught, and began sleeping with a gun by his side.
Cummins left San Diego with Elizabeth, and drove to the commune called Sonoran Desert, in Slab City. Shortly after, they made their way to Siskiyou County, California, and stayed at the Black Bear Ranch commune for a few days, until they reportedly were asked to leave. They found a remote cabin close to the commune where caretaker Griffin Barry allowed the pair to stay in exchange for work. A few days later, Barry realized who Cummins really was and called 911.
Cummins faces Tennessee state charges of kidnapping and sexual contact with a minor. He also faces a federal charge of "transportation of a minor across state lines for the purpose of having criminal sexual intercourse." Prosecutors are fighting to add on a statutory rape charge.
[Feature Photo: Instagram]