Crime Online has obtained a preliminary autopsy report from the acting coroner in Jasper County, Texas, who will make the final determination on Kirbyville High School Principal Dennis Reeves's apparent suicide.
Jasper County Justice of the Peace Michael Smith shared the preliminary autopsy findings with Crime Online. The initial report, based on the medical examiner's assessment, found that Reeves died of a single perforating gunshot wound to the head.
Reeves died last Tuesday at Kirbyville High School, immediately following a meeting with two school administration officials who confronted Reeves with allegations he'd had an affair with a former secretary. The death has come under intense scrutiny within the community, especially after the former Kirbville superintendent told a local news station Wednesday that the affair rumors has already been investigated two years ago, by the same assistant superintendent who was in the meeting with Reeves just before he died.
MORE: Texas principal Dennis Reeves said he would kill himself if affair was exposed, says secretary and accuser
The former superintendent said both parties denied the affair in 2015 and that school officials did not find any evidence of a romantic relationship.
The preliminary autopsy report states that the bullet entered from the right side of the head and exited on the left. Kirbyville Police Chief Paul Brister confirmed to Crime Online that police recovered one bullet from the scene.
The manner of death is listed a "pending" in the autopsy report. Judge Smith told Crime Online that he will make the final determination on whether Reeves's death was a suicide based on the still-pending final autopsy report from the medical examiner and a police investigation, which is reportedly examining ballistics, gunpowder, and DNA recovered from the scene.
Earlier this week, a police source told Crime Online that investigators had not been able to recover surveillance footage from two cameras in the high school parking lot, as they are reportedly motion-activated and may not have captured any images during the time Dennis Reeves was seated in his car following his meeting with school officials.
Below is the preliminary autopsy report: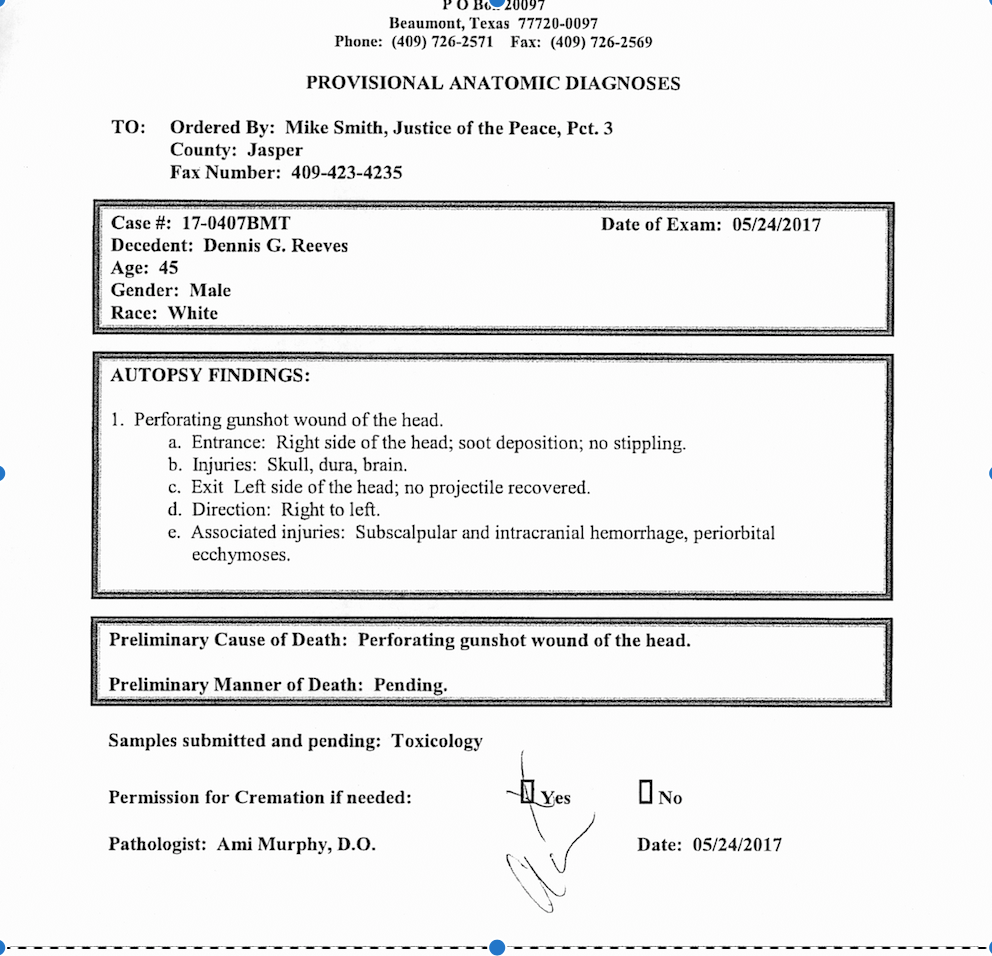 Featured image: Facebook