A judge had ruled that allegations against Jim Carrey that he gave his late girlfriend multiple STDs will be admissable in a wrongful death suit against him.
Carrey's on-again, off-again girlfriend Cathriona White committed suicide in 2015 at the age of 30. She intentionally overdosed on prescription pills.

Cathriona's mother, Brigid Sweetman, and her estranged husband, Mark Burton, each brought a wrongful death claim against the veteran actor, accusing him of contributing to her death.
According to documents obtained by the Daily Mail, a Los Angeles judge rejected the Dumb and Dumber actor's motion to exclude the STD allegation in the wrongful death trial, which is set for April 2018.
The judge reportedly acknowledged that Carrey is a public figure and has particular privacy concerns, but those concerns are not a priority over the right of the plaintiffs to include relevant details in their complaints.
According to California law, willfully exposing someone to an STD can be considered as a contributing factor of suicides as it can represent intentional infliction of emotional stress.
The Daily Mail reports that White told Carrey in text messages that she had tested clean for STDs before their relationship, and took another test shortly after they began dating. She was reportedly found to have two types of Herpes and gonorrhea.
The judge also sided with the plaintiffs in allowing allegations that Carrey had promised to pay for White's funeral expenses but then backed out.
Cathriona was a makeup artist of Irish descent who lived in Los Angeles. According to the Daily Mail, Carrey is accusing her mom and estranged husband of capitalizing on her death, insisting she was not close with them.
An earlier report in the Daily News claimed that Cathriona's mother called her a 'failure' in a phone call on the young woman's 30th birthday, just days before she took her own life with pills prescribed to an alias of Carrey's.
White's mother has accused Carrey of breaking the law in providing with her with prescription painkillers and the sleeping aid Ambien, but Carrey has countered by claiming that White stole the pills from him.
The Daily Mail also obtained a handwritten letter that White wrote to Carrey, apparently following their final breakup. In it, she talks about the emotional trauma she has endured because of her STD diagnosis.
"I am damaged, I am disgusting," the letter reads. In it, White also claims that Carrey called her a "whore" and an "opportunist" and generally behaved insensitively.
"There is so much I am grateful for but this part will never be okay. I can still forgive, but you need to understand first."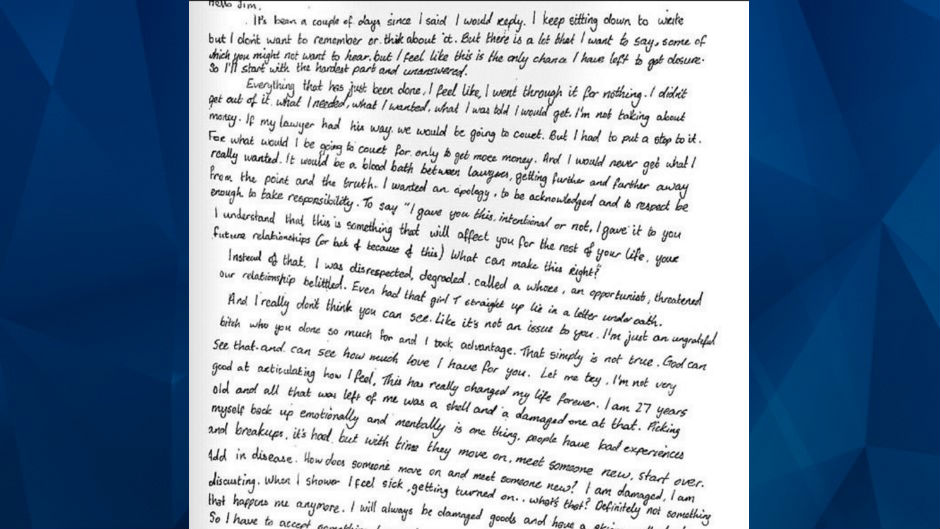 Feature image: Associated Press