In light of wrongful conviction lawyer Kathleen Zellner's 1,200 page recently-filed motion that paints Ryan Hillegas as the real person who killed Teresa Halbach, reports have surfaced that possibly refute many of the points the attorney made.
In 2005, freelance photographer Teresa Halbach was murdered. Her bone fragments, cellphone parts, and parts of her Daisy Fuentes jeans were found burned on the property of Steven Avery, the centerpiece of the popular Netflix docu-series, Making a Murderer.
Avery is currently serving a life sentence for Halbach's murder, but his wrongful conviction lawyer, Zellner, says that the wrong guy is behind bars. She filed the motion for a new trial for Avery because she intends to prove her client is innocent. The issue, however, is that a lof of the claims Zellner made about Halbach's former boyfriend, Hillegas, are circumstantial.
Original Story: Reasons EX-BOYFRIEND blamed for murder instead of 'Making A Murderer' Steven Avery
Was Ryan Hillegas abusive towards Teresa Halbach?
Zellner claimed in her motion that Hillegas, who dated Halbach on and off for five years while in high school, became jealous and abusive when she broke things off and started dating other people. As of today, there are no known recorded documents filed against Hillegas for abuse.
The only mention of abuse against Halbach on record is an affidavit of Halbach's business associate, Thomas Pearce, who indicated that Halbach once told him that a college sweetheart was harassing her. Pearce, however, never mentioned Hillegas.
Exhibit 44 Affidavit of Thomas Pearce by Leigh Egan on Scribd
Did Ryan Hillegas Volunteer False Information to Detectives?
Zellner's motion also points out that Hillegas reportedly gave authorities false information about Halbach's Toyota RAV4, which was found hidden in branches and wood planks on Steven Avery's property. According to the motion, Hillegas told police that Halbach's vehicle had damage to the right side with a broken headlight due to an accident months prior.
The motion alleged that the killer broke the headlight, and therefore, said that the headlight was broken months before she went missing to try to cover his tracks and to divert detectives' attention from searching for pieces of the broken light in other areas.
" [He] appears to have misled police when he told them that Ms. Halbach had damaged the front driver's side of her vehicle months before her disappearance, had filed an insurance claim for that damage and had taken the cash payout without repairing the vehicle," retired FBI agent, Gregg McCrary, wrote.
Court documents indicate that Halbach's family and friends told Hillegas that she filed an insurance claim for a broken headlight months prior and received a cash payout for it (see Exhibit H above). Hillegas then relayed the information to police.
Why would a killer report the incident to the police in the first place?  According to a number of online sleuths, if the killer had indeed broke Halbach's headlight, he would know first-hand that an insurance claim for it wouldn't exist and should know that authorities would follow-up and verify if the information was true. Although this doesn't necessarily disprove Zellner's theory, it raises a lot of questions regarding the accuracy of her allegations.
Did Ryan Hillegas Give Detectives a Fake Name?
Another claim made in the motion is that Hillegas not only gave a fake name of "Ryan Kilgus" to officers during a planned search for the victim, but also told them that he and Halbach had only been friends. Yet, online sleuths who follow the case closely state that the false name accusation comes from the phrase "Ryan Kilgus Group" written on the right-hand side of a search team paper, in seemingly different handwriting than Hillegas'. The theory is that a DCI agent heard the last name wrong and subsequently, wrote down the wrong information.
On the actual sign-in and sign-out log sheet for the search team, Hillegas wrote his full name each time. On another occasion, the name "Ryan Hillegas" was clearly written after Investigator Mark Wiegert interviewed him and a group of friends. The investigator also wrote that Hillegas informed him of his past romantic relationship with Halbach.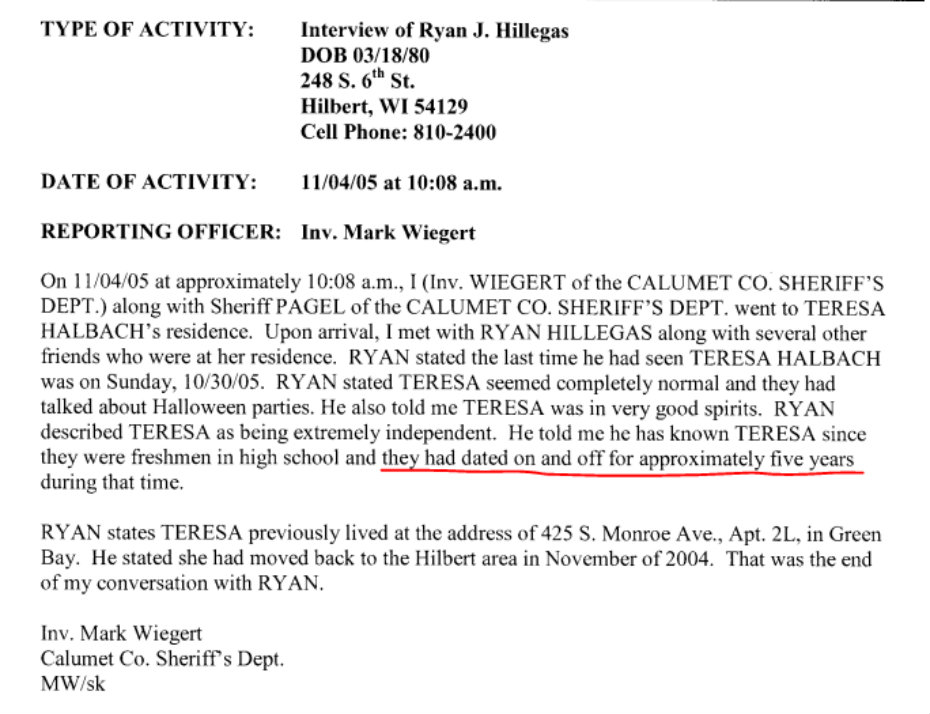 Did Hillegas Sneak Into Steven Avery's Trailer on November 3?
Another part of the motion that is receiving criticism is the accusation that Hillegas reportedly snuck into Steven Avery's trailer on November 3rd, 2005, found Avery's blood (that was not cleaned up after an accident), planted it on Halbach's vehicle, then snuck out without being caught. Yet, according to Officer Leslie Lemieux of Calumet County Sheriff's Department, Hillegas had an airtight alibi , leading up to almost the time he's accused of sneaking into the trailer.
While it's still possible Hillegas could have snuck into the trailer and left before Avery returned home (Avery said he returned home at around 8:30 p.m. from a hardware store, whereas the motion states Hillegas left his alibis at 6:40 p.m. on a 45-minute drive to Avery's property), it would be nearly impossible for him to collect Avery's blood while it was still in liquid state (before coagulation), transfer the blood onto Halbach's vehicle, and then leave in time before Avery got home.
Another interesting point is that Hillegas testified that he was with his alibis at Halbach's home until at around midnight to 1 a.m. on the night in question. None of his friends with him were required to testify. However, none of them have came forward and said that Hillegas snuck away for several hours before returning.
Stay tuned Part 2, when Crime Online examines Zellner's accusations of human scratch marks on Hillegas' hand, an accomplice, no alibi on the night Halbach disappeared, and the infamous deleted voice messages from Halbach's phone.
[Feature Photo: YouTube/Screenshot]