There are still no arrests in the Chase Massner (pictured right) case, and although the public is still awaiting official confirmation of the identity of the body found on Tuesday, buried in the backyard of a Kennesaw, Georgia, home, the foregone conclusion it is indeed Chase.
On this segment of "Crime Stories with Nancy Grace," more members of Team Chase join Chase's battle buddies, Ross Warnes and Michael Swiger, along with CBS46 reporter Daniel Wilkerson, to talk with Nancy Grace, Alan Duke, and CrimeOnline about the case.
As the public awaits confirmation, Brad Clement (pictured left), the primary person of interest in the case, continues to deny any involvement in Chase's disappearance. Clement, who was arrested in February for shoplifting, and again in March for forgery and heroin possession, claimed that someone "planted" a body in his old backyard to "set him up."
Chase, an Iraq war veteran, was found buried under a homemade cement slab close to the rear deck of Clement's former home. Clement admitted that Chase was at his home the day he disappeared, but Clement maintains that Chase simply up and vanished.
Until Tuesday, it seemed as if Chase did indeed vanish without a trace, until authorities dug remains up from the ground. The discovery came just three and a half weeks after the Cobb County Cold Case Unit (C4) in Marietta, Georgia, ordered cadaver dogs to search Clement's former home, including the basement and the yard area.
Numerous people have questioned why it took three years for authorities to search Clement's back yard, but it's difficult to answer. It's unclear whether there were issues with obtaining a proper warrant after police initially dropped the ball when they didn't suspect foul play during the beginning of the investigation. Massner was listed as "walking away" by his own accord in March 2014, and precious time during the initial stage of his disappearance was lost forever.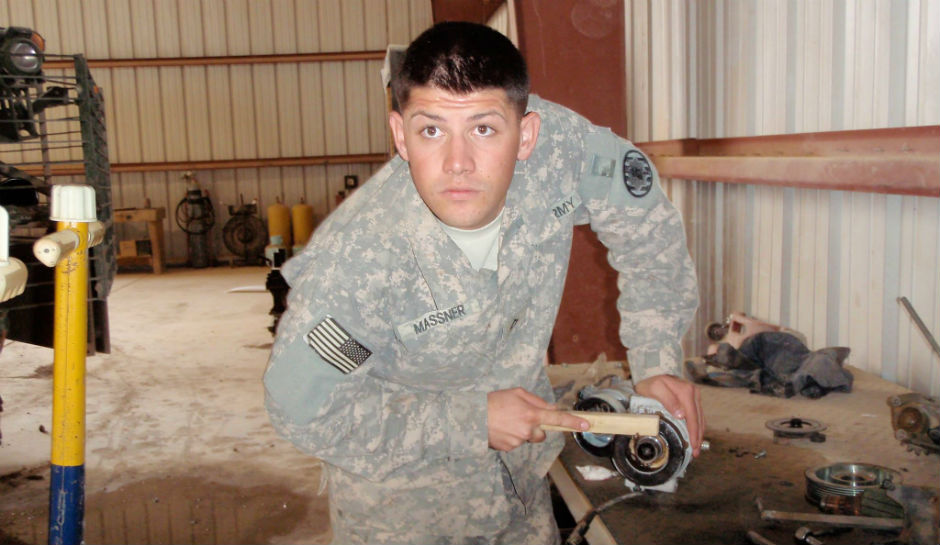 In June 2017, C4 took over Chase's case and within weeks, secured a search warrant for Clement's old property. Two cadaver dogs, at two different times, picked up on human remains scents at the same spot in the backyard.
CrimeOnline learned that Cobb County Police Department took over the investigation shortly after the cadaver dogs picked up on humans remains. It took Cobb PD four weeks after the cadaver dogs' search to start digging. Yet, despite it taking years to search and dig at the very place Chase was last seen, his family and friends hope that justice for the U.S. Army veteran comes quicker than finding him did.
Meanwhile, Warnes, a battle buddy and  close friend with the family, set up a GoFundMe fundraiser for Chase's wife and two little girls, who are currently trying to make travel arrangements to attend the soldier's upcoming funeral. Click here to help out.
"While the family had greatly appreciated your support through this we can't stop now. With travel pays, final expenses and everything in between. Chase signed on that dotted line to give his life for ours, now it's our turn to help his family."
[Feature Photo: Handout]