Recently-revealed documents in the case of a Michigan man who killed his wife and himself show that he drew out a map of where he hid his spouse's body, as well as his murder confession, in an attempt to explain his actions.
Under the Freedom of Information Act, MLive obtained over 200 pages of court documents surrounding the details of murdered Portage teacher Theresa Lockhart and how her husband, Christopher Lockhart, killed her while he tried to date other women. Months after refusing to tell police where his wife was while denying any involvement in her disappearance, Lockhart killed himself and left behind a suicide note and handwritten map leading to her body.
"I am so sorry for this horrible act. I apologize to her mother, friends, family and the community for this senseless act. I live with it every moment of the day and I miss her so much. I didn't put her first, that was my biggest mistake."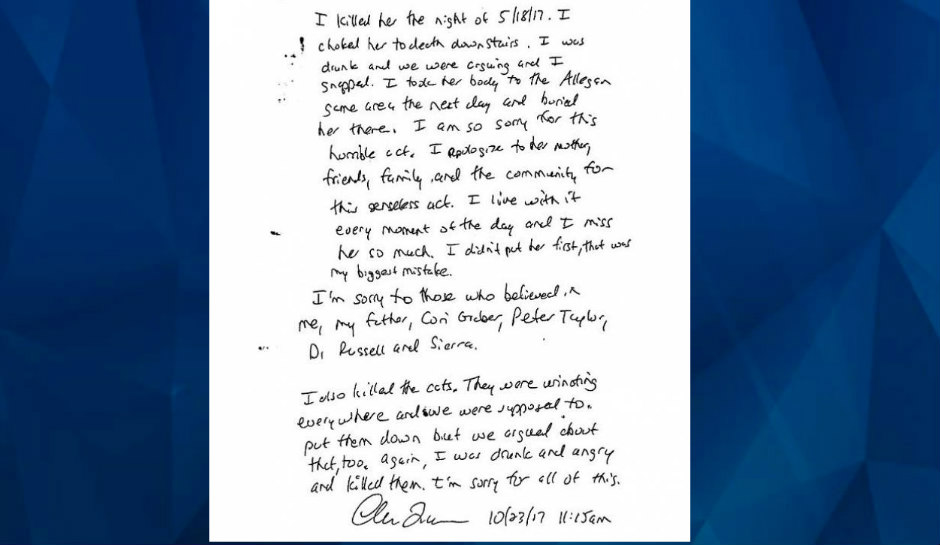 Lockhart explained he was drunk and arguing with his wife in the downstairs area in their home when he "snapped" and strangled her death on May 18. Initially, however, he told police his wife had disappeared before and later turned up unharmed, insinuating it wasn't unusual. Lockhart also said Theresa was having an anxiety attack when she left and that she's a "grown woman" who's allowed to leave if she wanted.
"Well, she's a grown adult," Lockhart told authorities May 25. "If she wants to take off and leave, she can do that. I mean, I'm concerned for her, but, you know, these are decisions that she's making on her own that, that's gonna, you know, be what's best for her."
Lockhart later lawyered up and for months refused to cooperate with police. On Oct. 23, he gave up the fight and took his own life inside his home. He left a suicide note next his body, as well as the hand-drawn map that indicated Theresa had been buried around 50 miles from their residence.
"Detective Hess, I'm sorry for taking her away from everyone. Find her and put her to rest. I had no right to do what I did. I pray that God forgives me. I love her so much."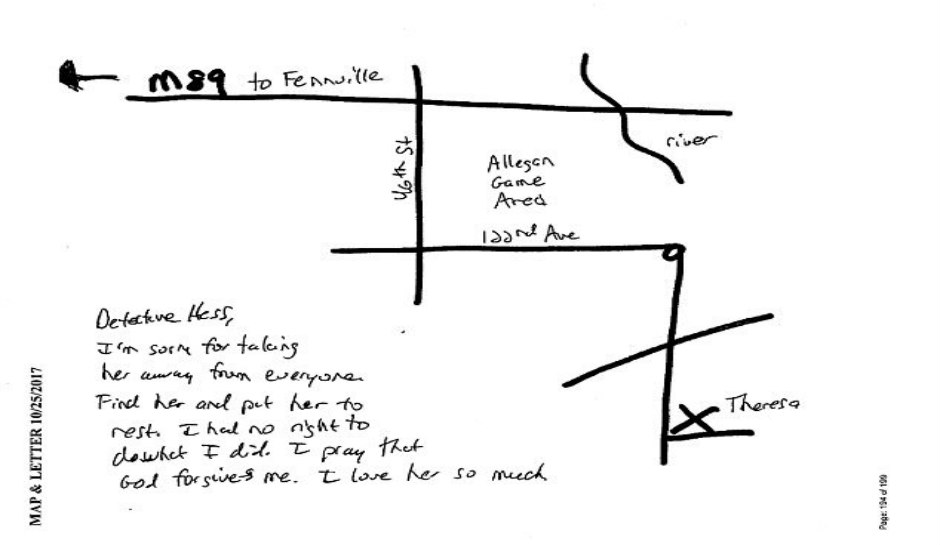 The map proved to be accurate. Detectives found Theresa's lifeless body submerged partially in water, in a shallow grave at the Allegan State Game Area.
Lockhart's philandering ways surfaced after Theresa's death. According to at least four women, he was flirting with them and trying to date them within weeks prior to his wife's murder. One of the women admitted to having sex with Lockhart during a period in the past when he temporarily separated from Theresa.
Another woman said Lockhart contacted her on April 23. She said she last saw him on May 27, a little over a week after his wife's disappearance, when they went to a comedy show and had dinner. She told authorities she thought he had gotten a divorce.
"She made some sort of comment about being more comfortable dating him now that his divorce was final and that she did not have to worry about a wife," an officer wrote in a police report. "Lockhart responded, 'You don't have to worry about that anymore.'"
Theresa was a high school Spanish teacher at a local Portage high school. She earned her Masters degree in education from Aquinas College and her Masters degree in Spanish from Western Michigan University. She was working toward a doctorate in Spanish when she was killed. She was survived by her mother, sister, and two stepchildren.
"Theresa enjoyed running, hiking, teaching Zumba, volunteering at the Humane Society, being a lector at church, and helping her students and all those around her she loved," her obituary read.
[Feature Photo: Christopher and Theresa Lockhart/City of Portage Police, Handout]