Warrants and affidavits unsealed by a federal judge on Friday show that Las Vegas shooting investigators sought the release of data from Facebook and Instagram accounts believed to be associated with suspected gunman Stephen Paddock and his girlfriend Marilou Danley.
A court filing dated October 3, obtained by CrimeOnline, reveals that an FBI special agent sought access from the Facebook corporation, which owns and operates Instagram, to multiple Instagram accounts believed to be associated with Paddock and Danley.
The filing also reveals that investigators were monitoring a Facebook account confirmed to belong to Marilou Danley. The privacy settings on the account were changed shortly after midnight on October 2, and the account was deleted about two hours after that.
The following day, authorities submitted a preservation request to Facebook for the Instagram accounts. The affidavit states there is "probable cause" that the Instagram accounts "contain evidence related to Paddock's possession of firearms."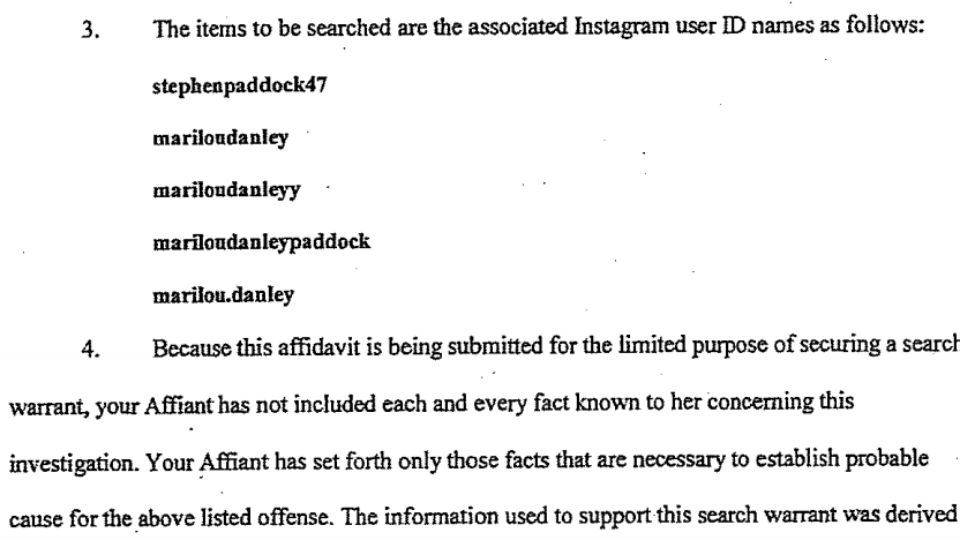 Authorities sought extensive information from five Instagram accounts — one appearing to be associated with Paddock and the remaining four with Danley — including location data, user searches on the platform, and any data deleted by the user.
As CrimeOnline previously reported, a federal judge's decision to unseal over 300 pages of search warrants came as a surprise, and the information in the court filings have cast some doubt on previous assurances from law enforcement that Paddock acted alone on October 1, when he shot at a crowd of concertgoers from his suite in the Mandalay Bay Resort & Casino, killing 58 people before taking his own life.
CrimeOnline will continue to provide updates on this developing story.
[Feature image: Associated Press]