UPDATED, 6:40 p.m. ET
The man identified as a person of interest this week in the October 1 Las Vegas shooting has been charged with the illegal manufacture and sale of armor-piercing bullets, which were found in Stephen Paddock's hotel suite at the Mandalay Bay Resort & Casino.
According to charging documents obtained by Las Vegas Now, Haig's fingerprints were found on armor-piercing bullets in Paddock's hotel room, where the gunman shot and killed 58 people attending the Route 91 Harvest Festival in Las Vegas on Sunday, October 1.
The news of the charges comes just hours after Haig and his attorney gave a press conference on Friday morning, when both insisted that Haig had absolutely no connection to the shooting and that none of the ammunition he sold Paddock was found in the hotel room. Haig said in the press conference that he had sold Paddock multiple rounds of tracer ammunition after the two men met at a gun show in Phoenix.
Haig said in the news conference that Paddock visited him in person to purchase the ammunition, and that "at no time did I see anything suspicious or odd."
But the charging documents reveal that Haig told investigators that Paddock "took the time to go back to his car to get gloves, which he put on prior to taking the box from Haig."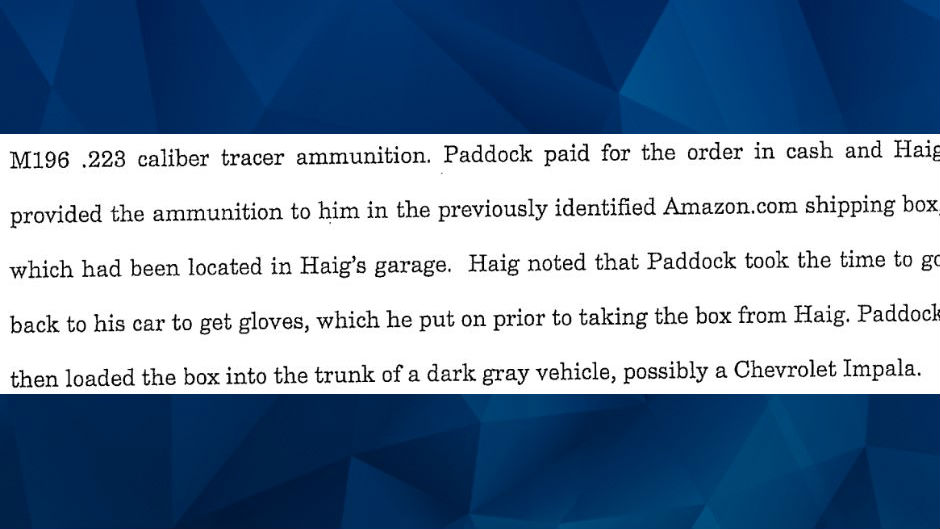 According to Las Vegas Now, Haig was charged before he gave the news conference on Friday. He reportedly did not have a license to manufacture armor-piercing bullets.
This is a developing story.[Feature image: Las Vegas Review-Journal video screenshot/Mark J. Victor (C); Douglas Haig (R)] will provide updates when more information is available.
*An earlier version of this story stated that Haig had been arrested. He does not appear to have been arrested or in custody at this time.
[Feature image: Las Vegas Review-Journal video screenshot/Mark J. Victor (C); Douglas Haig (R)]