The husband of a famous Bollywood actress who died suddenly late last month has spoken about the circumstances of her death.
Sridevi Kapoor, known professionally as Sridevi, was found dead in the bathtub of a Dubai hotel room on February 24. The mother of two was only 54 and one of the biggest film stars in India.
As The Mirror reports, Sridevi's husband, producer Boney Kapoor, told his friend Komal Nahta what happened that night, and Nahta wrote a detailed blog post detailing Sridevi's last hours with her husband. According to Kapoor's account as told to Nahta, Sridevi had gone to Dubai for a few days to go shopping for her daughter, but forgot her phone with the shopping list on it and instead spent time relaxing at her hotel. She reportedly decided to extend her trip even though Kapoor said it was only the third time in the marriage that the couple had traveled abroad without each other. After Sridvei reportedly told her husband that she missed him, he made arrangements to surprise her at her hotel on February 24.
The husband surprised the actress early that Saturday evening, and told his friend that they spent some time kissing and hugging each other before Sridevi's went for a bath, and Kapoor watched some television. By 8 p.m., he said, he had begun to be concerned that the couple would have a difficult time getting a table for dinner and shouted into the bathroom for his wife. When he heard no response, Kappor went to the bathroom door and called her again, but still nothing.
He then opened the door to the bathroom to find his wife completely immersed in water, according to Nahta's blog post: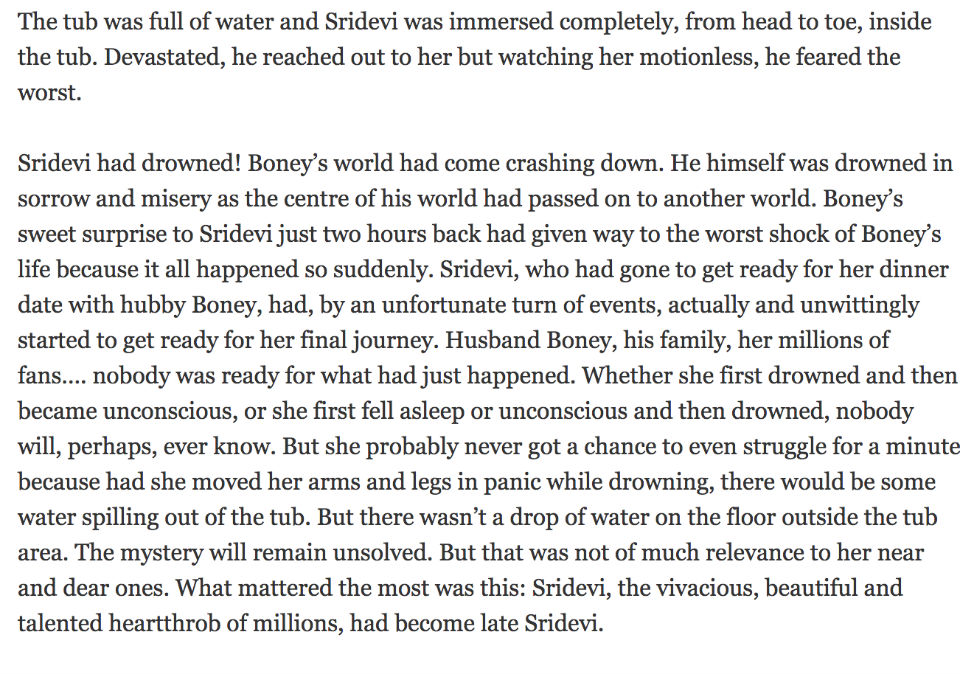 The story of Sridevi's death has received little media attention in the U.S. but has become tabloid fodder overseas. According to a report in the Khaleej Times, authorities ruled the death as an accidental drowning and do not suspect foul play. According to the Daily Mail, Kapoor tried unsuccessfully to revive his wife before calling a friend. He reportedly called police at about 9 p.m.
The Daily Mail also reports that the actress was laid to rest on Wednesday with thousands in attendance to pay their respects. On Thursday, Sridevi's husband reportedly gave a statement addressing the tragedy.
"To me she was my love, my friend, mother to our girls, my partner," he said.
"To our daughters she was their everything…their life. She was the axis around which our family ran."
He continued:
"The curtains never come down on an actor's life because they shone on the silver screen forever. My only concern at this time is to protect my daughters and find a way to move forward without Sri. She was our life, our strength and the reason we always smiled. We love her beyond measure."
[Feature image: Srivedi/Associated Press]