UPDATE
A male's body, believed to be Mark Dombroski, was found in a park in Bermuda on Monday, not far from the last place he was seen.
Read More: US student found dead in Bermuda after intense search
Original Story
A freshman at St. Joseph's University in Philadelphia vanished on the final night of a rugby team tour to the British island territory of Bermuda.
According to local police, Mark Dombroski, 19, was last seen early Sunday morning at The Dog House bar in Hamilton. He was scheduled to fly home with his teammates later that day, but did not arrive for the return trip. Authorities believe there is reason to be concerned for his well-being.
Dombroski is described as 6 feet tall with a slim build, short blonde hair, of Caucasian descent, and last seen wearing a green T-shirt, khaki pants, and black shoes.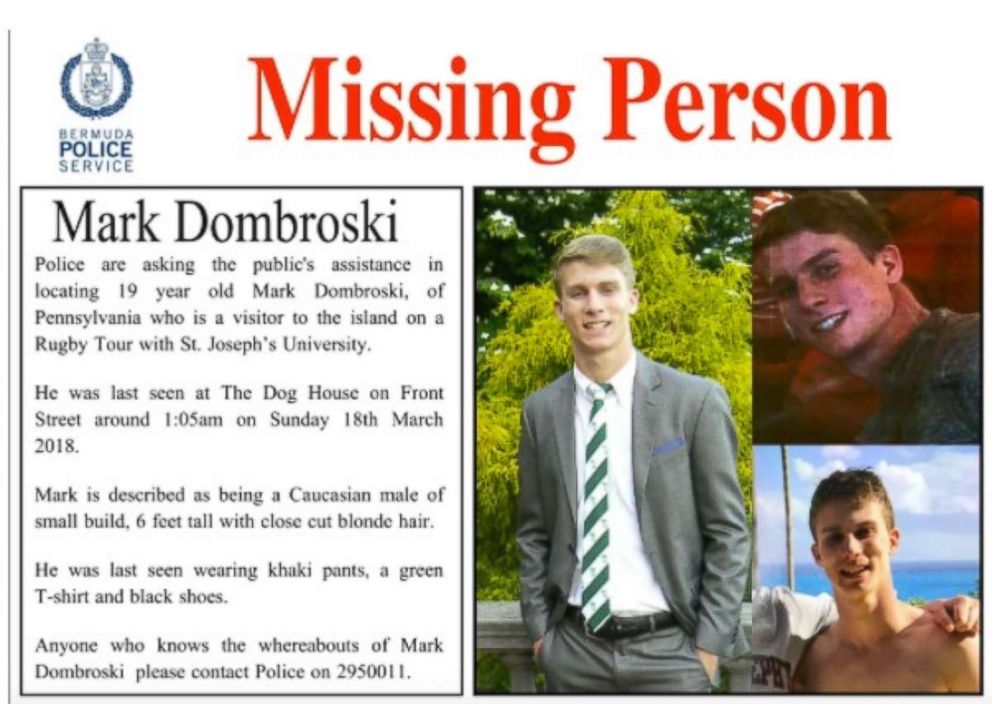 Head rugby coach Dan Yarusso did not return stateside with the team, and instead remained in Bermuda to assist in the search.
"Mark is a great kid," he told Fox 29. "We're just hoping for a safe return."
The parents and two brothers of the missing teen have also flown to Bermuda from their Delaware home to join in the investigation.
ABC News reports that the team was visiting Bermuda to partake in the Ariel Re Bermuda International 7's Tournament, in which several US colleges competed.
On Sunday, the local rugby community participated in a widespread search for the young athlete. The Bermuda Rugby Football Union has offered a $1,000 reward for new information on Dombroski's whereabouts.
Island police also circulated flyers to island residents about the missing student's disappearance, and confirmed Monday morning that Dombroski is still missing.
An official notice published Sunday reads, "All incidents are under investigation. Police are appealing to members of the public who have witnessed these incidents or may have information pertaining to them to contact their respective Police Station, Police Headquarters at 295-0011 or the confidential Crimestoppers Hotline on 1 (800) 623-8477."
[Feature Photo: Mark Dombroski/Handout]