Former president Ronald Reagan designated May 25 as National Missing Children's Day in 1983 after 6-year-old Etan Patz vanished on May 25, 1979.  Although the little boy has never been found, his disappearance launched the start of national media coverage for missing children, as well the introduction of missing kids on the back of milk cartons.
For National Missing Children's Day, Nancy Grace spoke with missing child advocate Mark Klaas, Atlanta's Cold Case Research Institute director, Sheryl McCollum, and Daphne Young of Child Help, about several unsolved missing child cases.
"It's [National] Missing Children's Day and while are encouraged and heartened that people care, that we are rallying the forces across the country to try and find missing children, the fact that we have to have a day of remembrance, a day of reinvigorating the troops so to speak, casts a pall over each one of these children's stories," Grace announced.
Kyron Horman
On June 4, 2010, Kyron Horman disappeared while at Skyline Elementary School in Portland, Oregon. After in-depth and often exhaustive searches for the little boy by the FBI, police, and volunteers, Kyron still hasn't been found.
The day Kyron vanished, his stepmother, Terri Moulton, said she drove him because there was a science fair that day. According to Moulton, she took him to the science fair where he reportedly disappeared. No one saw him at the school the morning before the science fair started.
Moulton told police that at around 8:45 a.m., she went to a grocery story, then between 10:10 a.m. and 11:39 a.m, she drove her toddler daughter around town in attempt to soothe the little girl's earache. She said she then worked out at a gym until 12:40 p.m. and at around 1:21 p.m., she went home and began posting photos she took of Kyron at the science fair.
As CrimeOnline previously reported, last year, detectives began investigating claims that Moulton was involved in a murder-for-hire plot in 1990, years before Kyron was born. The reported plot was against Sean Rea, Moulton's former boyfriend. Police have reportedly known about the alleged murder-for-hire plot since 2011, but it was only recently made public.
According to Rea, he was sitting outside eating lunch with Moulton when a man jumped out of the bushes and pointed a gun at him. Rea broke up with Moulton shortly after, but he never filed a police report about the incident. He didn't speak about it again until 2011, when investigators sought him out to ask about Moulton while investigating Kyron's disappearance. Rea was later summoned to testify before a grand jury in Multnomah County.
In February, the court granted another former boyfriend of Moulton's a two-year restraining against her. Joseph Cristobal filed a domestic violence charged against Moulton in November 2016. When she failed to show up to court in February, the judge granted the restraining order.
Moulton has not been charged in connection with Kyron's disappearance.
There is currently a $50,000 reward for information that leads to Kyron's whereabouts. Anyone with information is urged to contact the Kyron Horman tip line at 503-988-0560 or email tips@bringkyronhome.org
Tabitha Danielle Tuders
Tabitha Tuders disappeared while walking from a bus stop in Nashville, Tennessee, in April 2003. She was last seen by her father earlier that morning before she left for school, at their home off of the 1300 block of Lillian Street. Tabitha's father, who last saw her watching television at around 7:30 a.m. on April, said she was supposed to get on the school bus at the corner of 14th & Boscobel Streets at 8 a.m. Tabitha never arrive to school and when she failed to come home that evening, her parents called the police.
Tabitha didn't have a history of running away and wasn't having any issues, according to her parents. A boy in Tabitha's neighborhood told authorities he saw her get into a red car being driven by a black male wearing a baseball cap, who appeared to be in his 30s or 40s. According to police, however, the boy's story was never confirmed.
Yet, the description of the man and the car matched the description of a person Tabitha's sister, Jamie, once dated. Sgt. Norton with the Nashville police said he couldn't discuss any details regarding Jamie's former boyfriend since the investigation is still ongoing.
She was last seen wearing Reebok shoes, a light blue shirt,  and Mudd brand jeans. Anyone with any information is urged to contact the Nashville Metro Police Department 615-862-8600.
Sabrina Aisenberg
(As previously reported by CrimeOnline's Horace Johnson)
Between the hours of 12 a.m. and 6:42 a.m. on November 14, 1997,  4-month-old Sabrina Aisenberg disappeared from her crib in her parents home in Valrico, Florida. Marlene Aisenberg, Sabrina's mother, stated that she last saw her daughter at midnight. When she looked into her crib at 6:42 a.m. the next morning, the baby was missing, along with a blue and yellow blanket with imprinted animals on it. Sabrina has not been seen since.
Authorities discovered an unlocked garage, an identified blond hair and shoe print in the garage along with other non-identified fingerprints in the house. During the evening the Aisenburg's dog did not bark.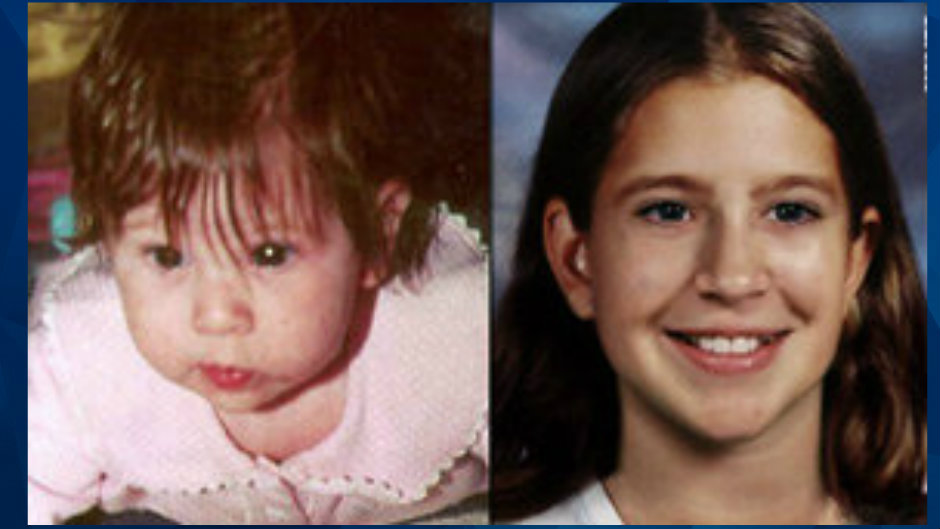 A neighbor said his dog barked around 1 a.m. and when he let the dog out he thought he heard a baby crying in the distance. Searches in the area did not uncover the child or any relevant clues.
Authorities suspected that Sabrina's parents, Steve and Marlene Aisenberg, were involved with her disappearance. For a period of three weeks after her disappearance, authorities placed listening devices in the Aisenberg's home in order to gather further evidence on the case.
In September 1999, both parents were indicted on conspiracy and other charges.  In February 2001, a judge determined that authorities misled a judge into granting the court order, allowing the listening devices to be placed in the Aisenberg's home, and in turn, dismissed the charges against the parents. Furthermore, the judge said there was nothing incriminating in the recordings.
The Aisenberg couple sued  after in 2001 to have the Government pay for their legal fees and were awarded close to $3 million which was later reduced to approximately $1.5 million.
In April 2003, Sabrina was thought to be the "Paloma Unknown" child that had been abandoned close to the Mexican border. Sabrina's parents were contacted and DNA compared but is determined not to be Sabrina.
Steve and Marlene Aisenberg and their two other children, currently live in the Maryland area. They continue to maintain their innocence and believe that Sabrina is alive and living somewhere else, while authorities believe Sabrina may have been the victim of foul play.
Anyone with information on this missing child case should contact the Hillsborough County Sheriffs office at 813-247-8200.
Hasanni Campbell
Hassani Campbell disappeared at around 4:15 p.m. on August 10, 2009. He was last seen at a shoe store in Oakland, California, off of the 6000 block of College Avenue. Louis Ross, the child's stepfather, worked at the store and was the last person to Hassani, a little boy with cerebral palsy who wore braces on his legs.
Although Hassani hasn't been found, police arrested Ross, along with boy's aunt, Jennifer Campbell, and charged them with murder. Hassani lived with Ross and Campbell (who was also Ross' fiance at the time) when he vanished. Police performed an extensive and exhaustive search of the surrounding areas and the neighborhood where Hassani vanished from but never found him.
During investigations, authorities reportedly uncovered a text message that Ross sent to Campbell, threatening to drop the boy off at the Bay Area Rapid Transit (BART). Ross told police he was angry and would never do that to the boy, but authorities were already skeptical of Ross' story after he claimed Hassani vanished in a store parking lot in the middle of a busy day, crowded with people. No one saw the child that day and dogs failed to pick up his scent in the area.
Further, neighbors claimed they hadn't seen Hassani for at least two weeks prior to his disappearance. Police obtained surveillance footage from an Oakland Walmart that showed Hassani and Ross pushing a shopping cart on August 10. Since then, there has been no other valid sightings of Hassani. Yet, without sufficient evidence to hold the pair, both Ross and Campbell were released from jail.
Anyone with any information on the case is urged to contact the Oakland Police Department at 510- 777-3333.
Diamond and Tionda Bradley
(As previously reported by CrimeOnline's Nancy Grace)
Two beautiful little girls, Tionda, age 10, and her 3-year-old little sister, Diamond, were used to being home alone when their mom went to work to support the family.   The early summer morning of July 6, 2001, was no different when mom left for work that morning. She left the two girls around 6:30 a.m., still asleep together on the den sofa.
But when mommy, Tracey Bradley, came home to check on the girls during her lunch break, instead of finding the girls in their Chicago apartment on the sofa where she left them, she found a note instead.
The handwritten note stated the two girls were stopping by a neighborhood store and then would head to play at Doolittle Elementary School, where Tionda was taking summer classes. Yet, the school said the girls weren't there and school records reflect that they had never shown up that day. Bradley then searched the apartment complex where the family of three lived.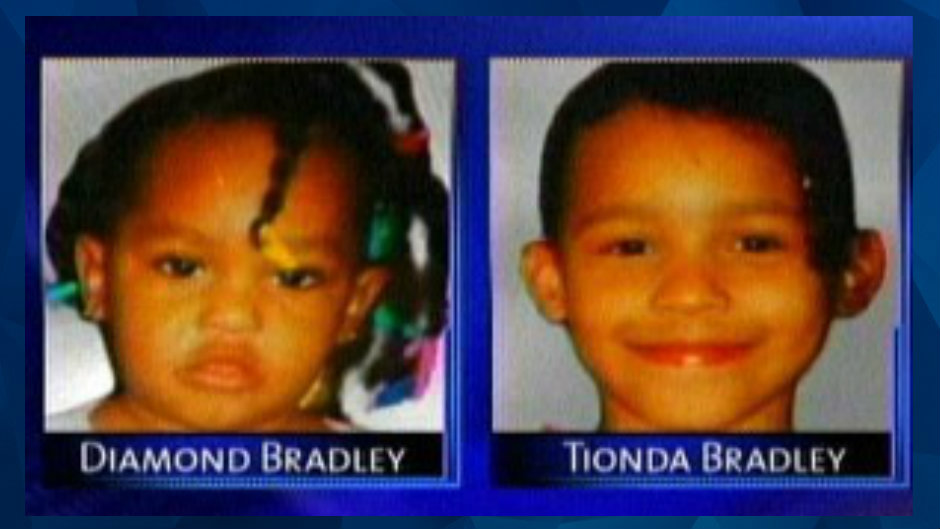 Neighborhood children stated they believed they saw Tionda and Diamond playing outside that morning.  But by 6 p.m., with no sign of her girls, she called police.
Bradley's call to police sparked the single largest search in Chicago history, with CPD assigning 100 law enforcement officers to the case.  They went on to search 5000 abandoned buildings in herculean efforts to find the two little girls, including the cellar of a nearby New Hope Church.
At one point, mommy herself was briefly considered a person of interest because she had given conflicting statements. She allegedly told cops she was home sleeping until about 11:00 that morning and woke up to find the girls gone. It was later explained that Bradley feared police would put her in jail for leaving the girls home alone when she went to work.
Chicago police also questioned the father of one of two girls, even searching his home and garage, but clarified that neither he nor anyone else was a suspect.  Police say he saw the girls the morning they disappeared because he had given Bradley a ride to work.
Police questioned Bradley for over 22 hours on four separate occasions, trying to nail down details.  They state that is normal in cases of missing children, especially since Bradley was the last person known to see the girls.
At some point, police state Bradley stopped cooperating with them, allegedly shoving a cop in March 2002, who asked her to come back to CPD HQ to go over new leads. She was handcuffed and taken to the police station where she ultimately spoke, very briefly, with investigators.
It is noted, however, that Bradley voluntarily took a polygraph after Tionda and Diamond disappeared; she is not named a suspect. There was renewed hope when human remains were found in on the far South side of Chicago in an industrial area, but it was scientifically determined those remains belonged to a Caucasian or Hispanic girl.
Police have re-interviewed many of the two girls' relatives and friends once again and searched their great-grandfather's home in Wisconsin, finding no evidence.
Some theorize Diamond and Tionda were abducted by an African man who paid child support for one of girls upon being told he may not be the bio-dad. FBI agents traveled to Morocco to investigate, but found nothing supporting that theory. Police believe Tionda would have contacted her loved ones by now if she could have; they think both children are either deceased or have been taken out of the country.
Private Investigator James Miller tells Nancy Grace that he worked the case.
"[We worked the case] very, very hard and very efficiently to the best that we could. We`ve ripped the city apart. We`ve gone into abandoned buildings. We`ve gone into sewer systems. We`ve gone on the lake. We`ve had psychics come in. We`ve had psychics send us to Wolf Lake. We`ve had dogs out there."
Seemingly, they used every resource possible to find the girls.  Always, they came up empty handed.
Then, in November of 2110, police located a lost girl who matched Diamond's description. Tracey Bradley did not arrive to identify the girl, however, Bradley's mother came and determined the lost girl was not Diamond.
"I believe that someone that was in close acquaintance with the mother of Tionda and Diamond took those children," Shelia Bradley-Smith, the girls' great-aunt said. "The note, that was not the way Tionda spoke … she was coached to write that note.  She also said there "was a voicemail that said that 'George was at the door.'"
"I`m just wishing my kids, whoever got my kids, please get them home…Bring my children back home because I miss them and I love them dearly," said Bradley.
There is a $30,000 reward to help find the Diamond and Tionda Bradley.  If you have information, please call Chicago Police Department at 312-745-6007 or the FBI Chicago Office at 312-431-1333.
[Feature Photo: Pixabay]