The lawyer for the family of an unarmed Dallas man shot to death in his apartment by an off-duty female police officer, said that police investigation into the matter was done in a way to "smear" the reputation of the victim.
According to an arrest affidavit released Thursday by the Dallas Police Department, investigators found a small amount of marijuana inside the home of 26-year-old Botham Jean, while searching his residence during the aftermath of a shooting that left him dead. Off-duty Dallas police officer Amber Guyger is accused of shooting Jean after she walked into his apartment at the South Side Flats apartment complex on September 6, allegedly mistaking it for her own.
Investigators conducted a search of Jean's apartment shortly after the shooting, and according to Lee Merritt, an attorney for Jean's family, the search "highlights just sort of the nefarious nature of their investigation,
"They went in with the intent to look for some sort of criminal justification for the victim," Merritt told USA Today.
"It's a pattern that we've seen before…we have a cop who clearly did something wrong. And instead of investigating the homicide — instead of going into her apartment and seeing what they can find, instead of collecting evidence relevant for the homicide investigation — they went out specifically looking for ways to tarnish the image of this young man."
The affidavit revealed investigators notated several items inside Jean's apartment, including a police backpack, a lunch box, a marijuana grinder, 10.4 grams of marijuana, bullet casings, medical aid packages, and electronic keys. Yet, the affidavit doesn't detail why Guyser was so quick to use deadly force on Jean, something the victim's family find unacceptable.
As CrimeOnline previously reported, Guyser had just finished a 15-hour work shift when she returned home. She claimed she took the elevator to the wrong floor and noticed what she thought was her apartment door ajar. The off-duty officer reportedly said she thought a burglary was in progress and pulled out her weapon. She claimed when Jean ignored her "verbal commands," she shot him, then later turned the lights on and realized she was not in her own apartment.
Authorities stated the shooting occurred around 9:59 p.m.
Amber Guyger Search Warrant by on Scribd
Yet, a neighbor who also lives in the building said it would have been impossible for the apartment door to be open without someone or something holding it open.
"These are fire doors. You can't really leave it open," the neighbor said.
In another reported contradiction, the arrest affidavit claimed Guyger opened the apartment door with her key and saw a "large silhouette" inside the apartment, according to the Star-Telegram. The neighbor indicated that would have been impossible as well.
"The key situation too – you can't get into any place, you can't. It's impossible. You can put it in but you can't open it. You can put it into somebody else's key hole but you can't open anything. This key isn't programmed for my door – if I put it in, nothing happens apart from this red light."
A witness at the apartment complex said they heard a female say, "Let me in! Let me in!" before hearing gunshots fired.
"I guess he must have opened the door and she saw a black man inside what she thought was her apartment and so she went ahead and shot him," another tenant in the apartment complex said.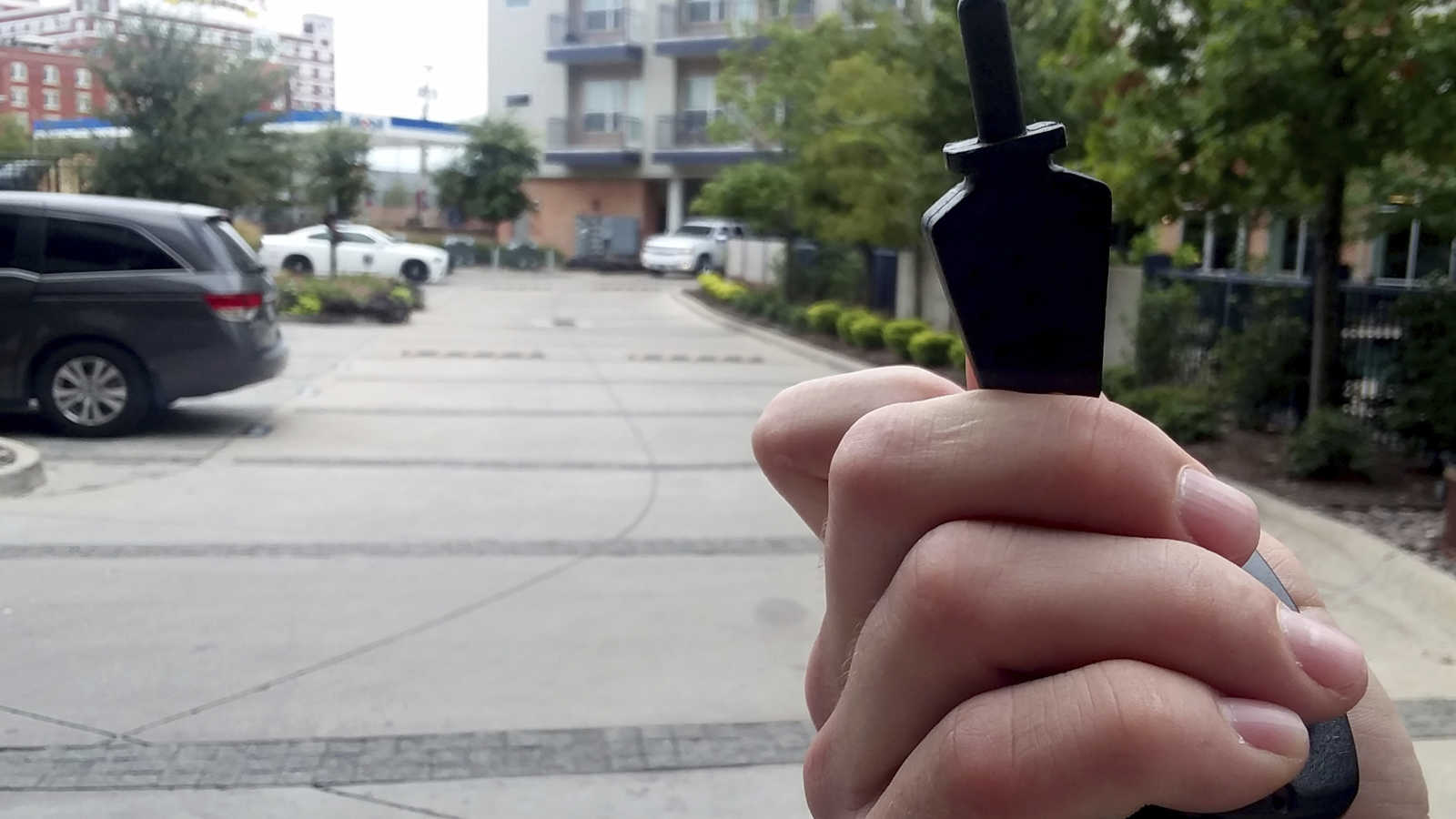 Guyger turned herself in three days after the shooting took place. She was charged with manslaughter and released after she made her $300,000 bail around an hour later. Jean's family reportedly disputed the arrest affidavit's version of events, allegedly written almost entirely the responding officer. They're also questioning why it took three days for authorities to charge Guyger.
Further, the family is pushing for the Dallas Police Department to fire Guyger, according to Dallas Morning News. They also want authorities to open an investigation into the affidavit, in what they perceive as a smear campaign on Jean.
"It is time that we recognize that lives matter," Jean's mother, Allison Jean, said during a press brief on Friday. "My son's life matters."
The story continues to develop. Check back with CrimeOnline as additional details become available.
[Feature Photo: Botham Jean/Facebook; Amber Guyger/Kaufman County Sheriff's Office]