The Weld County District Attorney has provided further information about entries in the discovery documents related to the Shanann Watts murder investigation that raise potential questions about information Chris Watts' girlfriend Nichol Kessinger volunteered to detectives.
As CrimeOnline previously reported, Kessinger approached police two days after Shanann Watts and her daughters, 4-year-old Bella and 3-year-old Celeste, disappeared in Frederick, Colorado, in August to report that she had been carrying on an affair with Chris Watts that began in June 2018. As the discovery documents and audio of a police interview with Kessinger show, the 30-year-old woman who reportedly met Watts at Anadarko Petroluem, where they both worked at the time, was aware Watts was married but believed he and his wife were headed for certain divorce. She told investigators she was unaware Shanann Watts was pregnant before the missing persons case made the news, and that she didn't know Shanann's name until a while after she became involved with Chris Watts.
The discovery documents released by the Weld County District Attorney's office in late November include reports that indicate Kessinger may have been aware of Chris and/or Shanann Watts prior to when she is believed to have met Chris Watts at work.
CrimeOnline made repeated inquiries with the Weld County District Attorney's office, the Greeley Police Department, and the Frederick Police Department for clarification about multiple entries in the "Phone Data Review," included in the discovery documents, which show that Kessinger searched for Shanann Watts and Christopher Watts in 2017.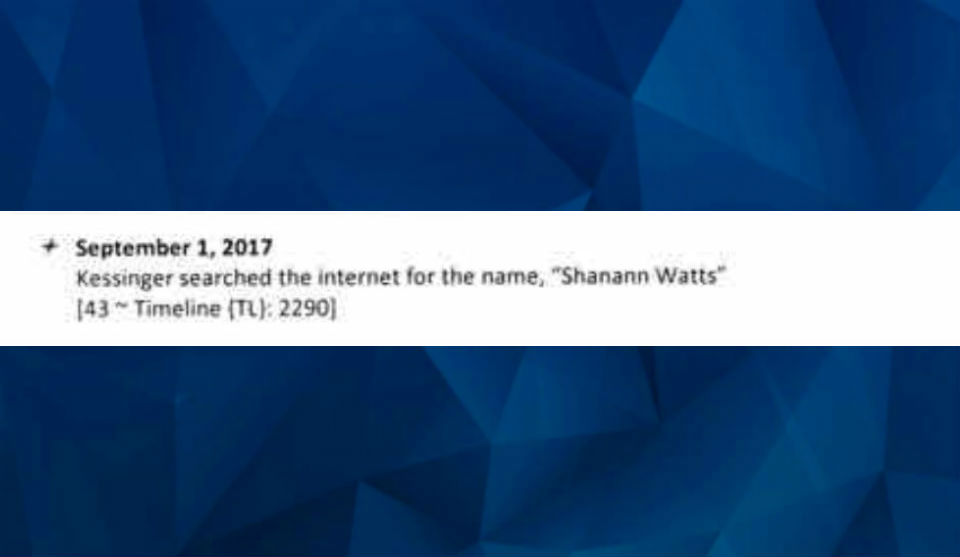 Last week, a records supervisor at the Frederick Police Department said that an entry in one of the Phone Data Review reports showing that Kessinger did an internet search for "Shanann Watts" on September 1, 2017, was a "typo," and referred CrimeOnline to the Weld County District Attorney's Office for further clarification on that entry, and on additional entries in a different section of Phone Data Review showing that Kessinger searched for Shanann Watts in January 2018 and which references multiple, deleted searches for Chris Watts dating back to August 2017.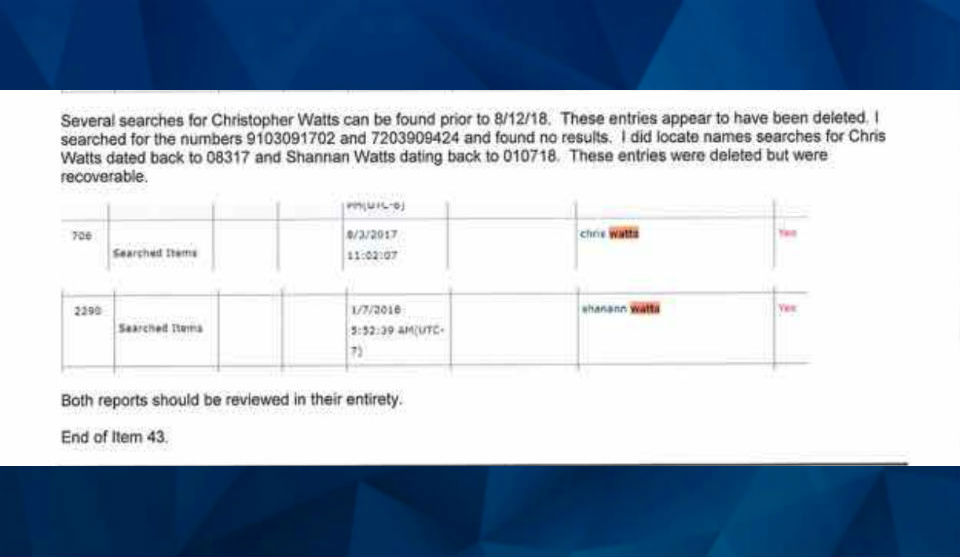 Greeley Police Detective Michael Prill authored the report that included a single entry of a September 1, 2017 search for Shanann Watts, and Frederick Police Detective David Baumhover authored the report, excerpted immediately above, that referenced multiple deleted searches for Chris and Shanann Watts.
Following a series of email exchanges and phone calls with the Weld County District Attorney's office regarding the reports, CrimeOnline spoke by phone to Weld County District Attorney Michael Rourke on Monday. Rourke said that the reports reflect what was shown in the forensic analysis of Nichol Kessinger's phone.
"The dates to which you are referring — in 2017 where it appears she Googled or otherwise searched Shannan — was data that came off her phone," Rourke said.
"It's not a typographical error in the report. [The detectives] are reporting what was contained in the data from her phone. I don't know the answer to the question of why or how those dates ended up in her phone."
Asked if the District Attorney's office questioned or planned to question Kessinger about data suggesting she was aware of Chris and Shanann Watts for up to a year before the murders, Rourke said that Chris Watts' guilty plea precluded any need to further probe the results of the forensic analysis of Kessinger's phone.
"We did not get to the point in our investigation of attempting to independently verify that or not because Chris Watts pled guilty," Rourke said.
"When you ask me if I have verified that information, the answer to your question is no. Nichol Kessinger told us that she met and started the relationship with the defendant in 2018. So where that anomaly in the data comes from, I can't answer it for you. I don't know the answer to it."
Rourke said that prosecutors are confident in the results of the murder investigation, which is closed.
"I have absolutely no reason to investigate Nichol Kessinger at this point in time," he said."This is not a witch hunt."
"My job is to investigate and prosecute who was responsible for the deaths of Shannon, Bella, Celeste, and Nico. We have done that. I have no information nor any belief that any other criminal defendant is out there who is responsible for their death in any way, shape, or form."
The Frederick Police Department did not immediately respond to a request for clarification of their earlier statements about the Phone Data Review.
Chris Watts pleaded guilty last month to murdering his wife and daughters and is serving multiple life sentences without the possibility of parole at a Wisconsin correctional facility, after being transferred out of a Denver prison due to safety concerns.