New documents detailing an interview confessed killer Chris Watts gave investigators at the Wisconsin prison in February reveal that he had sex with his wife Shanann Watts on the same morning that he murdered her and later killed their two daughters, Bella and Celeste Watts.
The Denver Post obtained a transcript of the interview between Watts and investigators from multiple agencies, in which he revealed that he had sex with Shanann on the morning of August 13, just after she returned to their Frederick, Colorado, home following a business trip in Arizona. Hours later, he would strangle her to death and drive her body, with his daughters still alive in the car, to an oil property 45 minutes away, where he buried Shanann before smothering the girls to death and stuffing their bodies in oil tanks.
Watts told investigators that he and Shanann had intercourse in their bed at around 2:30 a.m. the morning of the murders. He indicated that Shanann initiated the sex, and reportedly said that he felt at the time that Shanann knew he was having an affair. According to the transcript, Watts said that the intercourse was "more of a 'test'" and that he felt "strange" having sex with his wife. He indicated that the sex was a "trigger point," presumably to the violence he would later commit, "like you hit the push button on a bomb and it just blows up."

Watts said in the interview that he and Shanann fell asleep after they had sex, and that they had a conversation a few hours later when they both woke up. He said that he "straddled" Shanann during this conversation, adding that he believed she thought he was initiating sex. Instead, he admitted to his wife that he had been having an affair and that he wanted to end the marriage. At that point, he claimed Shanann told him that he would not see his daughters anymore, at which point he strangled her to death.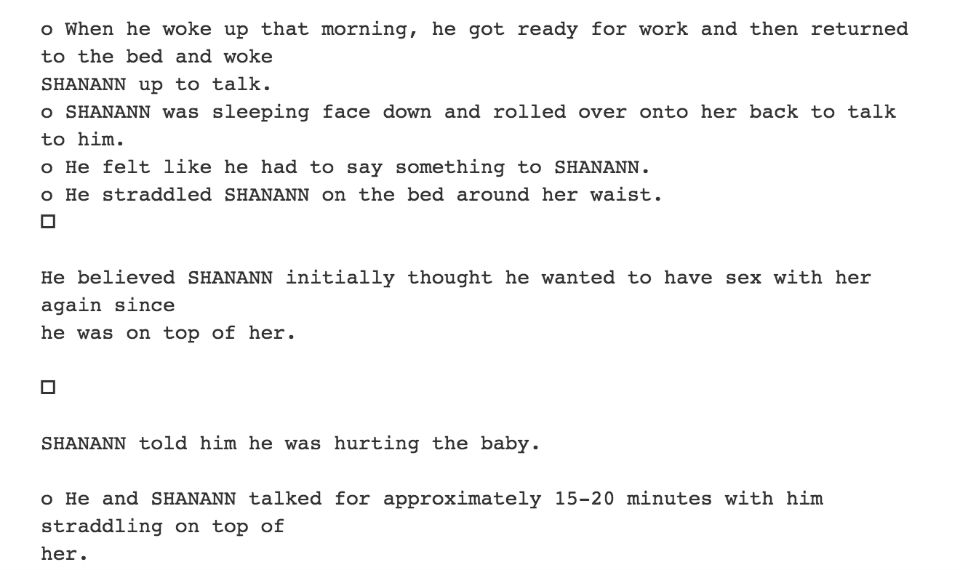 As CrimeOnline previously reported, Watts said that Bella, 4, came into the bedroom while Watts was wrapping his wife's body in a sheet, and asked him, "What are you doing with Mommy?." Watts said he told his daughter that her mother was sick and that they needed to take her to the hospital.
Instead, he drove his family to the oil field where he would bury all of their bodies.
Watts is serving multiple life sentences at a Wisconsin correctional facility.
[Feature image: Chris Watts/Colorado Bureau of Investigation]