A 14-year-old girl is missing in Florida, and may have traveled by car to another part of the state.
The Hillsborough County Sheriff confirmed to CrimeOnline that Bailey Jordan's parents reported her missing on April 29, and that the sheriff's office is investigating the Bailey's disappearance. A spokesperson for the sheriff said that authorities at this time believe that Bailey left of her own free will and that she is not considered endangered, though they confirmed that a relative had posted on social media about concerns that Bailey may have met someone online.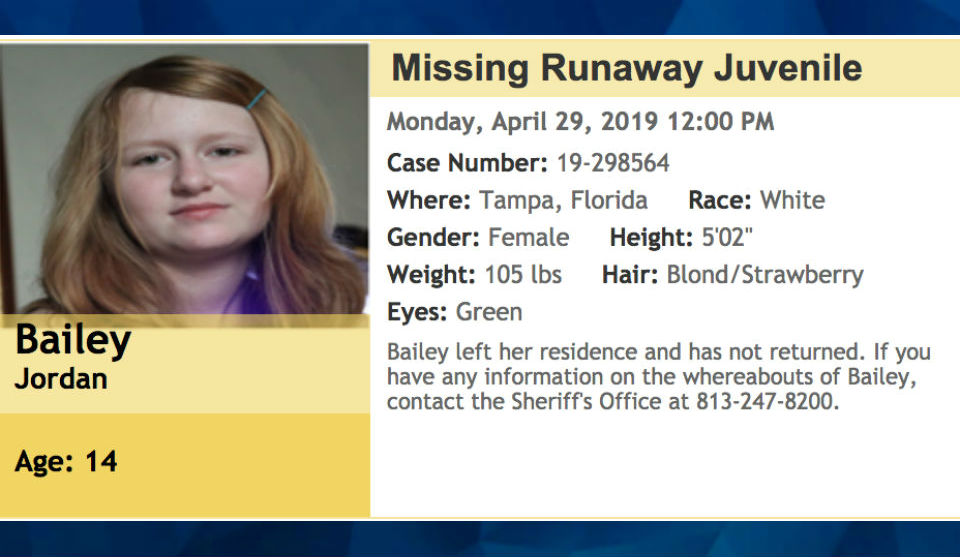 According to a missing persons flyer posted by the organization The AWARE Foundation, Bailey went missing from her home in Apollo Beach on April 29 and was last seen wearing a camoflauge dress, and was riding a pink mountain bike. The post states that Bailey's family is worried that she may have traveled to an unknown location in a vehicle, possibly Daytona or Tampa, and may be using an alias.
Bailey Jordan is white with reddish blond hair. She is reportedly 5 feet 2 inches tall and weighs 102 pounds.
Anyone with information about Bailey's whereabouts is urged to contact the Hillsborough County Sheriff at 813-247-8000.